MLB.com Columnist
Richard Justice
Postseason brings out best in Major League Baseball
Wild Card and Division Series have featured tense, close contests and great moments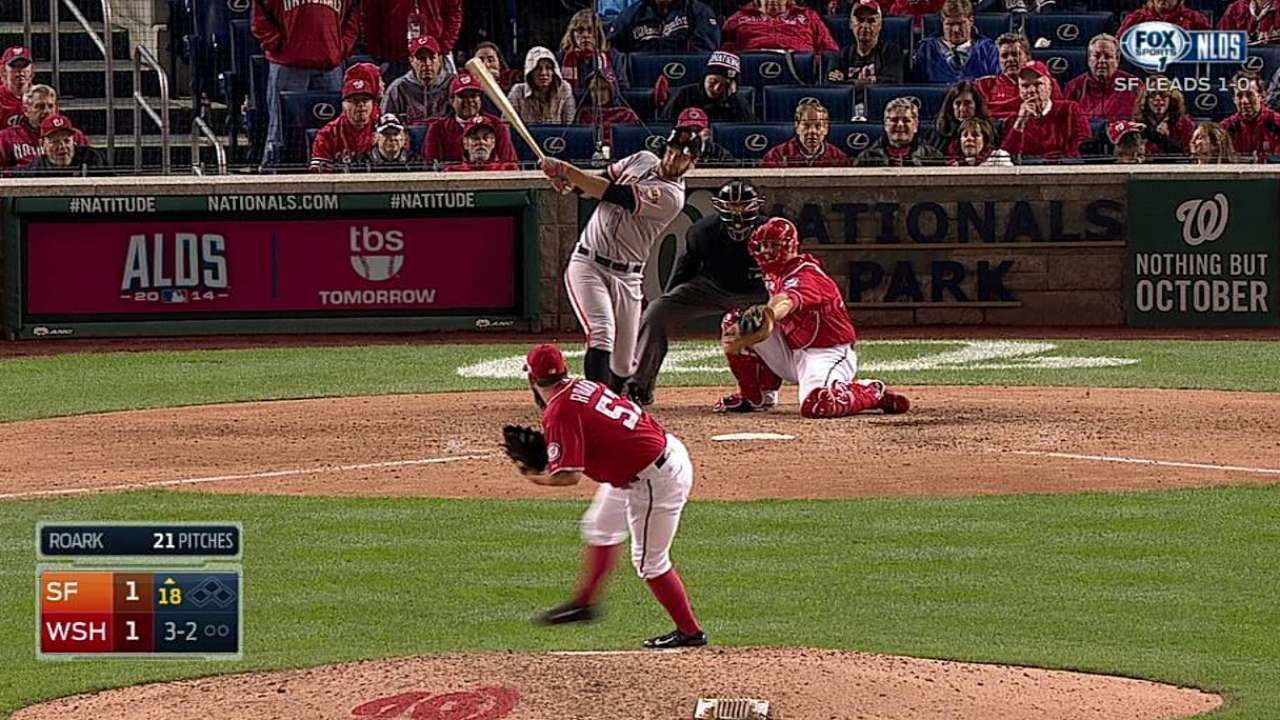 This first week of postseason baseball has been spectacularly good. It has delivered on every level.
We've had tense, close games. We've had spectacular individual performances. We've seen the Baltimore Orioles sweep the Detroit Tigers right out of the postseason with a performance that was impressive across the board.
The Orioles are playing with a bit of an edge, too, feeling they've been overlooked despite winning the American League East by 12 games.
"Did you pick us last?" Orioles center fielder Adam Jones asked the other day.
No, Adam.
"People still don't believe in us," he said.
They do now, Adam.
Or at least they should.
We've been served with the grit of the San Francisco Giants and Kansas City Royals.
We've seen tension with eight of 12 postseason games decided by one run. Four of them have gone extra innings.
Raise your hand if you expected the Angels and Tigers to be swept and the Nationals to be in an 0-2 hole?
They're a reminder that picking these games is silly stuff. Baseball's top dozen or so teams are so close in terms of talent that games seem to come down to paying attention to details.
That's why the Royals are so formidable. They play the best defense on the planet. They've got a great bullpen and a decent rotation.
The Giants are like that, too. Go ahead and pick apart this team, and you'll find a dozen things not to like. If you look really deep, though, you'll find a club in which the whole -- and forgive me this cliche -- is greater than the sum of its parts.
The Giants are a great franchise, a confident franchise. Right from the top, president and CEO Larry Baer. And the brilliant general manager Brian Sabean and his equally brilliant staff. And there's that manager.
Four years ago when the Giants were on the verge of winning their first West Coast World Series, a friend of mine dropped in to see Bruce Bochy.
"I just want you to know that you haven't fooled me," the guy said.
Bochy looked at him blankly.
"You want people to think you're the dumbest guy in the room," the guy said. "I know better."
The Giants are like that. You will never hear them brag about anything. In fact, you will never hear them reveal almost anything about how they operate.
Around the country, you will see people write that the Giants are a victory for old-fashioned scouting and player development, that they don't rely on those newfangled computers. The Giants love stories like that. They love it when people don't know a rip about how they operate.
The Giants utilize analytics as much as most teams. The difference is they don't talk about 'em.
They've got players like that, too.
Have you ever heard Buster Posey utter a memorable quote? Or Madison Bumgarner?
Their clubhouse is not dull. Who would ever call Pablo Sandoval dull? Or Hunter Pence?
The Giants feed off his energy and his passion. Pence plays 100 mph every single game of the season. Bochy said he's the most low-maintenance player he has ever had. Well, most of the time.
There was the day Pence believed he wasn't in the starting lineup, and he marched right into Bochy's office to ask what was up.
"Hunter," Bochy told him, "you're playing. You're always playing."
Pence has played every single game since the Giants acquired him and said, "If he didn't play me now, my feelings would be hurt."
These Giants have five rookies, and along with veterans Posey, Pence and Bumgarner, you've seen Joe Panik and Hunter Strickland and others make contributions.
When I watch the Giants, I'm reminded of the words of Hall of Famer Frank Robinson, who likes to say, "Baseball is the most beautiful game on earth when it's played right."
The Giants play it right.
Back to this amazing postseason.
"Baseball is the best sport in the world," Dodgers catcher A.J. Ellis said Saturday night.
Well said, sir. Isn't that the bottom line?
Best of all, we're just getting warmed up. Even those right in the middle of things have been moved to take a step back and marvel at what is happening to the sport.
At some point Saturday night at Dodger Stadium, Ellis and home-plate umpire Rob Drake had just such an exchange about how great the games had been. They were doing this as they noticed the Giants and Nationals were going at it for 18 innings on the other side of the country and as the Dodgers and Cardinals were once more exchanging body blows in a game Los Angeles eventually won, 3-2.
"It's just a great game," Ellis said. "You can't run out the clock. You've seen that the last couple of days. You have to get the outs. The drama is always there until the last pitch.
"There has been so much talk about the speed of the game, but baseball is meant to be played deliberately. It's a game of strategy. It's making decisions and being mentally focused. This is not a game you rush. The people who love the game, that's a big reason why they do."
He'd just played in one of those games. The Dodgers took a 2-0 lead into the eighth. And then Matt Carpenter's two-run home run tied it.
You could write volumes on Carpenter. On his professionalism and approach and toughness.
If you want to know what the Cardinals are all about and why they're so formidable, take a good look at this 13th-round Draft pick out of TCU. Because he was taken so late in the Draft, Carpenter had to prove himself at every level of the Minor Leagues.
He has done just that with smarts and heart and an absolutely fanatical work ethic. Carpenter is like Posey in that he doesn't say all that much. He just quietly does his job about as well as anyone on the planet.
Matt Kemp's eighth-inning home run bailed out the Dodgers on Saturday, and as he rounded the bases with 54,599 rocking the house, he had a feeling he was part of something special.
"The crowd was unbelievable," Kemp said. "They were loud, loudest I've ever been a part of."
These two clubs are wrapped up in it, going at it like champions, doing themselves proud.
Yet both clubs, the managers, coaches, all the rest, they know what's going on. They know this is as good as it gets.
"I think we're seeing two teams that don't really want to go home and that are fighting for every game and every out and every pitch," Dodgers manager Don Mattingly said, "and it's what you want. It's what everybody wants to see at this time of year."
Richard Justice is a columnist for MLB.com. Read his blog, Justice4U. This story was not subject to the approval of Major League Baseball or its clubs.