Carpenter seeing results of dedication to craft
Cards third baseman playing with supreme confidence after taking measures to avoid fatigue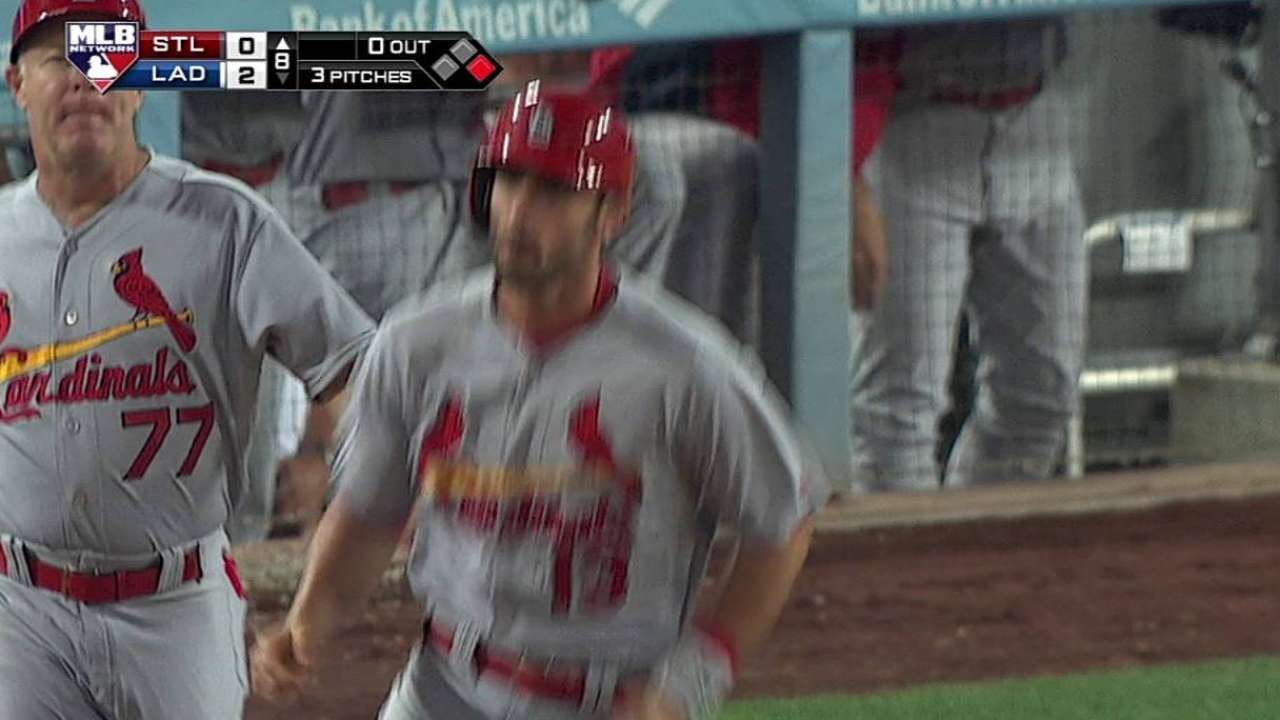 Right now, in baseball terms, Matt Carpenter is on top of the world and looking down on creation. That's what a 4-for-8 line with two homers, two doubles and six RBIs in two National League Division Series games will do for you.
Carpenter's hits have been plentiful and hugely important. In Game 1 in Dodger Stadium, Carpenter hit a solo home run to cut Los Angeles ace Clayton Kershaw's lead to 6-2, and he later hit a bases-clearing double off Kershaw to give the Cardinals a 7-6 lead in the midst of an eight-run seventh inning en route to a 10-9 St. Louis victory.
On Saturday night in Game 2, Carpenter doubled again and homered again, tying the game at 2 in the eighth with a two-run blast. Matt Kemp gave the Dodgers a 3-2 win in the bottom of that inning with a solo homer of his own, but the point has been made: Carpenter is locked in this October, and it's the product of a lot of hard work.
"It really just boils down to confidence," Carpenter said. "It's just a sense of, almost like a controlled aggression at the plate. You're in control of your swing, you're in control of your pitch selection, you're just more aggressive. When you don't feel good, you're in between, you're taking pitches -- maybe some that you wouldn't normally take. When you feel good, you feel like if he makes a mistake, you're going to hit it well.
"The at-bats in a postseason game are just different than the ones that are in the regular season for whatever reason. Some experience has helped with that."
Carpenter is definitely feeling good these days, and it's a departure from how he felt at this time last year. He was coming off a breakout All-Star campaign in 2013 in which he batted .318, led the NL with 199 hits, 55 doubles and 126 runs scored, and acclimated well to second base -- a position he had not played regularly while staying mostly at third in the Minors.
But once October arrived, he slowed down a bit. He went 1-for-19 in the Cardinals' NLDS win over Pittsburgh before rebounding in the NL Championship Series against Los Angeles, where he hit .261 (6-for-23), and in the World Series against Boston, where he batted .296 (8-for-27).
Still, of his 15 hits last postseason, only four were of the extra-base variety, none were home runs, and he drove in only four runs. He's already exceeded that total this year after two games, and he's done it from the leadoff spot, with most of his damage coming against left-handed pitching.
Carpenter said late this summer that fatigue became a factor toward the end of last year, and that he worked smarter in the offseason and throughout the year to pace himself so he'd be physically up to the October task this time around.
"Having gone through it once, I didn't want to hit that point where I felt like I was wearing down," Carpenter said in August. "That happened last year. I want to be as strong at the end of the year as I was to start."
It looks like it's happened, although Cardinals manager Mike Matheny said Sunday that too many people have been focusing on the numbers Carpenter put up this year (.272/.375/.375, 33 doubles, 99 runs) and concluding that he's had a down season.
"I believe he's been an elite hitter all year," Matheny said. "The average might not be kind of what we saw last year. It's the quality of the at-bats. I think anybody that faces us would agree, this guy just puts together tough at-bat after tough at-bat. And there's not many people with the strike zone awareness he has, with the ability to find the barrel of the bat and fight off tough pitches like Matt can do.
"You try to stay with that and not try to do too much, and the home runs are going to come, the extra-base hits are going to come. They didn't come as often as what he wanted, but this is also that second year [where] people had a better idea on him. He was constantly making adjustments, as they are, but [he's having] the same kind of at-bats we've seen all season long."
Carpenter said he looked back on what he did last October and gained perspective on it moving forward into this year's opportunity. He said he came to the not-so-shocking decision that he'd rather rise to the occasion in the postseason as opposed to being statistically excellent during the regular-season grind and then not delivering at that same high level when it matters most.
"This is what we play for," he said. "Now that we're here and I feel good at the plate, I would much rather feel good at the plate now than in games 161 or 30. This is when it counts."
Doug Miller is a reporter for MLB.com. Follow him on Twitter @DougMillerMLB. This story was not subject to the approval of Major League Baseball or its clubs.