Rested Rosenthal displaying resurgence of velocity
Cards closer hitting triple digits in October after heat decreased during arduous season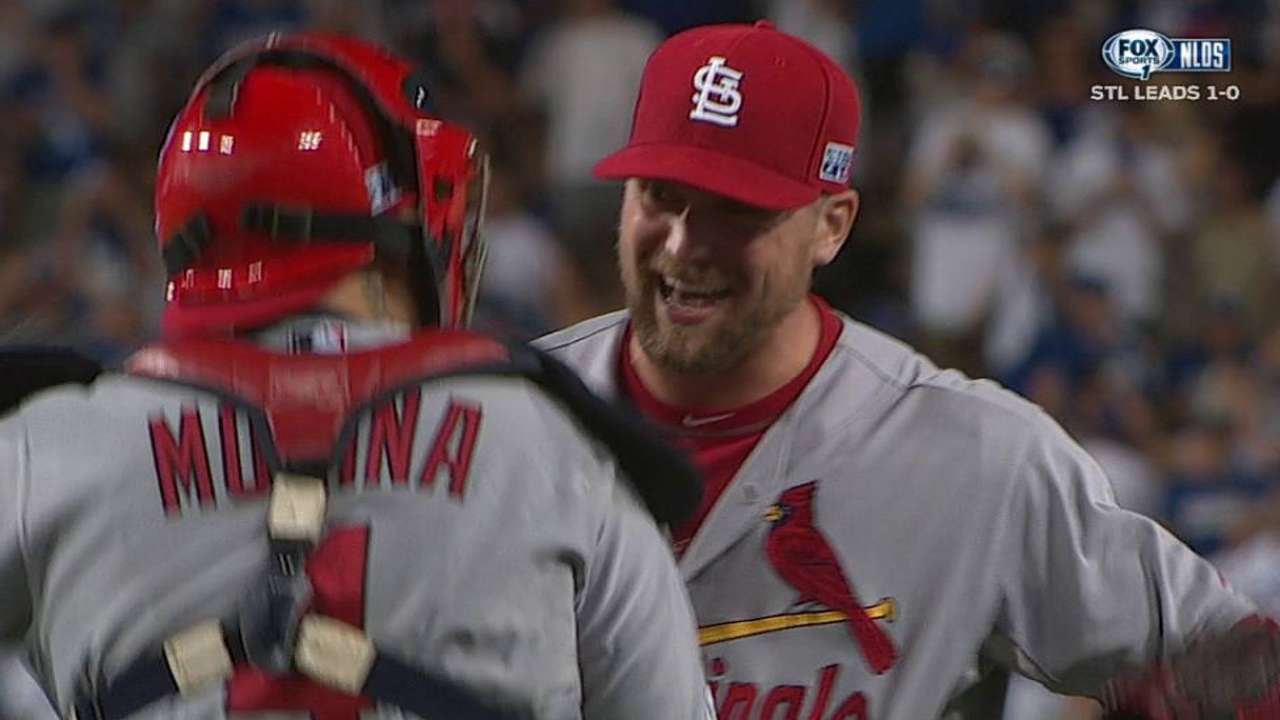 ST. LOUIS -- The baptism by fire approach worked for Trevor Rosenthal in 2012, when he emerged as a key piece of the bullpen late in the season and into October. A year later, Rosenthal walked into the postseason as the team's emergency closer, a move the club had to make upon watching Edward Mujica's late-season fade.
Handed that ninth-inning role before even arriving at Spring Training in 2014, Rosenthal has waded through a year where his success (45 saves in 51 opportunities) seemed so often overshadowed by the heartburn-inducing ways in which he achieved it. Even as he made a push toward the franchise record for single-season saves in September, Rosenthal continued to field questions about his first-batter inefficiency and the propensity to draw out innings with extended pitch counts and too many walks.
It didn't seem the ideal way to cross into October. And yet, speaking before the Cardinals' Game 2 loss to the Dodgers in the National League Division Series, Rosenthal said he's never felt better in October.
"Physically, I felt better going into this postseason than I did going into the postseason last year," Rosenthal insisted. "That's a noticeable difference."
There seems to be an emerging payoff to that, too.
In a year where Rosenthal had to find a way to make do with less velocity on his fastball, the 24-year-old right-hander has seen that velocity actually tick back up as of late. Consider these numbers, which were calculated using MLBAM's PITCHf/x data:
• After reaching 100 mph on the radar gun just four times in his first 71 appearances this season, Rosenthal has hit triple digits five times in his last two outings. That included twice to D-backs catcher Tuffy Gosewisch on Sept. 26, and then three times to Dodgers outfielder Yasiel Puig with the tying run on third base and two out in the ninth inning of Game 1.
• Rosenthal reached at least 99 mph nine different times during his 20-pitch inning in Game 1. In comparison, he registered that high on the radar gun just 43 times against the 308 batters he faced during the regular season. In 2013, he threw 113 pitches at 99 mph or higher.
• Looking at the average velocity of Rosenthal's fastball in each of his 73 outings (including the NLDS appearance) this season, the five highest have all come within the past three weeks.
So what is behind the recent velocity resurgence? All parties insist the predominant factor is as simple as rest.
"I'd say mostly the fact that we weren't just beating him down every four out of five days," manager Mike Matheny noted. "We worked him hard. It wasn't something we were wanting to do, but I think we all remember how many close games we had, and we needed him. And Trevor continued to answer the bell."
The Cardinals did exhaust Rosenthal over the first four months of the season, which is why, even after curtailing his workload late in the year, Rosenthal still threw more pitches (1,263) than any other closer in baseball. Critical to Rosenthal's ability to finish the season strong, though, was the Cardinals' deliberate move to build in more rest for him late, even if it meant turning elsewhere in a save situation.
After pitching on Aug. 17 and 18, Rosenthal threw on consecutive days just once more. He had six days of rest going into his final outing of the regular season and another six before debuting in the 2014 postseason. Last year, in comparison, Rosenthal went into October having appeared in nine of the team's final 14 regular-season games.
"I just know that when I'm a little more rested, command is usually better," Rosenthal said. "I've pitched twice in two weeks. It's good and bad. It's always good to get back out there and get the feel of the mound again. But I think the rest lately has been good."
Though Rosenthal snapped his string of 17 scoreless postseason appearances by allowing a run to the Dodgers in Game 1, he notched the save that night while leaning entirely on his fastball. Catcher Yadier Molina called nothing else, which leaves Rosenthal with a changeup and curveball to mix in against the Dodgers later in the series.
"I was commanding it, and we were getting ahead," Rosenthal said of the one-track pitch selection. "We felt it was the best option we had. I didn't have a ton of time to throw other things."
Jenifer Langosch is a reporter for MLB.com. Read her blog, By Gosh, It's Langosch, and follow her on Twitter @LangoschMLB. This story was not subject to the approval of Major League Baseball or its clubs.