MLB.com Columnist
Richard Justice
Mattingly must be ready to adjust rotation
Haren the tentative Game 4 starter, but Kershaw could go on three days' rest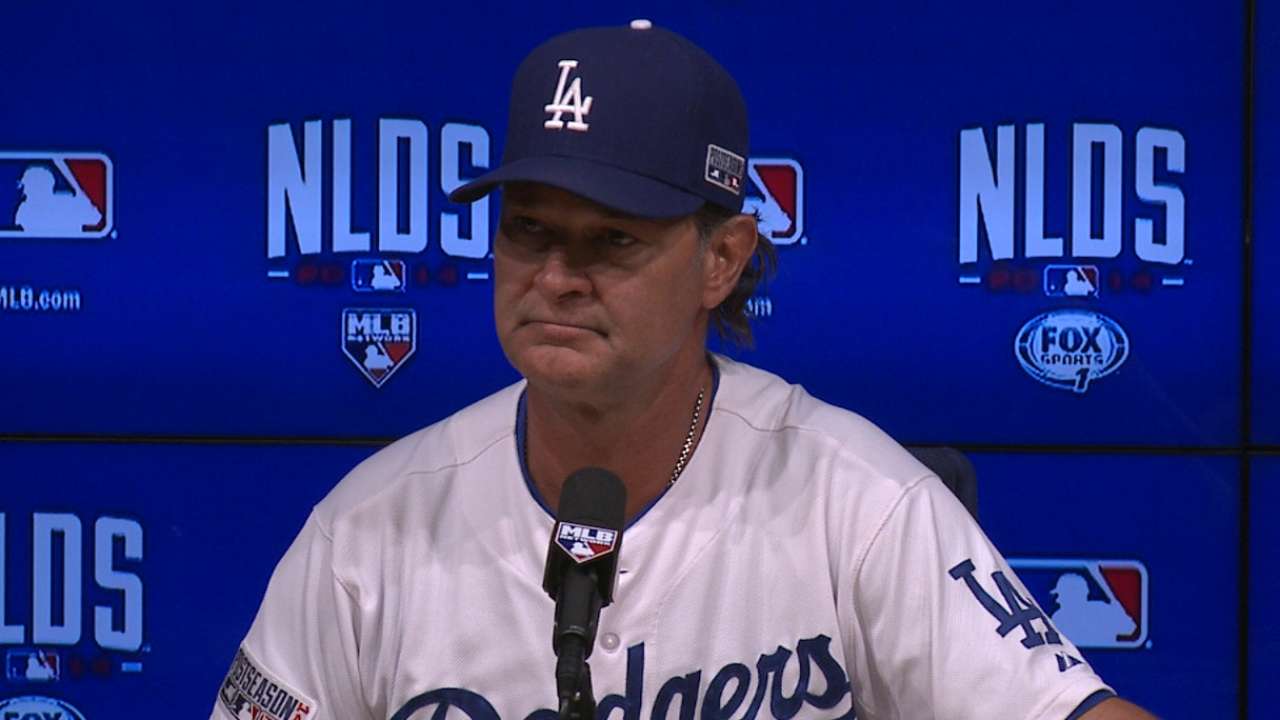 ST. LOUIS -- Smart and sensible. Atta boy, Donnie Baseball. As a representative of armchair managers across the land, you have our full support. At least until there's trouble in the early innings Monday night.
It's also important to understand that Dodgers manager Don Mattingly is writing everything in pencil. One of the first rules of managing in the postseason is to keep things as close to normal as possible.
There shouldn't be any dramatic changing of rules. Pitchers may be asked to go an extra inning or two. Bullpens may be overused at times. But players essentially will be asked to perform the same roles they're accustomed to.
So when Mattingly said Sunday he'll start veteran right-hander Dan Haren in Game 4 of this National League Division Series at Busch Stadium on Tuesday, he really meant that's what he'd like to do.
"As of right now, Danny is the starter," Mattingly said. "We'll see what happens tomorrow."
To get from here to there, he needs a solid effort from Hyun-Jin Ryu in Game 3 on Monday. Considering that Ryu hasn't pitched in more than three weeks because of a sore shoulder, the Dodgers have no idea what they'll get from him.
In a perfect world, Ryu will give the Dodgers, say, five good innings, and Mattingly can close things out with his bullpen.
But ...
Haren will also prepare to pitch on Monday just in case. Mattingly will do whatever he has to do to keep the Dodgers from falling behind, 1-2, in a best-of-five series.
But he'd like to use Ryu and Haren in the two games at Busch Stadium and have his ace, Clayton Kershaw, on regular rest for a potential Game 5 at Dodger Stadium on Thursday.
Here's the interesting scenario. If the Dodgers lose Game 3, Mattingly surely will be tempted to use Kershaw on short rest. Even a tired Kershaw almost certainly is Mattingly's best option.
Kershaw has done that just once in his career, that in last year's NLDS against Atlanta. He performed well, too, but the postseason road is littered with managers who had short-rest strategy blow up in their faces.
So to sum up, the Dodgers and Cardinals are tied at a game apiece, and now it's getting hairy for the Dodgers. If you look closely at Mattingly's rotation issues, you might wonder how the Dodgers have gotten this far.
In September, they were 10-0 in starts by Kershaw and Zack Greinke and 7-8 when anyone else got the ball as the team scrambled to fill holes created by injuries to Ryu and Josh Beckett.
If the Dodgers win Game 3, Haren becomes a no-brainer in Game 4. He has earned it, too. He had a 2.43 ERA in his final 10 starts, which dramatically turned his season around (4.76 ERA in first 22 starts).
Mattingly rightfully understands that Kershaw, even a Kershaw who might not be at his best, might still be his best option for Game 4. And if the Cardinals can close it out, here's betting that's what he does.
Mattingly stuck with Kershaw in Game 1 against the Cardinals for 117 pitches. Other than Kenley Jansen, Dodgers relievers have allowed four earned runs in 3 1/3 innings.
Also, starting Kershaw in Game 4 against the Cardinals would have Greinke lined up to start a deciding Game 5 Thursday in Los Angeles.
Regardless, Mattingly is going to need his bullpen, whether it's Ryu starting or Kershaw pitching on short rest. That may be scary to Dodgers fans, but it's October and very few teams have perfect options. Despite having baseball's highest payroll, the Dodgers are, like a lot of other teams, short on quality pitching.
That wasn't supposed to be the case after adding Greinke and Ryu after the 2012 season. In the first two months of this season, when the staff was healthy, Los Angeles seemed to have enough pitching to overcome an inconsistent offense.
Now Mattingly has a different kind of headache. A headache just the same, but a different one. That's the beauty of playing October baseball. It beats the alternative.
Richard Justice is a columnist for MLB.com. Read his blog, Justice4U. This story was not subject to the approval of Major League Baseball or its clubs.