Lineups breakdown: Royals-Angels, ALDS Game 3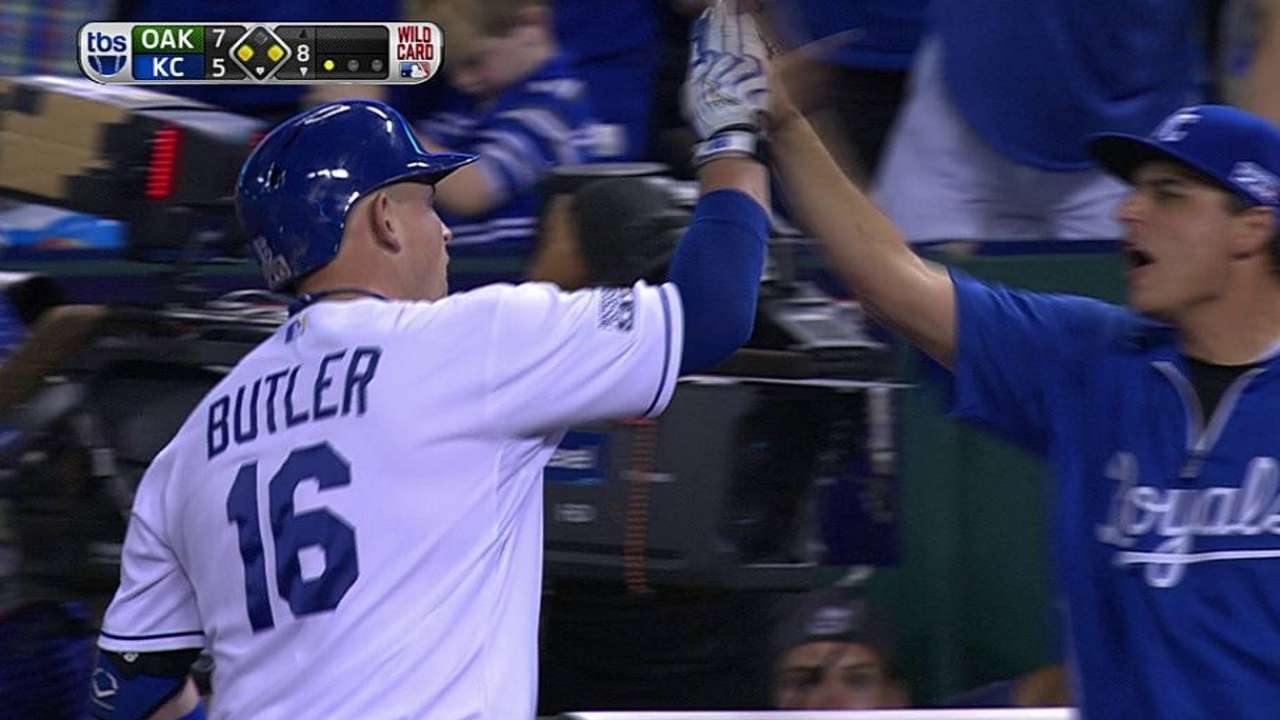 Here are the starting lineups for today's American League Division Series Game 3 between the Angels and Royals at Kauffman Stadium.
ROYALS
The Royals are unbeaten in three postseason games this year, so manager Ned Yost is going to stick with a winning lineup against Angels left-hander C.J. Wilson. Yost initially rolled out this order on Sept. 13, opting for speed at the top, and it's been working ever since. Yost tends to stick with what is working unless forced to change by injury or a deep slump.
Whether the magic can work against Wilson is another matter. In seven career starts against the Royals, the veteran southpaw has gone 4-0 with a 3.18 ERA.
Omar Infante has hit well against Wilson in the past, going 7-for-15 (.467) with two doubles. Lorenzo Cain has also found success against the southpaw, going 4-for-7 (.571) with a pair of doubles. Nori Aoki has three hits in five career at-bats against Wilson.
Josh Willingham has gone 9-for-27 (.333) with three homers and seven RBIs against Wilson, but Yost decided to stick with Billy Butler at designated hitter. Butler is 4-for-19 (.211) with one home run vs. Wilson.
1. Alcides Escobar, SS
2. Nori Aoki, RF
3. Lorenzo Cain, CF
4. Eric Hosmer, 1B
5. Billy Butler, DH
6. Alex Gordon, LF
7. Salvador Perez, C
8. Omar Infante, 2B
9. Mike Moustakas, 3B
ANGELS
On the brink of elimination, Angels manager Mike Scioscia is hopeful that continuity, not change, will ultimately get his high-powered offense going in this postseason. As expected, Scioscia opted against changing his lineup against Royals right-hander James Shields, even though the Angels have scored just three runs on 10 hits in this series.
The right-handed-hitting C.J. Cron remains at designated hitter against Shields, and Josh Hamilton continues to start, even though he has gone 0-for-9 with two strikeouts and his timing has been off.
The Angels beat Shields in his only start against them in the regular season on May 24 at Angel Stadium, getting to the Royals' ace for four runs on nine hits over six innings.
Howie Kendrick is the starter with the best career numbers against Shields, going 14-for-26 (.538) with four doubles, one triple and one home run. Hamilton has two homers off Shields in his career, but has gone just 4-for-30 (.133) with 12 strikeouts.
1. Kole Calhoun, RF
2. Mike Trout, CF
3. Albert Pujols, 1B
4. Howie Kendrick, 2B
5. Erick Aybar, SS
6. David Freese, 3B
7. Josh Hamilton, LF
8. C.J. Cron, DH
9. Chris Iannetta, C
Austin Laymance is a reporter for MLB.com. Follow him on Twitter at @jalaymance. This story was not subject to the approval of Major League Baseball or its clubs.