Zapata, Encarnacion thankful for second chance
Dominican prospects injured car crash are on track to return to the field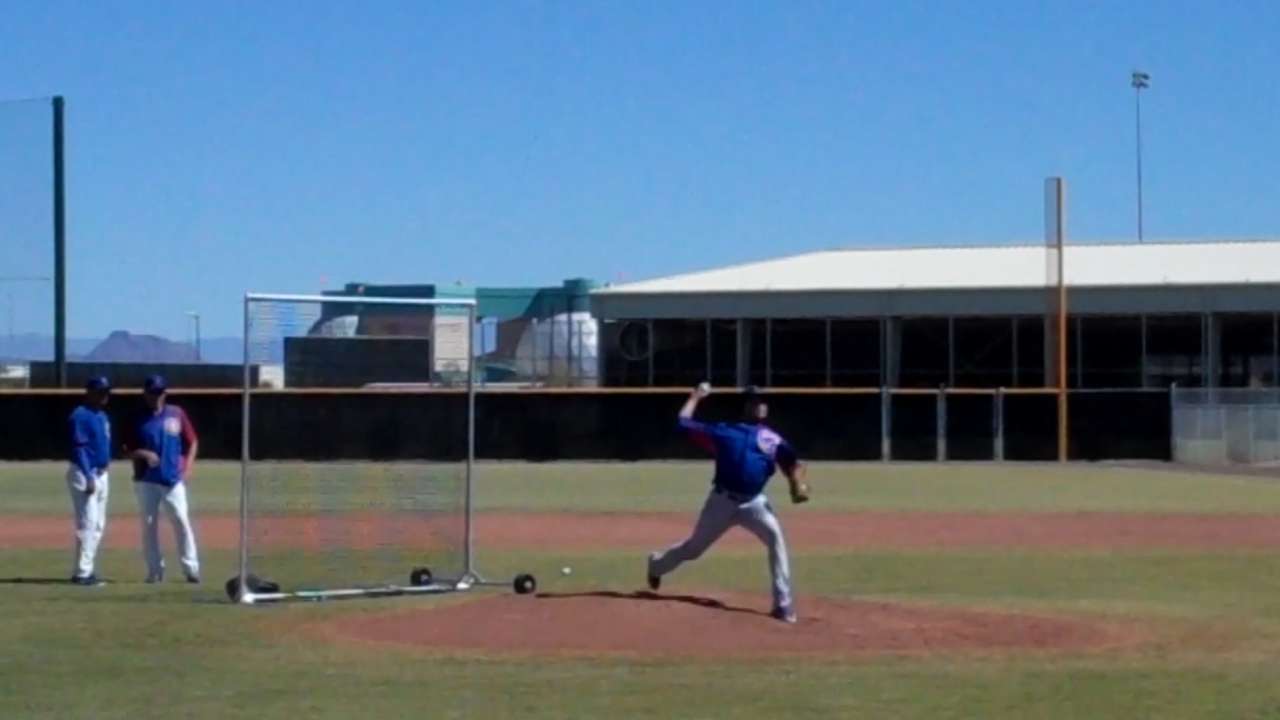 MESA, Ariz. -- Doctors told pitcher Jose Zapata he might not walk again, after he suffered a broken neck in a horrific car accident in the Dominican Republic in January. Outfielder Kevin Encarnacion, injured in the same crash, was told he might not be able to use his right arm.
Zapata was on the mound at the Cubs complex on Saturday, nervously facing batters for the first time since the accident. After he threw his 15 pitches, the players and coaches applauded. Encarnacion gave his friend and teammate a hug.
Encarnacion was slated to play in an instructional league intrasquad game on Monday, in what would be his first live action. The Cubs did everything they could so neither player had to give up his dream of playing in the big leagues.
All you have to do is look at the photo of one of the cars to know how serious the accident was. Five Cubs prospects were in two vehicles, including highly touted shortstop Frandy De La Rosa. Encarnacion was in De La Rosa's car.
The players were headed to the Cubs' new Dominican complex from the capital city of Santo Domingo, driving on Avenida Las Americas. A car struck De La Rosa's car, and it flipped seven times. Zapata, 21, was in a car driven by pitcher Jefferson Mejia, and they swerved to avoid a collision and also ended up rolling several times.
All of the players got out except for Encarnacion, 22, who was trapped by his seat belt. The car was already on fire. A fisherman got to the car and used his knife to cut Encarnacion free. As he pulled, the burned skin came off Encarnacion's right arm.
Thirty seconds after Encarnacion was safely out, the car exploded.
The same fisherman had pulled Zapata out of the back seat of the other car, although he had to break a window to get to the pitcher. Zapata could hear people talking, hear the sirens of ambulances, but couldn't respond. And he couldn't move.
The fisherman rode with Zapata in the ambulance to the hospital, trying to get a phone number so he could contact his family. But Zapata drifted in and out of consciousness, and passed out when he saw blood on his right arm -- his throwing arm.
Dominican doctors originally thought Zapata had suffered whiplash. But after more tests and exchanging information with the Cubs' medical staff, it was diagnosed as a more serious cervical fracture. Zapata said his biggest fear wasn't that he may never walk, but that he may never play baseball.
And then he heard a voice. It said, "You're going to be OK, you're going to come back." He relaxed. Was it a nurse? A family member?
"It was an angel," Zapata said.
While Encarnacion was in the hospital, he overheard a doctor tell his family the medical staff would do everything possible so he could have a normal life. He had third-degree burns on nearly 50 percent of his body. Doctors weren't sure Encarnacion would have full use of his right arm, his throwing arm.
Encarnacion has not had an easy life. His mother was killed a little more than a year ago. He had signed with the Cubs when he was 18. The oldest of four children, baseball meant everything -- including a better way of life. In 2013, he led the Northwest League with a .355 batting average and .566 slugging percentage. He was motivated.
"Everything happens for a reason," Encarnacion said.
About one week after the accident, he was flown from the Dominican to the Arizona Burn Center at Maricopa Medical Center, and spent more than one month there, needing six skin-graft surgeries. Encarnacion didn't want to eat, and was worried. He had a really good throwing arm, but now it was swollen and wrapped in bandages.
When Zapata was finally stable enough to be moved, he was flown to Chicago. He was scheduled to undergo neck surgery when he got there. But Zapata heard the angel again, saying he wouldn't need surgery. He was instantly at ease. Tranquilo.
After more X-rays and tests, doctors said Zapata didn't need surgery. Instead, he began extensive rehab, first in Chicago, then in Arizona. He was encouraged -- because ever since he regained consciousness, he had some feeling in his left big toe.
"They told me I wouldn't be able to walk," Zapata said. "But if I wasn't going to walk, I wouldn't be able to move my big toe."
His teammates visited him in the hospital in Arizona, encouraging him to try to move. He insisted nurses allow him to get up so he could do more. The first time he sat up, Zapata was dizzy. But it didn't deter him. If you saw a player at Cubs extended spring training in a neck brace, it was Zapata.
What scared him was that his right arm was weak. Zapata, who signed when he was 19, had an encouraging first season in the Dominican in 2013, posting a 1.93 ERA in 13 games. He struck out 49 over 56 innings.
"That was my biggest fear -- the one thing I've dreamed of is to play in the big leagues," Zapata said.
The Cubs' medical staff, led by Mark O'Neal, director of medical administration, and team physician Dr. Stephen Adams, coordinated the care, and the team spared no expense. There were phone calls at all hours of the day and night. But the effort paid off.
Both are fortunate to be alive. They were cautioned they might never play baseball again. Now, Encarnacion can do all of the drills with the rest of the Cubs' prospects. Zapata took a big step with Saturday's outing. If they make it to the big leagues -- and it's going to be tough to stop them now -- it will be an amazing comeback.
"I want to thank God and the [Cubs]," Zapata said, speaking for both players. "If they did not spend that time with me, I would not be back."
And that heroic fisherman? Encarnacion returned to the Dominican this summer and found him to thank him for saving their lives.
Carrie Muskat is a reporter for MLB.com. She writes a blog, Muskat Ramblings, and you can follow her on Twitter @CarrieMuskat. This story was not subject to the approval of Major League Baseball or its clubs.