Solid Lynn grinds through outing to keep Cards close
Righty strikes out eight, gives up two runs in third after Dodgers win challenge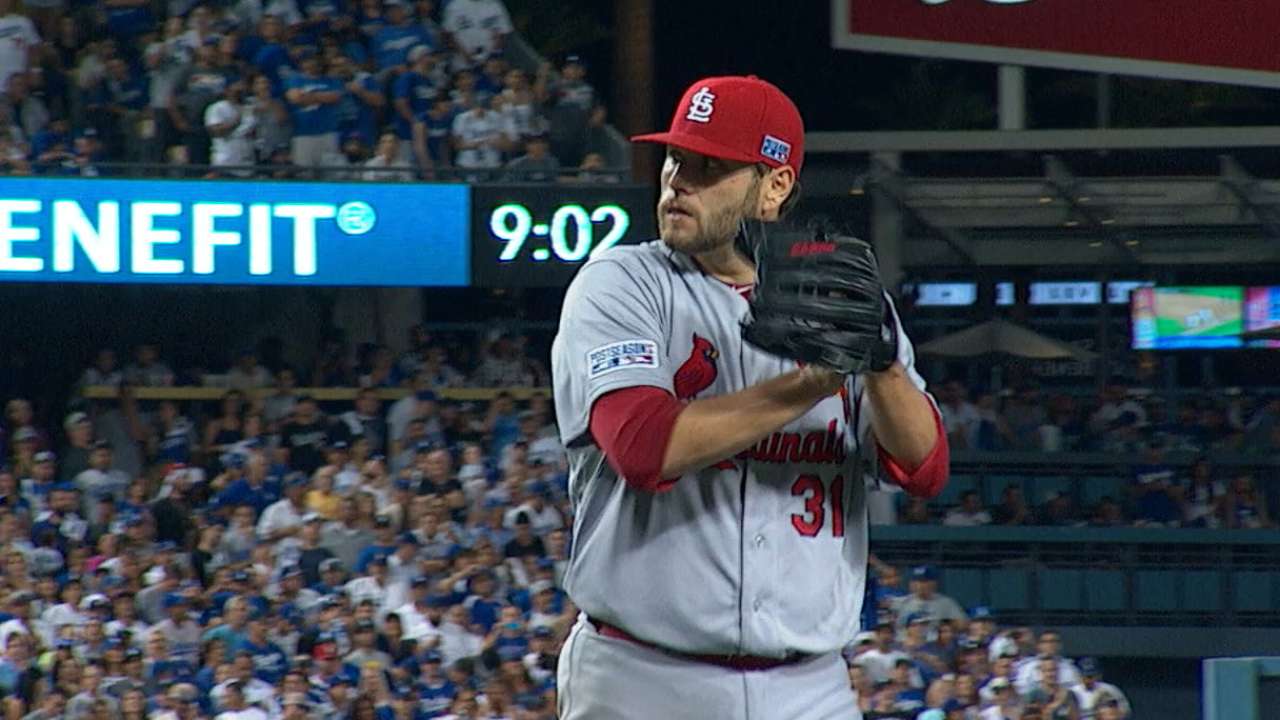 LOS ANGELES -- Lance Lynn turned in a solid performance for his 2014 postseason debut Saturday. Unfortunately for the Cardinals, Zack Greinke was better.
Though neither factored into the decision thanks to a pair of late homers, Lynn was outdueled in the 3-2 loss to the Dodgers in Game 2 of the National League Division Series.
The Cardinals righty limited Los Angeles to two earned runs on seven hits and a pair of walks over six innings. He struck out eight. Greinke, however, tossed seven shutout frames, allowing just five baserunners -- two hits, two walks and a hit-by-pitch -- and fanned seven.
"I thought Lance Lynn did a nice job of keeping us in that game, and obviously Greinke was throwing the ball well," manager Mike Matheny said. "But Lance's fastball was good. I thought he used some good secondary pitches and gave us a chance, kept us close. That's what we ask, [we] ask the guys to grind on the mound or at the plate."
As for the pressure of matching Greinke's performance, Lynn said that's just something that accompanies October play. He would know, too, as Saturday marked his 22nd career postseason appearance (sixth start), which is the most by a pitcher in Cardinals history.
"When it comes down to the playoffs, you don't want to give up a run, ever," Lynn said. "You can give up one and [get] beat. That's just part of it. You're trying to match [your opponent] and you're trying to do better than them. But when it comes down to it, it doesn't matter. You can't give up any runs. I gave up two tonight. It was a good game. It just didn't work out our way."
Both of the runs Lynn surrendered came in the third inning, but even then, he was close to escaping the frame unscathed. But right fielder Randal Grichuk just narrowly missed snagging A.J. Ellis' deep double off the wall and then the Cardinals ended up on the wrong side of a replay challenge.
With runners at the corners and no outs, Dodgers second baseman Dee Gordon initially grounded into a double play. The Dodgers challenged the call, and replays showed that when Kolten Wong tagged Greinke heading for second, the ball was in his right hand, not his glove, and the call was overturned, allowing Greinke to reach second base while Gordon was out at first. Ellis scored on the play, and Greinke later scored on a two-out RBI single from Adrian Gonzalez.
"You look at the play and it could have been a double-play ball, maybe should have been a double-play ball," Lynn said. "Maybe they only get one run that inning and maybe we're still playing. That's just part of baseball. It didn't work out our way, but we came back and tied it up and gave ourselves a chance. It just didn't work out."
Chad Thornburg is a reporter for MLB.com. This story was not subject to the approval of Major League Baseball or its clubs.