Greinke controls Game 2 -- on the hill and at the dish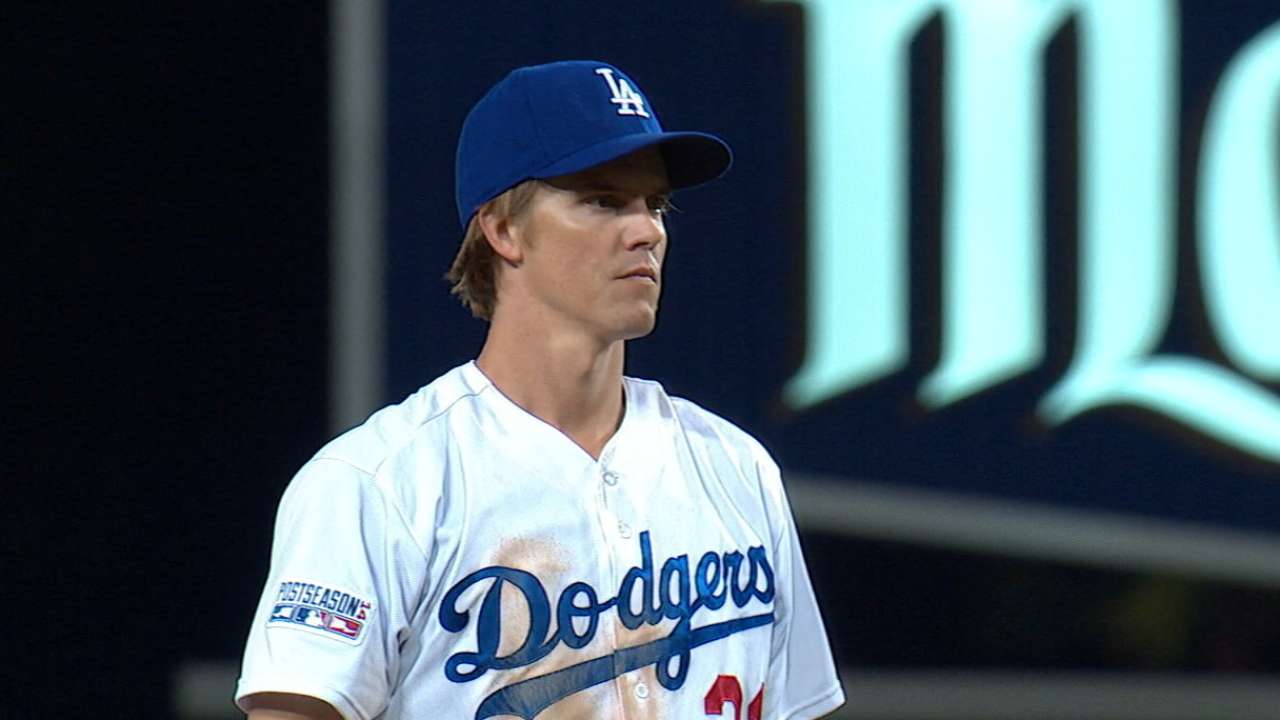 LOS ANGELES -- Zack Greinke is the kind of guy who'd tell a teammate he would trade him -- as he once told his catcher, A.J. Ellis, during a game last season. He's the sort of man who would ask, "Are these questions going to get any better?" during a press conference -- even though he'd only heard two questions. He's the type of batter who would pull back a bunt and slap at the ball instead -- just because the defense didn't look quite right.
And with the Dodgers down one game in the National League Division Series, he's exactly the pitcher Los Angeles needed on the mound Saturday night.
In a 3-2 Dodgers win, Greinke was surgical, precise and domineering, carving through a Cardinals lineup that had devastated the Dodgers and their other ace, Clayton Kershaw, in a 10-9 shocker the night before.
Greinke didn't allow a hit until there was one out in the fifth, throwing seven scoreless innings and striking out seven batters in a stellar performance.
"I told him after the game, I thought it was the best I've seen his slider all season," Ellis said. "His slider was outstanding. He was really finishing guys off. ... He was able to pitch to both sides of the plate."
If that weren't enough, Greinke was also crucial in getting his own team on the board. After his catcher, Ellis, led off the third inning with a double off Cardinals' right-hander Lance Lynn, Greinke came to the plate in what is typically a classic bunt situation.
Greinke showed bunt on the first pitch and took a ball. He then showed bunt on the second pitch, but before Lynn delivered, he pulled it back and slapped the ball to right field for a single, sending Ellis to third with no outs.
"It was like a [defensive] placement that I never, I didn't really, I don't think I remember ever seeing that before," Greinke said. "So I thought to swing. It was a lucky hit, the pitch was way outside and just kind went in the right spot."
The base hit helped kick-start a two-run rally. Ellis joked he was just trying to get in scoring position for "the best hitter on the team, according to him."
There might be something to that.
A career .219 hitter, Greinke picked up another base hit with a ground-ball single to left in the bottom of the sixth inning, producing just the fifth multi-hit postseason game by a Dodgers pitcher and first since Orel Hershiser went 3-for-3 in Game 2 of the 1988 World Series. Greinke even showcased his wheels on the basepaths, hustling to go first-to-third on a single by Dee Gordon and capping it off with a headfirst slide.
"Obviously, it's fun," Greinke said. "It makes a difference ... it's a big difference sometimes. Today, at least one extra run scored because of it, because of the slash at-bat. It's really important fielding your position and hitting, not being an absolute out. And I don't know if there's an absolute or there's an exact number to how it helps, but it definitely helps."
Still, Greinke earns a living primarily by what he does on the mound, and that was the case again Saturday with a stingy effort against the Cardinals.
St. Louis' best chance to strike against him came in the top of the sixth when Matt Carpenter drilled a double to lead off the inning. But Greinke was able to avert danger, producing a groundout and striking out Matt Holliday and Jhonny Peralta.
"He didn't make any mistakes," Carpenter said. "When he made pitches, he made them off the edges, and when he wanted to throw it for a ball, he threw it for a ball. He just had real good command of everything he was throwing."
Ellis said before the game that Greinke is the type of the pitcher that lives in the video room, putting in hours studying opposing hitters and learning their tendencies. Typically reserved, the right-hander constantly talks strategy with Ellis throughout games, looking to make adjustments and counter his opponents.
"This is the day that Zack uses all his words," Ellis joked early Saturday.
It was also the day he used his bat, his speed and every tool at his disposal to help lead the Dodgers to a win.
He's that kind of guy.
Michael Lananna is an associate reporter for MLB.com. This story was not subject to the approval of Major League Baseball or its clubs.