Three keys for Dodgers in Game 3 against Cardinals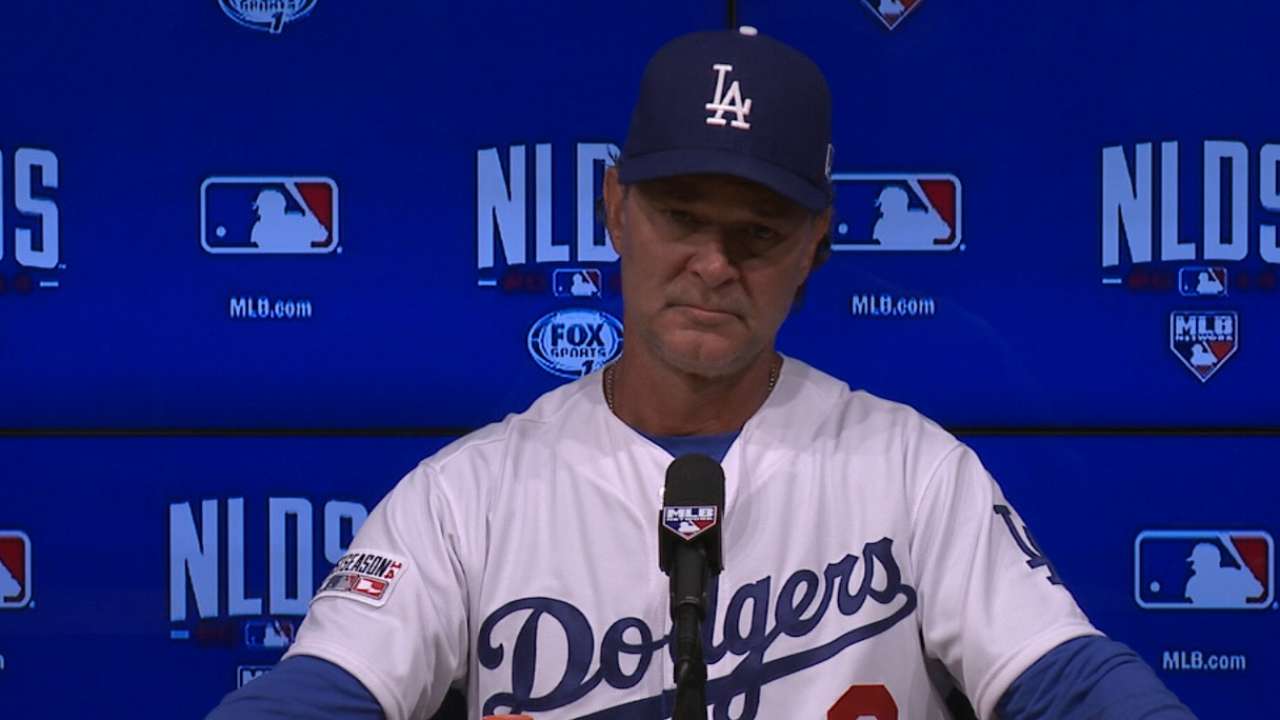 ST. LOUIS -- Riding the emotional roller coaster, the Dodgers resume play Monday with Game 3 of the National League Division Series facing a sea of red at Busch Stadium.
This is where they were eliminated in last year's National League Championship Series, and they need to win one of the next two games to avoid a repeat of that and send the series back to Los Angeles.
For Game 3, on Monday at 6 p.m. PT on FOX Sports 1, they send a starting pitcher to the mound that hasn't pitched in nearly a month. Here are the Dodgers' three keys to taking a lead in the series.
1. Hyun-Jin Ryu: He's been the big unknown since leaving a Sept. 12 game in San Francisco after one inning with a sore shoulder, the second time he's been sidelined by the injury this year. The Dodgers either think he's some kind of Superman, or he was never that badly injured, because they send him into this pressure situation off a three-inning, 45-pitch simulated game against teammate hitters that they wouldn't even let the media watch to verify that it actually happened. If anything goes wrong, the plan was to have Dan Haren ready to step in, with Clayton Kershaw starting Game 4.
2. The bullpen: Sure, it's a broken record, but it's something of a broken bullpen. In Game 1, rookie Pedro Baez allowed a decisive three-run homer to Matt Holliday. In Game 2, veteran J.P. Howell served up a two-run homer to Matt Carpenter that cost Zack Greinke a victory and required Kemp heroics to the rescue. Two close games and we haven't even seen Brian Wilson yet, so the staff's confidence in him has finally wavered. Now Brandon League is back in favor out of the reshuffled deck. At least Kenley Jansen was amped up and ready to go, hitting 98 mph on the radar gun while locking down the save Saturday night.
3. Carl Crawford and Yasiel Puig: Crawford was just about the hottest hitter in baseball over the last two months of the season, but he struck out three times in Game 2. Now he faces John Lackey, who he owned when they played in the American League. Lifetime, Crawford is 23-for-48 (.479) against Lackey. Puig, meanwhile, struck out all four at-bats in Game 2, plus his final at-bat to end Game 1, and he's got the frustrated look he had when he slumped for three months during the middle of the season.
Ken Gurnick is a reporter for MLB.com. This story was not subject to the approval of Major League Baseball or its clubs.