Gem unrewarded, but 'typical Jordan' sparks Nats
Teammates accustomed to Zimmermann's efforts, like his near shutout following no-hitter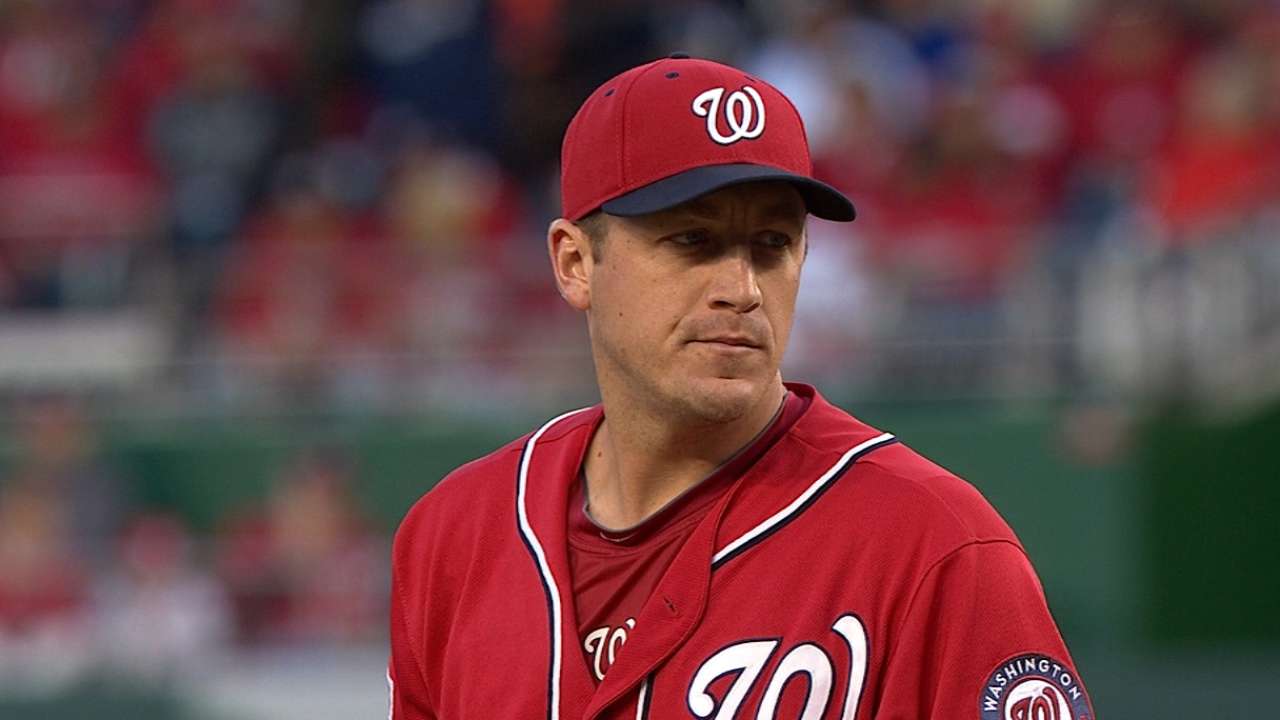 WASHINGTON -- Jordan Zimmermann retired 26 Giants on Saturday night in Game 2 of the National League Division Series, but when he left one out shy of a second straight shutout, a long night at Nationals Park was less than half complete.
After Nationals manager Matt Williams pulled Zimmermann for closer Drew Storen with two outs in the top of the ninth and the game tied at 1, Zimmermann spent the rest of the six-hour, 23-minute marathon -- the longest by time in postseason history -- watching helplessly. The right-hander went back to the clubhouse, then returned to the dugout, hanging out with the ever-growing group of relievers that entered and exited the game. Finally, San Francisco's Brandon Belt homered in the 18th, and the Giants took a 2-0 lead in the best-of-five series.
"Just a normal 18-inning game, I guess," Zimmermann deadpanned.
Every crazy layer added to the contest shoved Zimmermann's performance further into the rearview mirror, but the right-hander still authored a worthy followup to his no-hitter against the Marlins in Sunday's regular-season finale.
With a 1-0 lead in hand, Zimmermann blanked San Francisco for 8 2/3 innings, allowing three singles and one walk while striking out six. He retired 20 straight batters before issuing a free pass with two outs in the ninth inning to Joe Panik, who came around to score on Pablo Sandoval's double off Storen, with the run charged to Zimmermann.
"It was awesome," Nats reliever Craig Stammen said of Zimmermann's performance. "I was kind of hoping he was going to tie Johnny Vander Meer's record of two no-hitters [in a row], but it didn't quite happen. He was going strong there for a while though. Unfortunately, we just didn't quite come out on top for him."
Vander Meer famously became the only pitcher in Major League history to notch back-to-back no-hitters, when he did so for the Reds on June 11 and June 15 in 1938. The Giants ended Zimmermann's chances of matching that feat when Buster Posey singled to left field with two outs in the first inning, but they couldn't gain much traction against him after that.
Zimmermann threw about 70 percent four-seam fastballs this season, mixing in some sliders, curveballs and an occasional changeup, but the conditions at Nationals Park on this night led him to tweak his approach, to great effect. Of his 100 pitches, 85 were fastballs, averaging 93.8 mph, according to BrooksBaseball.net.
"The first couple innings, I was mixing up all my pitches," Zimmermann said, "and then I realized the wind was blowing in and the ball wasn't flying, so I stuck with the fastball and pretty much dared them to hit the ball out and came right after them."
The dominant performance wasn't quite enough to earn Zimmermann a victory on an unprecedented night of postseason madness. But it was more than enough to impress a group of teammates that has grown used to seeing him in control.
"It was amazing. It was typical Jordan," third baseman Anthony Rendon said. "That's what we've been getting out of him all year. He's awesome to play behind. It's just unfortunate it had to end the way it did."
Andrew Simon is a reporter for MLB.com. Follow him on Twitter @AndrewSimonMLB. This story was not subject to the approval of Major League Baseball or its clubs.