Hudson keeps Giants in Game 2 with stout start
Veteran rebounds from rough September, allows one run in 7 1/3 innings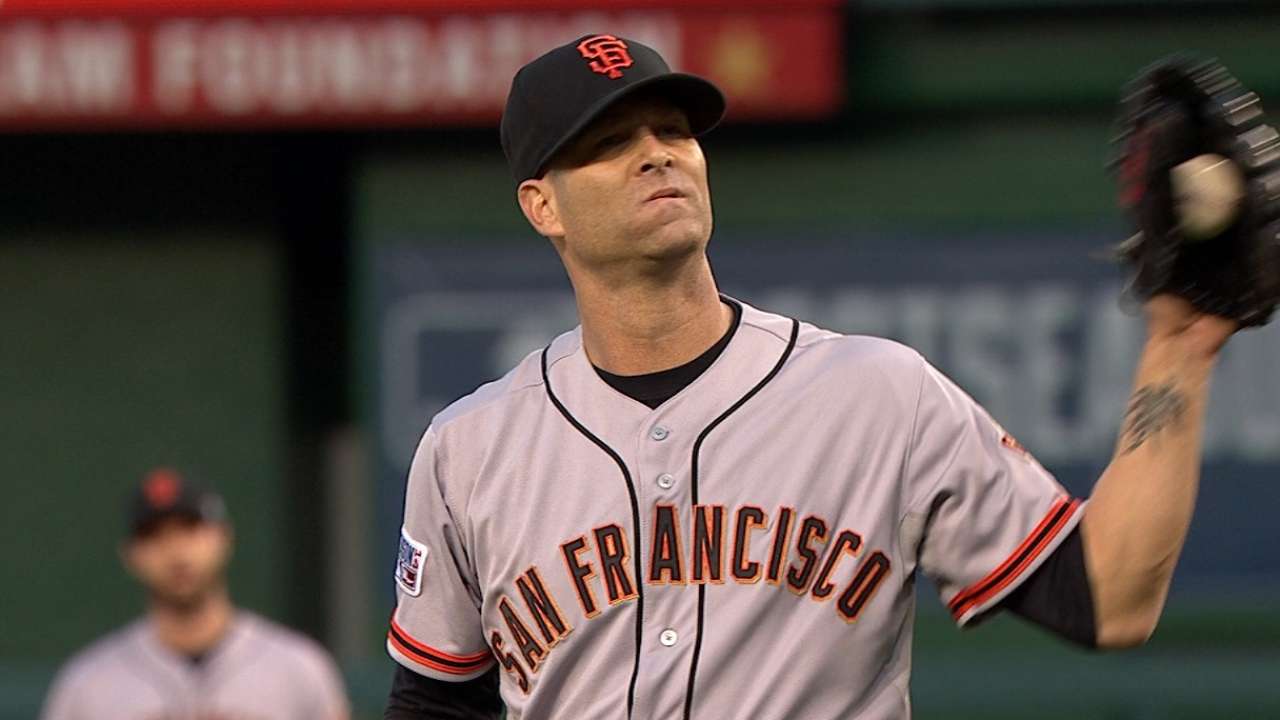 WASHINGTON -- Giants right-hander Tim Hudson was booed every time he was introduced during the first two games of the National League Division Series at Nationals Park. It seems the Washington fans didn't appreciate his observation that it takes, um, guts in addition to talent to win in the postseason.
Hudson took a three-part approach to the situation. He had fun with it. He explained that he was complimenting the Giants' fortitude rather than suggesting the Nationals lacked heart.
And, most importantly, Hudson held the Nats to one run through 7 1/3 innings Saturday night in Game 2. San Francisco tied the score in the ninth and eventually won, 2-1, in 18 innings to take a commanding 2-0 lead in the best-of-five series.
"These first two games kind of speak for themselves," Hudson said. "We have a lot of guys who go out there and lay it out on the line every night. I think my comments were taken out of context a little bit. Obviously, by no means was I trying to say they didn't have any [guts] because they do. I think this game showed it for them, too. But I just know what these guys in this locker room are about."
In a neat coincidence, Hudson started Game 4 of the 2005 NLDS for the Braves against the Astros ... which also went 18 innings, with Houston winning, 7-6. Asked how the two games compared, Hudson shook his head.
"Just long games," he said. "This was much more of a pitchers' duel throughout the game. A lot of pressure pitches."
Saturday night was big for Hudson in another way. It helped erase the memory of a September during which he went 0-4 with an 8.72 ERA in five starts.
"He was great," said catcher Buster Posey. "That was the best he's thrown the ball in a while. He did a great job using his fastball and mixing in the offspeed when he wanted to."
The only run Hudson allowed came after Nationals second baseman Asdrubal Cabrera led off the third with a double into the left-field corner. But it didn't come easy.
Pitcher Jordan Zimmermann struck out trying to get the bunt down. Denard Span grounded out to first. Cabrera moved to third but Hudson was one out away from pitching out of trouble. Working the corners with sinkers, the count to third baseman Anthony Rendon went to 1-1. Then another sinker got a little too much of the plate and Rendon hit a grounder that made it into left for an RBI single.
"It was early in the game. Obviously, any time you give up a run, you're not happy about it. But there was a lot of baseball left," Hudson said. "Obviously, facing a guy like Zimmermann, you can't really afford to give up any more than that, because runs against him are tough to get sometimes. So it was one of those things where I had to go out there and put up zeros the rest of the time. And I kept us in the game."
Hudson was largely in control after that. And when he did get into a jam, he was able to pitch out of it.
In the fourth, Nats shortstop Ian Desmond singled and stole second with one out. Hudson struck out Bryce Harper and Wilson Ramos to strand him.
In the sixth, Rendon led off with a single and moved into scoring position on an infield out. Hudson got Adam LaRoche to ground out and struck out Desmond to end the inning.
And now the Giants need just one more win to advance to the NL Championship Series.
"Obviously, going up 2-0 is great," Hudson said. "We can't take anything for granted. We went up 2-0 back in Oakland [against the Yankees in 2001] and weren't able to hold on. So I understand just because you win your first two games on the road, it doesn't mean anything. We still need one more but we're going to have [staff ace Madison Bumgarner] going on Monday. And I like our chances against anybody with that guy on the hill."
Paul Hagen is a reporter for MLB.com. This story was not subject to the approval of Major League Baseball or its clubs.