Close games, extra frames percolate playoffs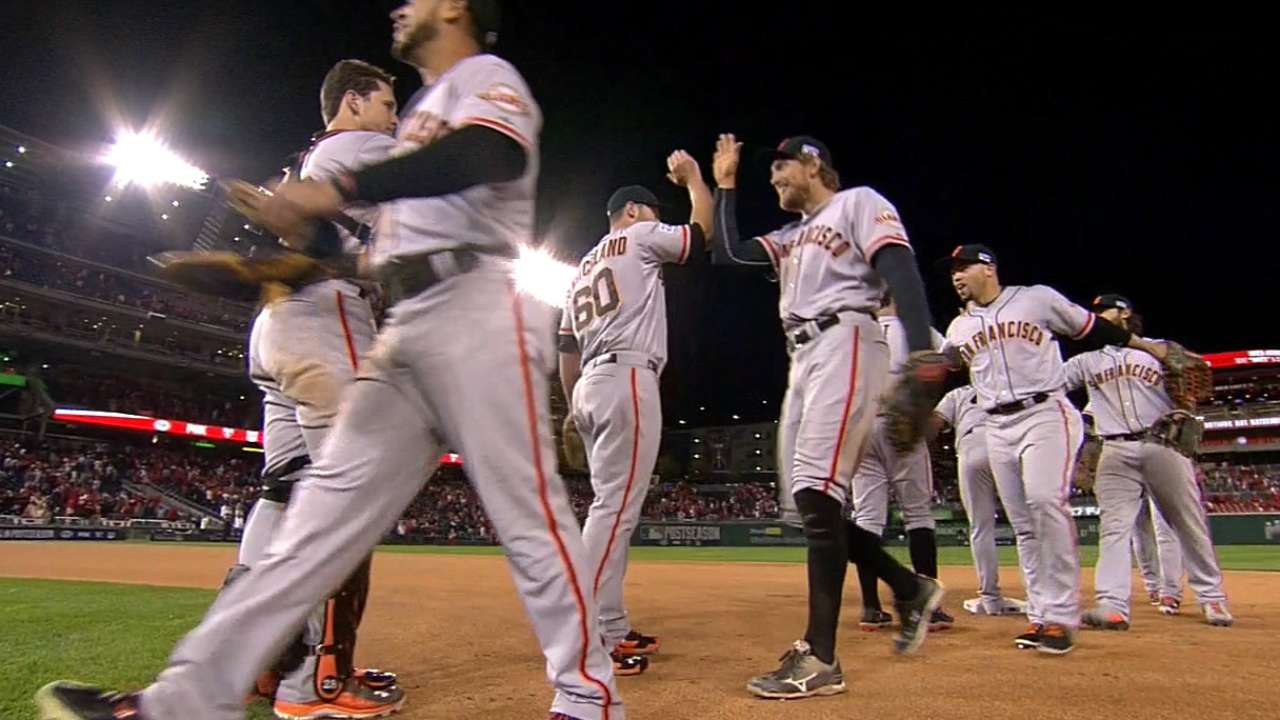 After a four-game extravaganza Friday, the Giants and Nationals decided to play two games in one Saturday, with the team that brought two World Series titles to San Francisco in the last four seasons claiming a marathon victory in 18 innings. Their longtime coast-to-coast rivals, the Dodgers, then evened up their series against the Cardinals with a late homer from Matt Kemp -- becoming the only Division Series so far to split the first two games.
And now it's on to an American League Division Series doubleheader today with clinching implications. The Orioles look to drop by Detroit and finish off the Tigers in their best-of-five matchup, and the Royals head home to Kansas City, looking to sweep the Angels.
On Saturday, the first weekend session of the 2014 postseason saw two of seven one-run games out of 10 played this postseason, and the longest -- both time-wise and innings-wise -- of the four of those games that have gone into extra innings.
The Giants beat the Nationals in what matched the longest postseason game ever at 18 innings. It also became the longest ever at 6 hours, 23 minutes. In the end, a 2-1 victory gave the Giants a 2-0 edge in the NLDS as the series heads back to San Francisco, a solo homer by Brandon Belt in the top of the 18th proving the difference.
"I just wanted to get on base for the guys behind me -- 'Get 'em on, get 'em over and get 'em in,'" Belt said afterward. "Fortunately, I put a good enough swing on it. It went out of the ballpark."
Said Giants manager Bruce Bochy: "Just a great ballgame to be part of. You are hoping that somebody gets a hold of one, and Belt finally did. That is a game that I will always remember. It was a great battle between the two teams."
Welcome to the 2014 postseason. That's pretty much how it has been rolling, from a crazy walk-off in Kansas City to start things off through Saturday's coast-to-coast thrillers.
On Sunday, it's really on. There are two clubs on the cusp of advancing to the American League Championship Series, and two teams hoping to stave off a postseason sweep. While the Orioles aim to finish off their best-of-five series on the road, the Royals will be heading home to Kansas City, hoping to finish off their first postseason series victory since clinching the 1985 World Series.
In Detroit, the Orioles send Bud Norris to the mound to try and finish off the Tigers, who will have prized Trade Deadline acquisition David Price on the mound to save their season in a 3:30 p.m. ET start on TBS. After that, the Angels' C.J. Wilson will take on Royals ace James Shields in a pivotal Game 3 matchup at Kauffman Stadium at 7:30 p.m. ET on TBS.
The Royals have won in extra innings in each of their first three postseason games -- the first team ever to do so -- and they're heading home to the Powder Blue Heaven that is Kauffman Stadium, the venue that hosted that a World Series champion nearly three decades ago.
"I think [outfielder Alex Gordon] said it best last night: We came into this with no playoff experience, but after the Wild Card Game, what more experience do you need?" Royals manager Ned Yost said. "They've played true to that."
In Detroit, a Tigers team that has made it to the AL Championship Series each of the last three seasons finds its back against the wall, the Orioles having taken the first two games of their ALDS with stunning eighth-inning rallies.
If there's any solution for the Tigers, it might be to have Price take the ball through that dreaded eighth inning, a scenario that certainly seems plausible after another studly regular season and a strong postseason resume already under his belt.
"It's not easier that you're down 0-2, as opposed to being up 2-0, but you know what you gotta do," Price said. "This is the time when you want to be able to step up for your team, for your fan base, for the city of Detroit. This is a special moment. You gotta be able to go out there and throw my game, and that's what I plan on doing."
Sometimes, that's not even enough to keep a game from going deep into the night. Both starters in the Giants-Nationals game -- veteran Tim Hudson and breakthrough star Jordan Zimmermann -- took their stuff as far as it could go, but the game went into extra innings with only one run apiece before Belt's heroics so many innings and hours later.
"When a game starts to get that long, other than on the pitchers that continue to come in fresh, I think on the position players, the pressure kind of wanes," Tigers manager Brad Ausmus said before Game 3 of the ALDS on Sunday. "It almost becomes a war of attrition, see who can outlast the other. And by the end of 18, I can guarantee you even the guys in the dugout that were cheering were exhausted."
In L.A., Zack Greinke played a similar role in dominating the Cardinals before Matt Carpenter pulled yet another huge hit out of his bag of tricks, launching a two-run homer off J.P. Howell to tie the game in the top of the eighth. But this NL game wouldn't go on and on, thanks to Kemp's blast into the bleachers in left field in the bottom half for a 3-2 victory to even up the rematch of last year's NL Championship Series.
So now it's on to the first Sunday of a postseason that has delivered thrills by the day in its first week, going overtime if necessary.
John Schlegel is a national reporter for MLB.com. You can follow him on Twitter at @JohnSchlegelMLB. This story was not subject to the approval of Major League Baseball or its clubs.