Kemp pounces on rare misstep by reliable Neshek
Cards All-Star reliever regrets location, not selection; club's faith not shaken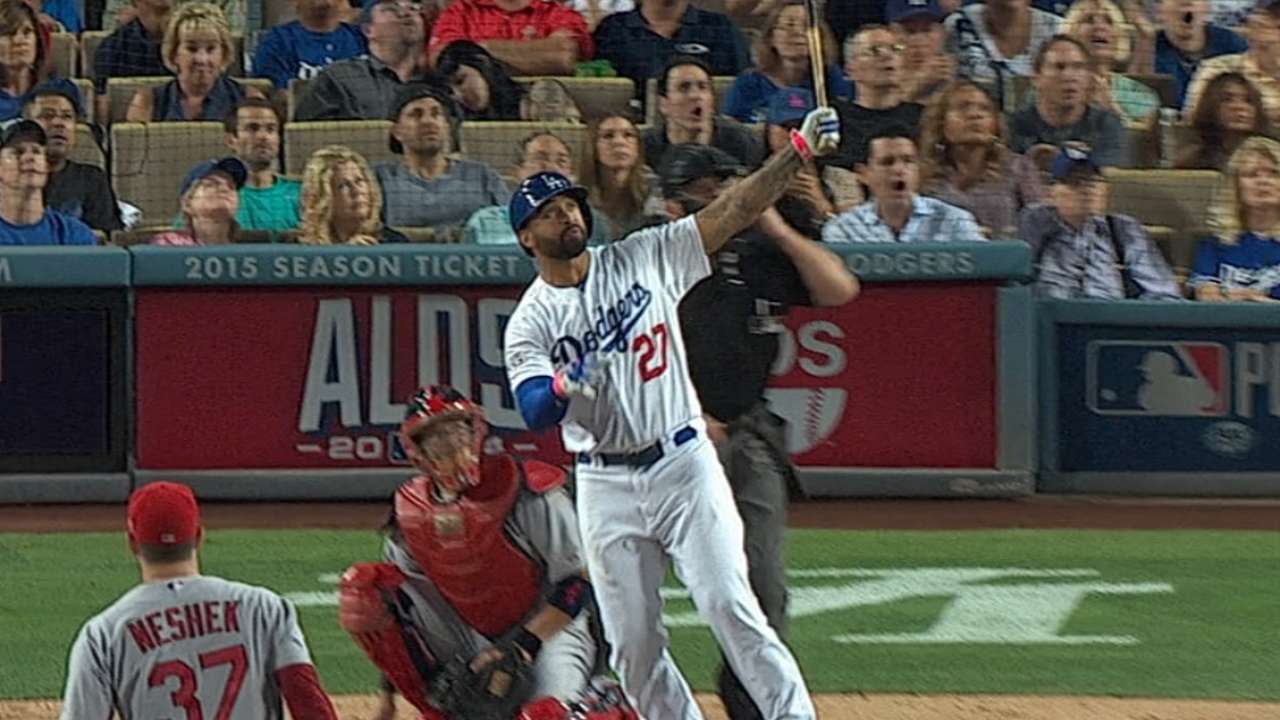 LOS ANGELES -- Having long since established himself as one of the Cardinals' most reliable options in the 'pen, it wasn't anything out of the ordinary to see Pat Neshek called upon by his manager on Saturday to get his team through an eighth inning with the score tied and playoff implications on the line.
It just didn't work out how the Cardinals would have liked.
A surging Matt Kemp, seemingly healthy and enjoying a late-season bounce-back, took an 83-mph slider from Neshek and launched it toward left field, where the only question was -- would it stay fair?
It did, which was actually surprising to the man who threw the pitch.
"At first, when I threw it, I thought, there is no way that's staying fair, one," Neshek said. "And two, it's so darn high that [left fielder Matt Holliday is] going to catch it. I think when he hit it, the crowd [got excited] and I thought, 'That's not going.' Then I looked back and I thought, 'Whoa, that might actually go out here.' I was really surprised."
The homer was the difference-maker in what ended up a 3-2 loss to the Dodgers, which evened the best-of-five National League Division Series at one game apiece. It negated what could have been the Cardinals' second come-from-behind win in as many days, a possibility that was hatched when the Dodgers' two-run lead disappeared as soon as Zack Greinke left the game in the top of the eighth.
Matt Carpenter's two-run homer off J.P. Howell quieted a packed Dodger Stadium and negated all of Greinke's dominant work up until then. Redemption for Howell, however, came at the expense of Neshek, whose 71 regular-season appearances were his most in seven years and ranked third on the Cardinals' pitching staff.
He's been trusted in big situations before, and he'll see more opportunities as the postseason motors along. But he may have to be a little careful with Kemp, to whom he fed a series of sliders on Saturday, straying from the fastballs he threw him the night before, with more successful results.
"Just looking for something to drive," Kemp said. "He did throw me a fastball yesterday. I hit it pretty hard, but tonight he tried to get me with a couple of sliders. I laid off some tough ones that were close on the plate, [then I got a pitch] that I could do something with, and I put a good swing on it."
Neshek didn't regret the choice to go heavy on the sliders, feeling that was his best chance to keep Kemp guessing.
"I think if we would have gotten ahead, I would have come back with [a fastball]," Neshek said. "I still feel if I get that pitch down and away, even just a little more down, I think it's a pop fly. I feel if I make my pitches there, I get him out."
This ending may have been less about Neshek and more about Kemp, who is hitting .355 with 10 homers and 28 RBIs dating back to Aug. 30. Clearly, more pitchers than just Neshek have been bested by the one-time NL MVP runner-up.
"He's healthy," Cardinals manager Mike Matheny said. "That's really what it comes down to. You can tell there's a different confidence in his swing and in his approach and how he attacks the ball."
When the NLDS resumes on Monday at Busch Stadium, it's likely Matheny will again turn to Neshek in a tight situation, just as he has throughout 2014.
"He's been in a couple spots where he has given up a couple, next time he comes out he's right back to dominating," Matheny said. "You don't have the kind of numbers you have without having that short memory, and the numbers he has speak for themselves. He's going to be right back in there. We'll throw him right back in that tough spot and know that he's going to make good pitches for us."
Alyson Footer is a national correspondent for MLB.com. Follow her on Twitter @alysonfooter. This story was not subject to the approval of Major League Baseball or its clubs.