Cards attribute missed chances to Greinke's finesse
Club 0-for-8 with RISP despite Carpenter's clutch HR, confident heading home even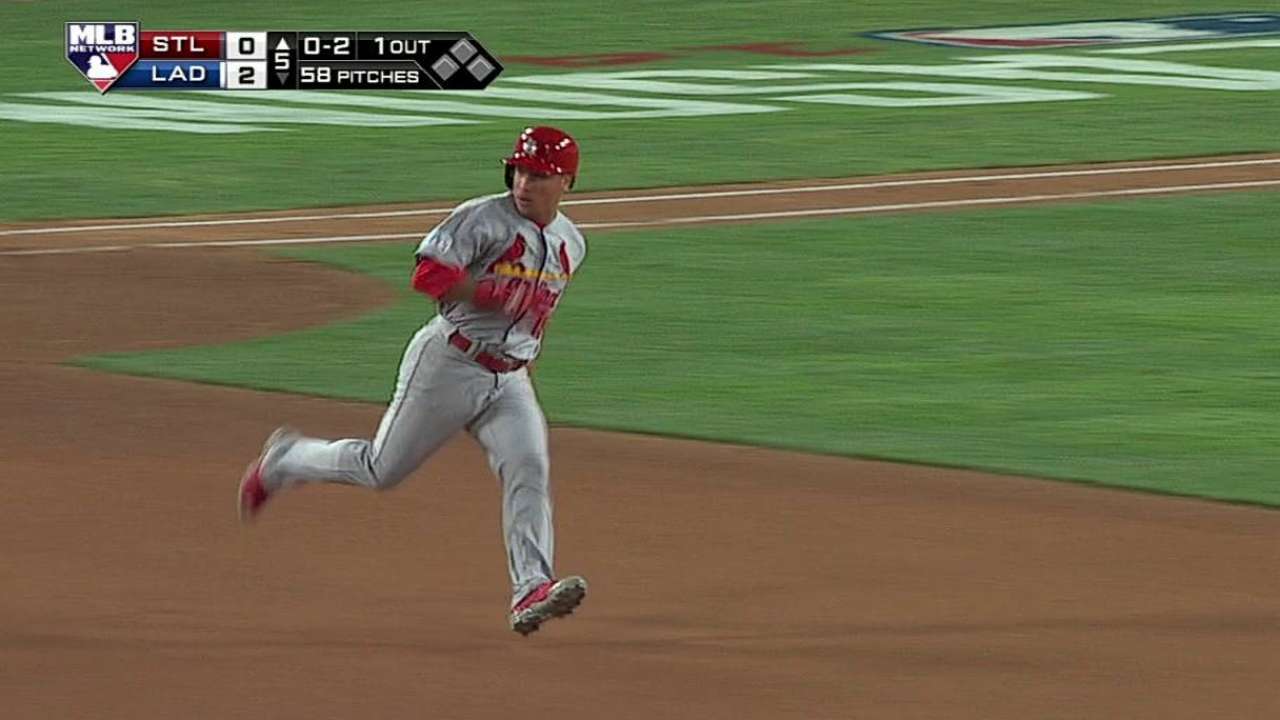 LOS ANGELES -- Looking at the box score of Game 2 of the National League Division Series between the Cardinals and Dodgers, the first thing you notice is the score, of course, and that went 3-2 in favor of the Dodgers. But a few other numbers led to the first one.
The Cardinals went 0-for-8 with runners in scoring position. They left six runners on base. And Matt Adams, Lance Lynn and Jhonny Peralta left runners in scoring position with two outs.
It's a typical tale of a baseball loss, but when it's an October game, the missed opportunities are magnified and can lead to elimination if not corrected ... quickly.
Still, after the game, the Cardinals were not lamenting squandered chances. They were focusing on the reality of certain baseball situations that are sometimes unavoidable, plus the positives, of which there were a few.
Mark the work of Dodgers starter Zack Greinke in the sometimes-unavoidable department. The former American League Cy Young Award winner shut out the Cardinals for seven innings on two hits, striking out seven and walking two, and after the game, the St. Louis hitters seemed to be doing more cap-tipping than excruciating self-analysis.
For example, here's Cardinals second baseman Kolten Wong, who went 1-for-4 and broke up Greinke's no-hitter with a one-out double in the fifth inning: "He looked really good today. Everything was firm and good movement. His changeup was really good tonight. He was throwing it really well."
Here's St. Louis outfielder Randal Grichuk, who went 0-for-4 and struck out twice, once against Greinke: "He got swings and misses and kept us off balance. He threw a [heck] of a game. He's a great pitcher."
And here's third baseman Matt Carpenter, whose eighth-inning home run off Dodgers reliever J.P. Howell accounted for both St. Louis runs: "There's a couple things tonight that stood out to me. One, his fastball velocity was higher than it's been against us in a while. ... And he just had command of everything. His slider to right-handers was really tough tonight. He was throwing it right off the outside corner off his fastball location. He didn't make any mistakes. When he made pitches, he made them off the edges, and when he wanted to throw it for a ball, he threw it for a ball. He just had real good command of everything he was throwing."
As for the positives, well, despite scratching out only five hits, they escaped the bright lights of Hollywood with a split after facing Greinke and NL Cy Young lock and probable MVP Clayton Kershaw, and they did it with some style.
Game 1 featured the incredible eight-run seventh inning that sunk Kershaw, and in Game 2, the Cardinals fought back from a 2-0 deficit to tie the game at 2 in the eighth on Carpenter's big fly.
In other words, they'll take their chances that the quiet offensive night won't carry over to Monday, when Busch Stadium will get loud.
"I think this series is going to go basically the way it's going in terms of two teams just fighting hard and playing until the last out is made," Carpenter said.
"There's going to be some tough games, and it's been that way so far. I think it's going to continue."
Doug Miller is a reporter for MLB.com. Follow him on Twitter @DougMillerMLB. This story was not subject to the approval of Major League Baseball or its clubs.