MLB.com Columnist
Barry M. Bloom
Healthy again, Kemp back to putting hurt on opponents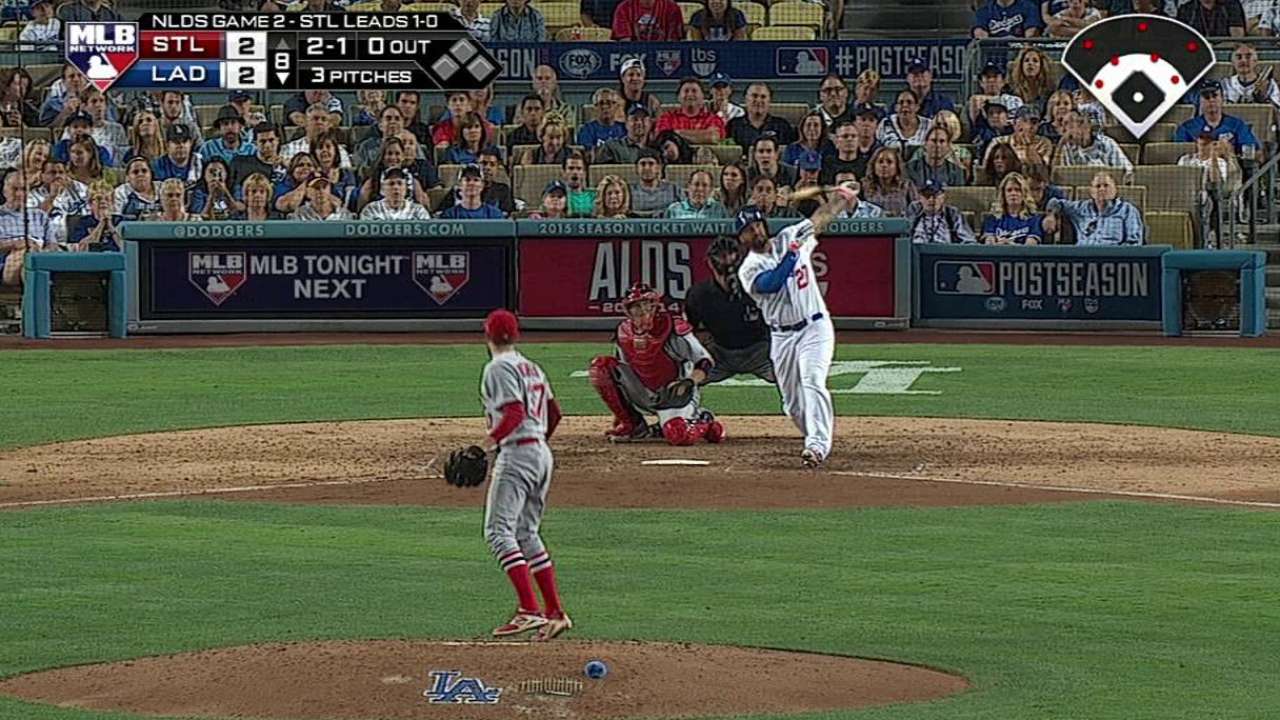 LOS ANGELES -- It's been a long journey for Matt Kemp along the road from injury and recovery to helping his club win Game 2 of their National League Division Series on Saturday night against the Cardinals.
Kemp, who wasn't even available to play last year in the playoffs because of a severe left ankle injury that eventually required surgery, hit a towering homer into the left-field lower deck at Dodger Stadium in the bottom of the eighth to give the Dodgers a crucial victory, 3-2.
The win tied the best-of-five series 1-1 with Games 3 and 4 at Busch Stadium on Monday and Tuesday nights.
"That's pretty big right there," Kemp said afterward. "In the playoffs, when you get big hits like that to help your team win, I think it is very big. That's definitely at the top as far as one of the big ones I've hit. That was definitely fun and I'm glad I could do that to help the team win."
Kemp underwent surgery on the ankle last Oct. 21 shortly after the Dodgers were eliminated from the NL Championship Series by the Cardinals in six games.
Kemp injured the ankle on July 21, 2013, while sliding awkwardly into home plate in Washington after admittedly not running hard from third base on a ground ball. Originally diagnosed as a sprained ankle, Kemp attempted to rehab the injury, but pain persisted. He came back in September to contribute to the team clinching the NL West title, but eventually was told to rest.
Kemp was declared unfit to play in the playoffs because team orthopedic physician Neal ElAttrache said the injury was to a major weight-bearing bone, and a complete fracture could put Kemp's career in jeopardy.
He spent the winter rehabbing and was not ready to join the team when it opened the season on March 22 in Australia against the D-backs, remaining instead at the club's Camelback Ranch training complex. When he was finally activated in early April he spent months trying to get his timing back and to find a spot in the club's constantly changing outfield alignment.
Now, he has settled into right field with Yasiel Puig installed in his old spot in center.
"I feel just blessed, man," Kemp said. "It's been a grind the last two years. Last year was a disappointing year for me as far as just sitting there and watching my team be successful. I thought I could have helped them a lot, but they did a really good job last year of getting as far as they did. I'm just blessed to be able to be on this stage and be able to be healthy and to help the team try to accomplish a big time goal."
Kemp gave the Dodgers a jolt on Saturday night when they needed it the most.
In the top of the eighth inning, Matt Carpenter erased a 2-0 Los Angeles lead with a two-run homer off Dodgers reliever J.P. Howell. Kemp was the leadoff hitter in the bottom of the inning against Cardinals reliever Pat Neshek, who had just come into the game. Kemp faced four sliders, swinging and missing at the first one and then taking the next two for balls. He then launched another one deep into the night not too far from the left-field foul pole for what turned out to be the game-winner.
Kenley Jansen came out of the bullpen to retire the last three Cardinals hitters without incident, striking out the last two, to save the victory.
Dodgers manager Don Mattingly said he thought Kemp's shot had a good chance to go out the moment he hit it.
"I thought it was gone. I felt pretty good about it," Mattingly said. "Different parts of this park, especially at night, as it's starting to get a little moisture in the air, the ball doesn't carry very well. So it was hit in the right spot, looked like it was going to stay straight, and I thought it was going to be gone right away."
Kemp had an MVP-type season in 2011, batting .324 with an NL-leading 39 homers and 126 RBIs. Because of injuries to his hamstrings, shoulder and ankle he hasn't come close to that production since. Coming off the ankle surgery, at the end of May he was hitting .266 with five homers and 15 RBIs and eventually would lose his slot in center field because of poor defensive play.
But in September, the tables turned and he hit .322 for the month with nine homers and 25 RBIs. That's been more like it, although Kemp said he's not where he wants to be yet.
"I feel like there's some things that still need to come back," the 30-year-old Kemp said. "I feel like I'm still healing a little bit as far as my ankle is concerned. I'm not running as good as I want to run. But I'm finding a way to go out there and help the team in any way right now. I feel good at the plate. We have a great team and I feel like this is the year that we can do something big."
On Saturday night, it could have all turned for Kemp with one big swing at the plate.
Barry M. Bloom is a national reporter for MLB.com and writes an MLBlog, Boomskie on Baseball. Follow @boomskie on Twitter. This story was not subject to the approval of Major League Baseball or its clubs.