Oct. 4 Matt Kemp postgame interview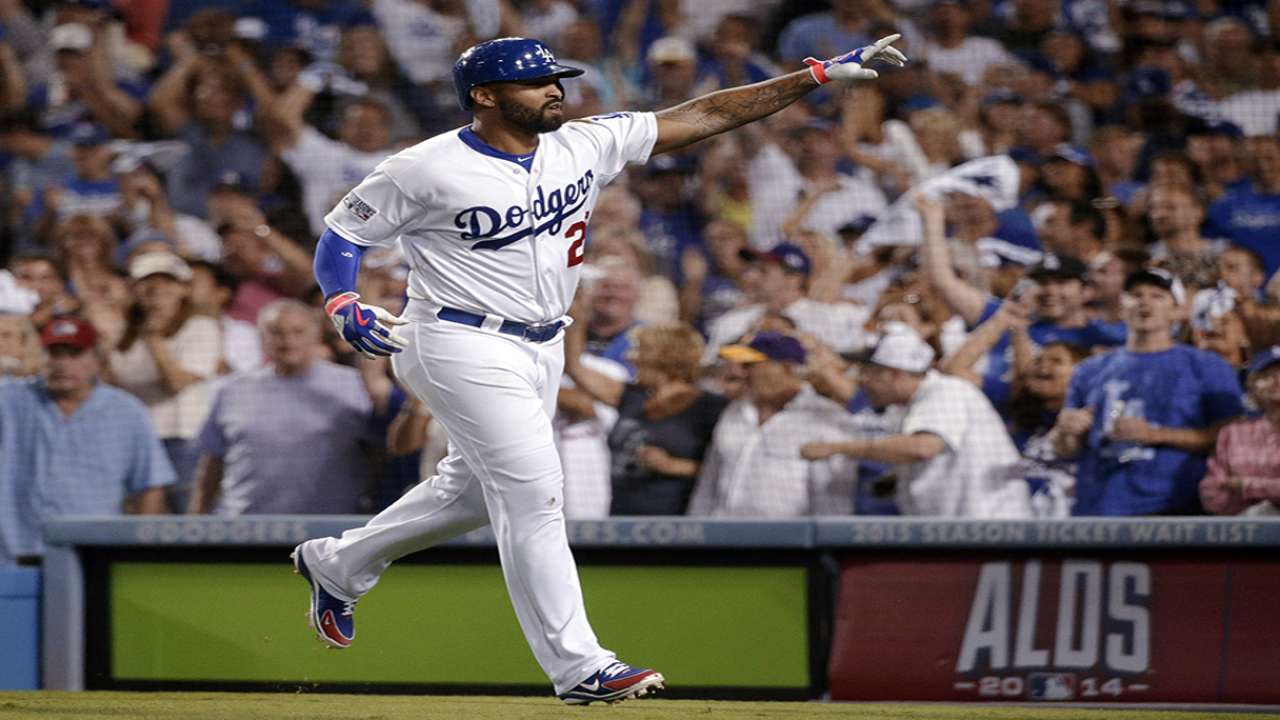 Q. Could you just talk about how it feels to deliver in that type of situation, considering you weren't even participating in the post‑season last year to have such a big impact like this tonight.
MATT KEMP: It was big. This game, I think coming in tonight, coming into the stadium, I thought we had to win this game. You don't want to go down 2‑0 in St. Louis. A tough environment. They have some pretty rowdy fans.
They would have had the momentum. So I knew we needed to get this win and it was big for us. It was a big win for us tonight.
Q. A little bit more on the momentum that you could carry from this game to Game 3 in St. Louis, now it's a three‑game series.
MATT KEMP: Yeah, this, we could definitely feed off of this win. It was big for us. The crowd tonight was unbelievable. They were loud, loudest I've ever been a part of. I've been here for a long time. I feel like we definitely do have the momentum.
You got to continue to go though.
Q. I believe you hit a fastball yesterday off him to second base. Am I right about that?
MATT KEMP: Yes.
Q. He threw you four consecutive sliders. Can you sort of walk me through, you get one, two, three, four, at some point are you thinking something else?
MATT KEMP: Just looking zone. Just looking for something to drive. He did throw me a fastball yesterday, I hit it pretty hard, but tonight he tried to get me with a couple of sliders, I laid off some tough ones that were close on the plate, but he left one just out on the plate that I could do something with and I put a good swing on it.
Q. Where does that rank in terms of the home runs you've hit in your life?
MATT KEMP: That's pretty big right there. I think that in the playoffs I think you get big hits like than help your team win is big. So that's definitely tops as one of the big ones I've hit. That was definitely fun and I'm glad I could do that to help the team win.
Q. Considering the surgeries and the rehab and everything you've been through the last couple of years, how fulfilling is it for you to come back and contribute like this tonight?
MATT KEMP: Just blessed, man. It's been a grind the last two years. Last year was a disappointing year for me as far as just sitting there and watching my team be successful. I thought I could have helped them a lot. But they did a really good job last year of getting as far as they did.
I'm just blessed to be able to be on this stage and be able to healthy and to help the team try to accomplish a big time goal.
Q. As well as you've hit really all season, I guess, but especially this second half, how close do you feel to the player you were in 2011? Do you feel right back to that?
MATT KEMP: I feel like there's some things that still need to ‑‑ I feel like I'm still healing a little bit as far as my ankle‑wise. Not running as good as I want to run. But I'm finding a way to go out there and help the team in any way I can.
But right now I feel good at the plate. We have a great team and I feel like this is the year that we can do something big.
Q. Pat talked just now about the fact that he was surprised that you were able to keep that ball fair. He said a lot of those, all those balls get hooked foul. Can you describe the mechanics of keeping an 83 mile an hour slider in the zone right of the pole?
MATT KEMP: I don't think I could really explain it. Just try to put a good swing on it. I was definitely looking for a slider right there. I didn't think he was going to come with a fastball, because I think he remembered yesterday I think I hit that fastball with that runner in on me pretty hard at the second baseman. So I think he was going to continue to stick with the slider.
I feel like it caught too much of the plate and I just put a good swing on it.
Q. In that line too, you've had to make an adjustment moving from center field to left to right. Has your ankle that you were talking about, has that been a contributing factor to the amount of ground you can cover and how have you finally adjusted to doing that?
MATT KEMP: I mean, I've been, I started in the big leagues as a right fielder. That was my main position in the minor leagues. So right field is comfortable to me.
Left field is probably one of the hardest positions to play in the outfield. Center field, that was another one of my main positions. But right now I feel really good in right field and I have no complaints at this moment.
Q. With Ryu starting Game 3 how much confidence do you guys have in him?
MATT KEMP: A lot. He's done some really big things for us, pitched really well this year and last year. He's a great pitcher, a great competitor, he throws strikes and he gets outs. We have all the confidence in the world in him and we're going to go out there and back him up and try to get Game 3.