Ellis a leader for Dodgers in clubhouse, at the plate
Catcher, who has hit safely in 11 of his last 12 playoff games, continues postseason tear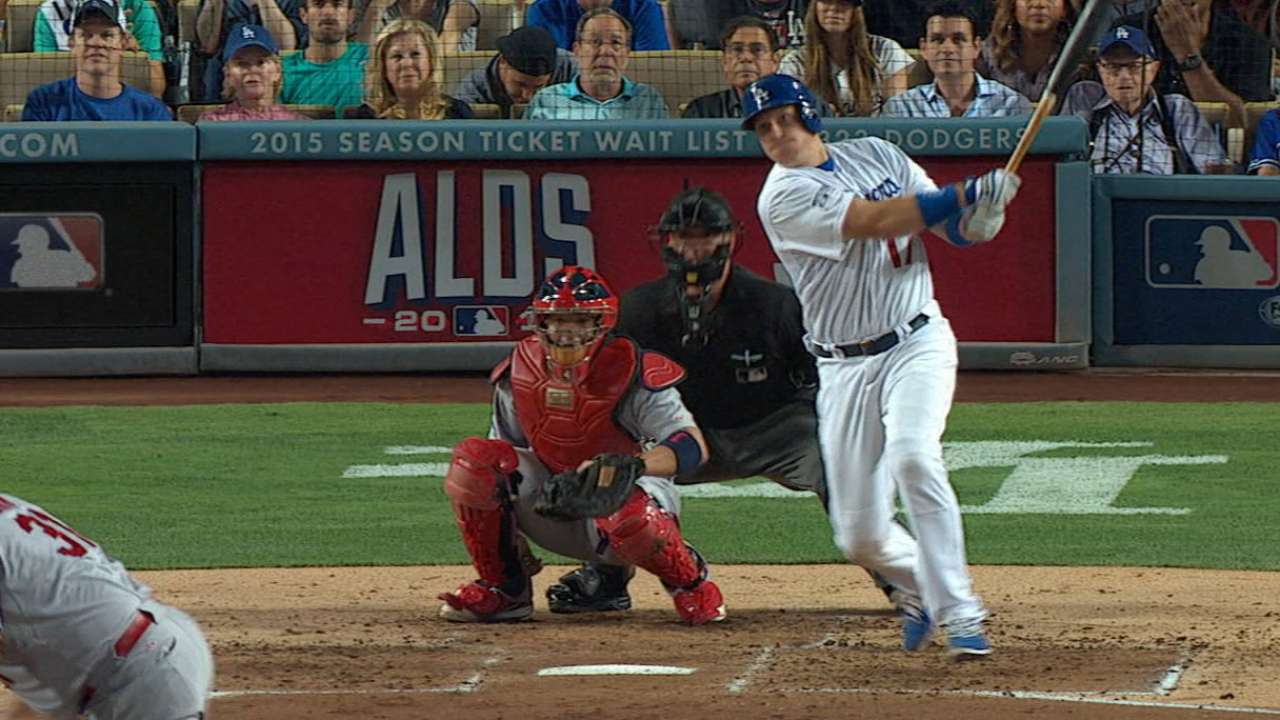 LOS ANGELES -- A.J. Ellis spent his Friday night staring at his ceiling, thinking back to the pitches he called and the seventh inning that unraveled in the Dodgers' Game 1 National League Division Series loss to the Cardinals.
On Saturday night, the Dodgers' catcher will be staring at his ceiling again -- but for different reasons.
"I won't be sleeping," Ellis said after the Dodgers' 3-2 win against the Cardinals in Game 2. "I'll just be so excited with the way that we played, just the way we fought back and the character our ballclub has.
"It's kind of the story of the last two years. We got written off last year. Some really smart sportswriters wrote us off early this year, but we were able to bounce back, and it's been a long climb for us to get back to this spot, but we know with the odds stacked against us, we're able to come through."
Ellis is, in many ways, a spiritual leader for this Dodgers team. After Friday night's loss, he took it upon himself to gather his teammates and remind them that they've bounced back from worse, that it's all about winning the war, not the battle.
Ellis has also been a leader at the plate. That was the case last postseason, in which he hit .333 in the NLDS against the Braves and .316 in the NL Championship Series against the Cardinals. And so far, it's been the case this postseason as well.
The 33-year-old veteran went 4-for-5 in Game 1, cranking a two-run home run off Adam Wainwright. He carried that offensive momentum into Game 2, doubling in his first at-bat against Lance Lynn, directing the ball just over the outstretched glove of Randal Grichuk in deep right field.
"He got a great jump on it, and I was really nervous," Ellis said. "And then I was nervous that I might have to go for a triple."
Jokes aside, his double paved the way for a two-run rally in a slim 3-2 win. It also extended Ellis' postseason hitting streak to eight games. He's hit safely in 11 of his last 12 playoff games, batting .385 with five doubles, a triple, two homers and five RBIs.
Ellis declined to talk about his hitting after Friday's loss, saying he'd trade any one of his four hits for a win. But after Saturday's victory, Ellis said his success at the plate stems from slowing the game down.
"I'm trying to take that to heart. I did it last year, and I'm trying to do it again this year," Ellis said. "The slower things go, the slower I'm moving, the better I feel when I'm in the box."
His success at the plate so far this October comes in contrast to a difficult regular season in which he batted .191/.323/.254. But Ellis also dealt with left knee surgery at the beginning of the season, which sidelined him for 18 games. He missed another 18 games after spraining his right ankle, and missed time -- though he didn't go on the disabled list -- after fouling two pitches off of his knee in his return.
Manager Don Mattingly said that, for a while, Ellis simply didn't have his legs underneath him, but extra conditioning and weight-room work of late has paid dividends.
"I think it's been a frustrating year for him offensively, but I think it's been coming. We have seen better swings," Mattingly said. "A.J.'s a guy, for me, that he's going to be good in these types of scenarios, because he's going to know pitching and know what they're trying to do. He's going to have a game plan, and he's going to stick with it."
So far, that offensive game plan has worked to perfection for Ellis, who is once again shining under the postseason lights.
"It's amazing when the playoffs come how everybody's aches and bruises and pains kind of go away," Ellis said. "You're rejuvenated, re-energized. And I feel great right now."
Michael Lananna is an associate reporter for MLB.com. This story was not subject to the approval of Major League Baseball or its clubs.