Oct. 4 Don Mattingly postgame interview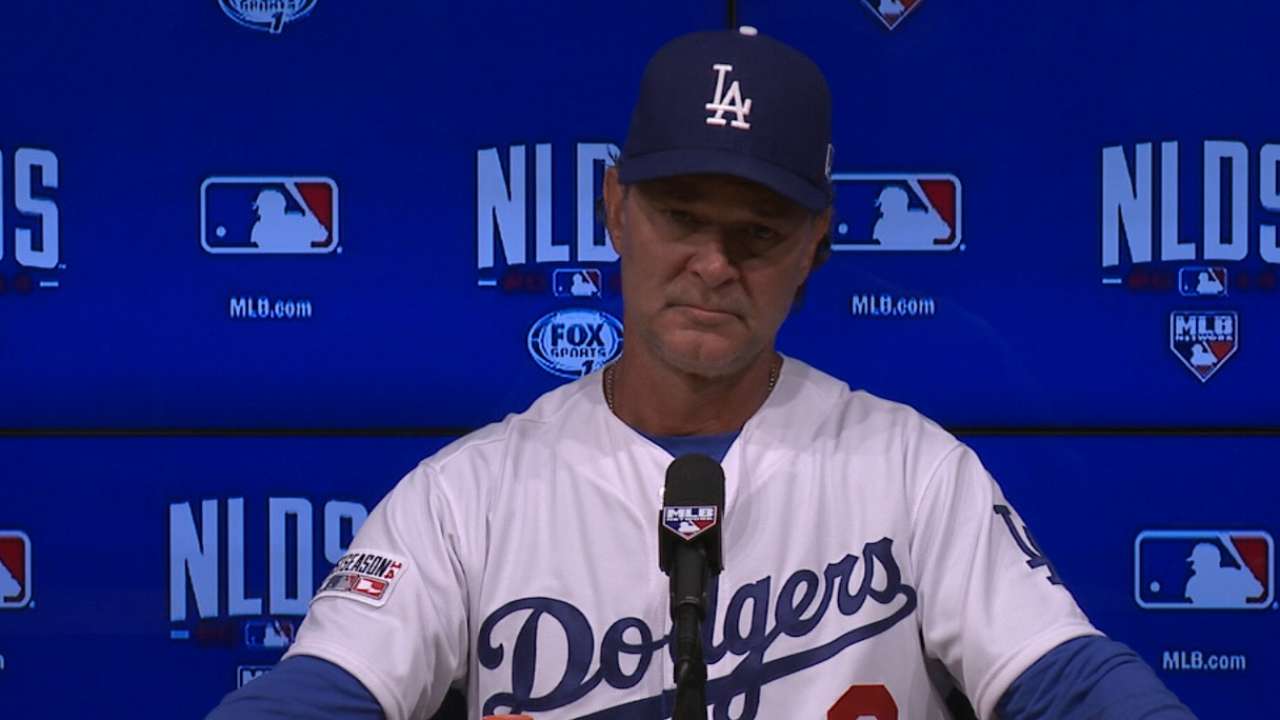 Q. Off the bat of Kemp's drive, what did you think?
DON MATTINGLY: I thought it was gone. Felt pretty good. It was in the right spot. Different parts of this park, especially at night, as it's starting to get a little moisture it doesn't carry very well. So it was hit in the right spot, looked like it was going to stay straight and I thought it was going to be gone right away.
Q. With everything Matt's gone through the last couple of years, how nice is it to see him contribute like this in such a big moment?
DON MATTINGLY: It's really nice. I think that it's been a kind of tale of two seasons almost for Matt. It started off the first half seemed to be a little bit more of a struggle, as he started to get towards the end he got some, starting to get a lot more hits. And then the second half kind of the power came.
I think it's been a tough couple of years for him, with multiple surgeries and I think taking a lot longer to get back, kind of to get rhythm and get back into the game than I think he expected.
Q. Now that you're two games in, do you have any sort of more feel for the series as you go into Game 3? Do you ever in the playoffs?
DON MATTINGLY: You know, I think we look at ‑‑ I know I do ‑‑ I think we do as a team, that just what we talked about yesterday, win is a win, a loss is a loss.
We get this win, obviously this is a game that we feel like we have to have. I'm sure they're feeling walking out here that they're fine, that they did what they needed to do. But we did what we needed to do today. It got us back in it.
So when we get to St. Louis, need to go win a game to get it back here, or a win two to finish it there.
Q. Why did you think that was the right spot to pull Zack?
DON MATTINGLY: He was done.
Q. 103 he was done?
DON MATTINGLY: He was, that inning with Peralta. It was like when he came back out of that inning, we talked about as, Where are you at? And he goes, I'm good through Carpenter, to Carpenter. So I knew where he was kind of his limit was.
So he goes out and gets the three. From there, we knew kind of what he was, where we were going.
Q. You think all the activity on the bases plus a couple of those long innings when he was in the dugout had something to do with it and also just how good was he tonight?
DON MATTINGLY: I thought he was really good. Early on it looked like the ball was jumping out of his hand. I thought he located well, he wasn't using a ton of pitches, so he was pretty accurate with everything.
He's a little different than Clayton as far as getting on the bases and running around and stuff. But I think we're seeing with the emotion of these games, that it's just a tick different than the regular season. I think these guys are getting pretty good and amped up and it seems like we're kind of hitting that wall in there just a little bit quicker than we did during the regular season.
Q. Was there any thought to pulling Greinke in the sixth with the bases loaded out there?
DON MATTINGLY: In the sixth?
Q. With the bases loaded, Greinke coming up there.
DON MATTINGLY: With Peralta?
Q. When he was hitting?
DON MATTINGLY: Oh, no, no, no, no. We're seeing, we're having trouble getting our outs and we needed those, we needed another inning there. You seen what happens when we got to the 8th there.
So, we felt like we needed those outs that we feel like he's going to give us. Really, he can hit, too, to be honest with you. It's not like it's that hard to leave him up there. You feel like you're not leaving a guy up there who doesn't give you a good shot to get a hit and in a sense as good as a lot of guys.
Q. The last month or so, is this as good as you've seen your offense clicking, particularly the depth kind of like 1 through 7, 8 guys?
DON MATTINGLY: I tell you what, I think it's as good a focus as I think we have had offensively, as far as the battles and see every guy kind of fighting and fighting. I thought their guy was good tonight. His stuff was live tonight.
I thought we did a nice job of continuing to battle and fighting for that, the extra pitch and trying to foul balls off.
So I know that at this time of year everybody's pretty focused, but for the last month or so, our guys, I felt like, have been pretty good about grinding things out and we have bounced back from a number of situations.
So, I think we're seeing two teams that don't really want to go home and that are fighting for every game and every out and every pitch and it's what you want. It's what everybody wants to see at this time of year.
Q. How nice is it to have Kenley and what does he mean to your bullpen?
DON MATTINGLY: Well, it's really nice to have a guy out there that you think is going to ‑‑ it's really, it's what we try to do every day, you're trying to get the ball to him. Confident that he can get anybody. When's on, his stuff is, it seems like he can overpower a lot of different guys.
So, it's good to have a guy at the end that you can get to and you feel like you've kind of got where you want to be. So, he's kind of the anchor out there.
Q. Given your bullpen's struggles, what are your thoughts on having one of your starters maybe come out of the pen for an inning on one of their throw days?
DON MATTINGLY: What are my thoughts on it? You know, I guess we could do it. Again, we're asking guys to do things that they don't really do. Hyun‑Jin really doesn't seem like he's that kind of guy. Zack is really not that type of guy, for an inning, to give us an inning.
But I think as we get moving in, I think you would do anything.
Q. Since you haven't settled on Game 4 and 5 starter, how will you shape Kershaw's preparation work the next couple days with that in mind?
DON MATTINGLY: Well, tomorrow I know he wants to throw. So when we get there a few guys that want to throw and things like that, we'll talk about Game 4, probably on the plane. We'll see where we're at with that.
Q. Dee Gordon played a big part in this game and that challenge really was a pivotal part of the game on his grounder. How did you see all that?
DON MATTINGLY: Actually didn't see the tag, to be honest with you. I thought the play at first was close and that's why we held kind of Yasi back. And John Pratt, actually the video guy, we called and checked on that, he said he tagged him without the ball in his hand or without the ball in the glove. So, that's when we really basically go out and talk about that.
Q. What about Dee's play overall?
DON MATTINGLY: It was good. He was solid. He puts that ball in play, I think it gets us a run there, ends up getting us a run on that. Made a couple nice plays out there. So he's been good.