Renfroe logs top score of NL prospects at Bowman Challenge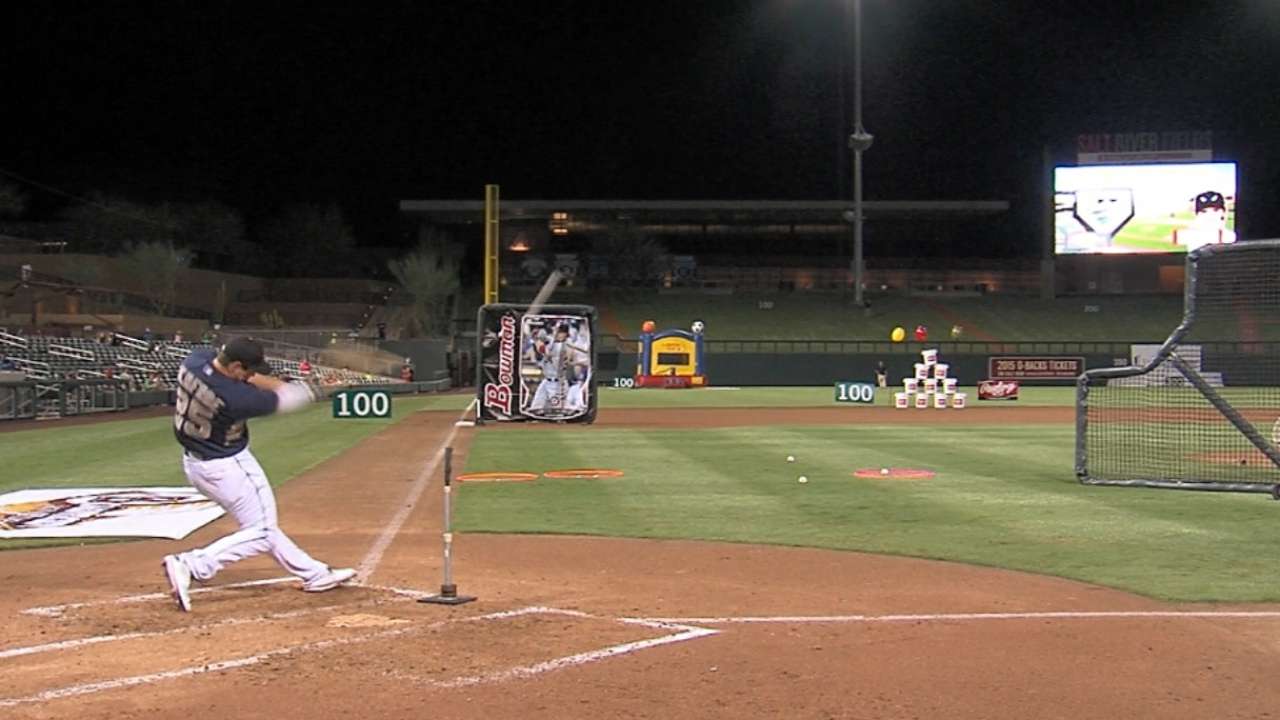 SCOTTSDALE, AZ. -- Hunter Renfroe started his Arizona Fall League season with a huge jolt Friday night, when he logged the top score of any National League prospect at the Bowman Hitting Challenge. Renfroe, San Diego's No. 4 prospect on the MLB.com list, went deep four times in total.
The Bowman Hitting Challenge is the first event on the AFL schedule, and games won't start until Tuesday. Renfroe wowed the Salt River Fields audience with his round Friday, which included a shot to the power alley. The event was won by Hunter Dozier, one of Kansas City's top prospects.
"It's a Hunter thing," quipped Renfroe moments after receiving his souvenir bat.
Indeed, it was a Hunter thing on Friday night, and Renfroe had his own moments to shine. Renfroe, selected by the Padres with the 13th overall selection in the 2013 First-Year Player Draft, went deep four times and hit his bonus ball tee-shot to the United Healthcare power alley in left-center field.
Renfroe, listed as the No. 71 prospect on MLB.com's Top 100 chart, also showed some precision in an unexpected area. Renfroe successfully dropped a bunt into one of the targets in front of the plate, one of just three scoring bunts all night. Only three bunts scored out of 132 bunts attempted.
Renfroe, who will play for the Surprise Saguaros during the AFL campaign, said that the Bowman Hitting Challenge felt just like a normal batting practice round. There may have been fans in the stands and targets all over the field, but Renfroe just tried to get in the batter's box and take his hacks.
"I knew there were people watching at first," he said. "You get a few swings out of the way and then you just get in your zone. You zone everything out and then you see the ball and nothing else."
Renfroe, 22 years old, started last season with Lake Elsinore in the Class A California League, where he batted .295 with 16 home runs in 69 games. Renfroe was later promoted to Double-A San Antonio, and he hit .232 with five home runs in 60 games after his climb to the higher level.
The AFL is an opportunity for Renfroe to grow even more against advanced pitchers, and he couldn't help but feel that he got off to a positive start at Salt River Fields on Friday evening. Renfroe hit off former big-league catcher Jody Davis, who will serve as hitting coach for Surprise this year.
"I had a good time," said Renfroe. "I was getting jammed at first. I had to choke up a little bit. Jody was throwing a little inside, but after that, I got into a groove and I was crushing balls pretty good."
Despite his strong night at the plate, Renfroe finished sixth in total scoring. Two American League players -- Dozier and Minnesota prospect Max Kepler -- doubled his scoring output. But the final score didn't really matter to Renfroe, and he said it was just great to be a part of the event.
"Any time you watch a show like this and everybody is hitting home runs, it's phenomenal," he said of the hitting challenge. "To see the balls fly out and how far they go, it's a lot of fun."
Renfroe has played in just 172 games at the Minor League level, and he's hitting .268 with 27 home runs and 100 RBIs combined across four different stops. The youngster is hoping to add another line to his resume in the AFL, and he knows that playing fall ball can make a huge difference for him.
"Hopefully, it will only go up from here," said Renfroe. "But if it doesn't, this was a lot of fun."
Spencer Fordin is a reporter for MLB.com This story was not subject to the approval of Major League Baseball or its clubs.