Dozier wins AFL's Bowman Hitting Challenge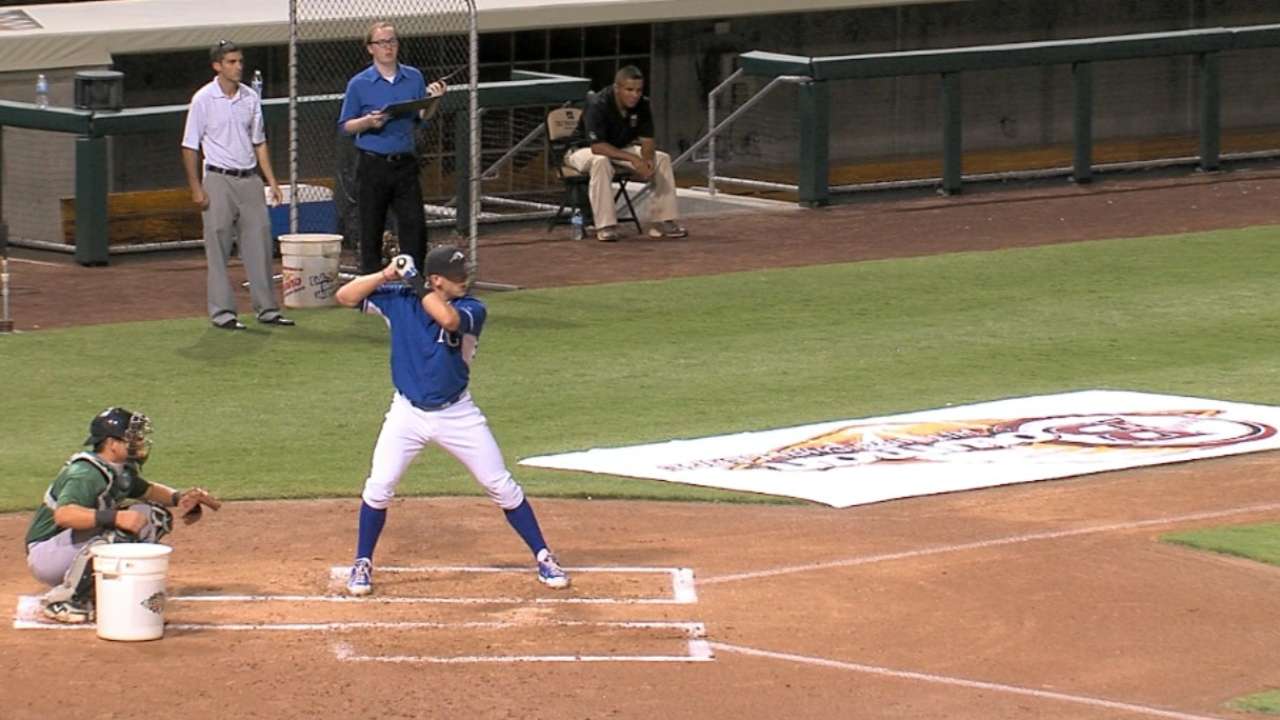 SCOTTSDALE, AZ. -- It was a good night to be named Hunter at Salt River Fields.
Hunter Dozier came through with the top score in the Arizona Fall League's Bowman Hitting Challenge Friday night, and he had a namesake who helped make it a sweep. Hunter Renfroe, one of San Diego's top prospects, logged the top score for any National League player in Friday's event.
Dozier, ranked as Kansas City's No. 4 prospect by MLB.com, delivered a monster round in the hitting challenge at Salt River Fields. He drilled two homers and hit one of the obstacles -- a large inflatabale ball with someone inside it -- three times, including once with a bonus ball on his final swing.
Dozier, a third baseman, scored 3,150 points, narrowly edging Max Kepler of the Twins (3,050). Three more AL prospects -- Tim Anderson of the White Sox, Deven Marrero of the Red Sox and Kaleb Cowart of the Angels -- managed to rack up enough points to beat the top NL score Friday night.
"It's a good group of guys and a lot of talent out here," said Dozier. "It was fun."
Indeed, that's exactly the point of the Bowman Hitting Challenge, which kicked off the AFL's competitive schedule this season. This was the second year of the challenge, and it was won by Peter O'Brien last year. O'Brien was back to defend his title this year, but he only logged 750 points Friday night.
The challenge encouraged players to spray balls all over the field, and it gave points for home runs and hitting respective targets on the field. There were oversized Bowman cards of MLB players Bryce Harper and Buster Posey at third base and first base representing targets for hard line drives.
The last swing of each round -- the bonus ball -- was worth double the points of every other swing, but it came with a catch. Each player had to take his final swing off a tee instead of a pitched ball. Dozier used his bonus swing to hit the inflatable again, and that was enough to carry him to the title.
"That was worth the most points. It's tough," said Dozier of hitting the bonus ball off the tee with his final swing. "You're a little nervous. You're trying to just make sure you make contact with the ball. I was just trying to get it close to the inflatable ball, and hopefully it would hit it. And it did."
Dozier, ranked No. 86 on the MLB.com Top 100 prospects, was selected by the Royals with the eighth overall pick in the 2013 First-Year Player Draft. He batted .295 with four home runs in 66 games for Class A Wilmington this year and .209 after a late promotion to Double-A Northwest Arkansas.
Dozier, 23 years old, will be playing for the Peoria Javelinas during the AFL campaign, and he said he was thrilled to get his fall season underway with a starring role in the Bowman Hitting Challenge. AFL games will start in earnest Tuesday, and Dozier is ready to play competitively again.
"I was trying to hit some home runs and I got lucky and hit some targets out there," said Dozier. "It kind of felt like a normal batting practice round, but I was trying to get a little more into it."
Spencer Fordin is a reporter for MLB.com This story was not subject to the approval of Major League Baseball or its clubs.