Cards dial up drama, but run out of rallies in Game 2
Carpenter hits tying homer in eighth before Neshek yields shot to Kemp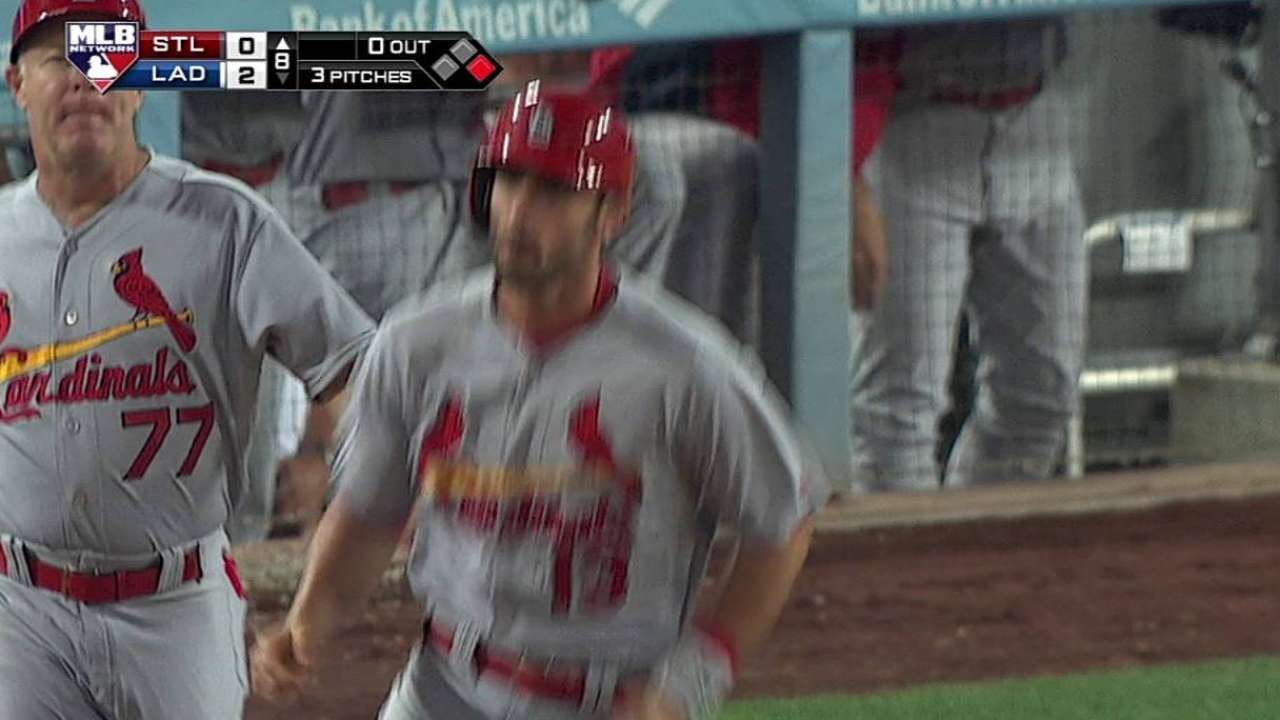 LOS ANGELES -- From Minor League signee to All-Star setup man, Pat Neshek spent the last several months writing one of the most improbable comeback stories of the season. Saturday's chapter won't fit so snugly into that tale.
Tasked with preserving the tie game just provided by one Matt Carpenter swing in the eighth inning, Neshek served up a slider that Matt Kemp crushed en route to changing the complexion of this best-of-five National League Division Series. While they may have stolen home-field advantage away from the Dodgers, the Cardinals, with a 3-2 loss in Game 2 on Saturday, head home having to settle for a split.
"Going in, I think we'd be happy to go 1-1 here," Neshek said afterward. "Obviously, to tie it up [in the eighth], we had a lot of momentum and it would have been nice to have a shutdown inning there. It didn't happen, and they escaped."
As was the case in Game 1, the Cardinals struggled until the late innings to find an offensive spark. A night after waking the offense up with a home run and then knocking Clayton Kershaw out with a go-ahead, bases-clearing double, Carpenter managed what only one other left-handed batter had against lefty reliever J. P. Howell all season: He hit one out.
The blast evened the game at 2 and made it look like this night's Hollywood script would be defined by a battle of the bullpens. It seemed a matchup that would favor the Cardinals, whose 'pen has been much less porous than the Dodgers'. And this season, no one had been better than Neshek.
Unable to convince a team to offer him a guaranteed contract last offseason, Neshek pitched his way onto the team and then into a late-inning role by allowing a run in just five of his 59 appearances. He was the obvious choice to take the mound in the eighth.
"You're putting him in a tough spot, and it's nothing new for Pat Neshek," manager Mike Matheny said. "He has had one of those just historic kinds of seasons ... and we have been proud to be a part of watching what he's done and taking advantage of it."
After retiring Kemp with a heavy dose of fastballs in Game 1, Neshek turned to his slider this time. Kemp swung through the first, took the next two and tattooed the fourth. It was the fifth home run allowed by Neshek this season.
"I was definitely looking for a slider right there," Kemp said. "I didn't think he was going to come with a fastball, because I think he remembered yesterday I hit that fastball ... pretty hard."
"I still feel if I get that pitch down and away, even just a little more down, I think it's a pop fly," Neshek said, lamenting pitch location, not selection. "I feel if I make my pitches there, I get him out."
For a team that has opened the postseason with a pair of one-run games after playing 55 of them during the preceding six months, the night did not turn entirely with that slider. While the opportunities weren't plentiful, the Cardinals did have a chance to stain starter Zack Greinke's seven shutout innings.
They moved a runner into scoring position with less than two outs three times. None of them budged.
That included Wong, whose one-out double in the fifth marked the Cardinals' first hit of the night, and Carpenter, who led off the sixth with another two-base hit. Of Greinke's seven strikeouts, five came with a Cardinals runner on second. A 5-for-7 seventh inning with runners in scoring position in Game 1 gave way to an 0-for-7 night against Greinke in Game 2.
"One, his fastball velocity was higher than it's been against us in a while," Carpenter said. "I haven't seen him throw that hard against us since he was in Milwaukee. And he just had command of everything. His slider to right-handers was really tough tonight."
There was also more to be had in the eighth.
The Cardinals chased Greinke by sending up Oscar Taveras as the leadoff pinch-hitter in the inning. Dodgers manager Don Mattingly countered by summoning Howell, who had limited left-handed batters to a .170 average this season, came in with three lined up. Taveras singled to left. Carpenter took Howell's next pitch deep. Jon Jay completed the trifecta with an infield single to chase Howell.
With two on, reliever Brandon League eventually worked out of the mess by inducing an inning-ending double play, a moment that proved key when Kemp aroused the 54,599 packed into Dodger Stadium moments later.
"We had some chances," Matheny said. "In games like this, with pitchers going at it like that, usually the little things do add up quick."
Also looming large in the one-run outcome was the pair of defensive plays not made to assist starter Lance Lynn through his most laborious inning. It took 30 pitches for Lynn to wade through the third, an inning that ended with the Dodgers ahead, 2-0.
A.J. Ellis, who had a four-hit night on Friday, opened the inning with a double that was just out of the reach of a leaping Randal Grichuk in right.
"I took my eye off it at the last second to pick up where [Jay] was at, and it kind of threw me off my route a little bit," Grichuk said. "That ball has to be caught."
Ellis moved to third when Greinke pulled back from a sacrifice attempt to slap the first of his two singles off Lynn. With two strikes, Dee Gordon did his job by making contact.
Ellis scored without a play, and the double play the Cardinals thought they turned was then overturned by a replay review that showed Wong had tagged Greinke without the ball in his glove. That out not collected cost Lynn an extra 11 pitches and a run -- Adrian Gonzalez delivered a two-out RBI single.
"My main focus was keeping Gordon off first base," Wong said. "When [Greinke] did this jump, I reached for him and didn't get the tag down."
Lynn went on to strand two in the fifth and three more in the sixth, giving him his first six-inning start in six postseason tries. His biggest problem was that, inning-for-inning, Greinke was better.
"You're trying to match them and you're trying to do better than them," Lynn said. "But when it comes down to it, it doesn't matter. You can't give up any runs. I gave up two tonight. It was a good game. It just didn't work out our way."
Jenifer Langosch is a reporter for MLB.com. Read her blog, By Gosh, It's Langosch, and follow her on Twitter @LangoschMLB. This story was not subject to the approval of Major League Baseball or its clubs.