Dodgers get off mat, even NLDS on Kemp's blast
Slugger belts winning HR in eighth; Greinke goes seven shutout innings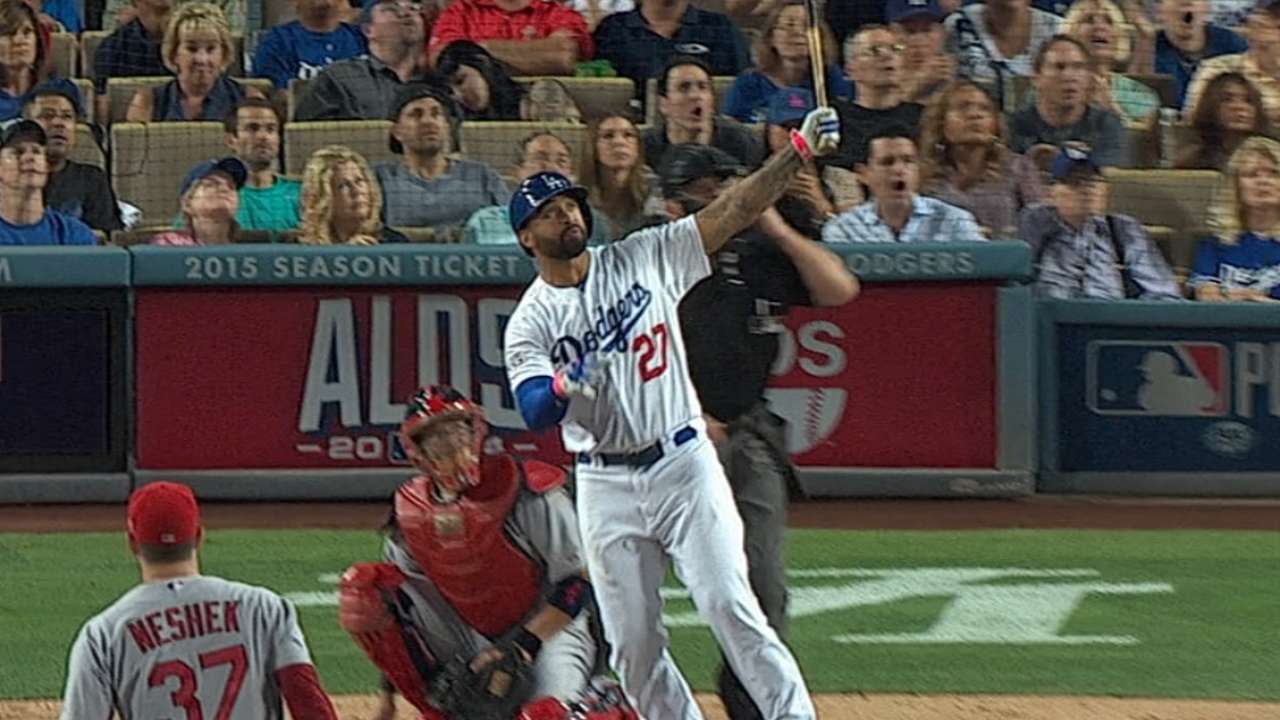 LOS ANGELES -- After things went all haywire Friday night, the Dodgers said they would do what they always do after things go all haywire, just turn the page.
And even when Game 2 of the National League Division Series seemed headed for another heartbreaking ending, they did what they said, Matt Kemp coming up clutch with a tiebreaking home run off Pat Neshek leading off the bottom of the eighth inning for a 3-2 win over the Cardinals.
Bad loss or bad inning, the Dodgers shrug at pessimists ready to count them out.
"We don't get caught up in that. A loss is a loss," said RBI champ Adrian Gonzalez, who singled in one of the runs. "We know what we've got, we believe in ourselves."
Nonetheless, this was as close to a must-win as exists short of facing elimination, because teams that have lost the first two games of the NLDS are 1-20 to advance to the next round. This best-of-five series, now tied one game apiece, resumes Monday in St. Louis, where the Dodgers are 1-8 in postseason games.
"Obviously, this is a game that we felt like we have to have," manager Don Mattingly said. "I'm sure they're feeling walking out of here that they're fine, that they did what they needed to do. But we did what we needed to do today. It got us back in it. So when we get to St. Louis, we need to go win a game and get it back here, or win two and finish it there."
Kemp's third career postseason blast, a slider he lofted sky-high into the left-field box seats, launched a dugout foam party and was appreciated by nobody more than reliever J.P. Howell, who followed Zack Greinke's seven shutout innings by allowing a tying two-run homer to Dodgers nemesis Matt Carpenter in the eighth inning.
"It was a huge pick-me-up -- just humongous," Howell said of Kemp's homer. "I started to get religion. It was crazy, I was praying really hard."
Howell let the lead get away in the wake of rookie Pedro Baez allowing a three-run homer to Matt Holliday that decided Game 1.
This one hung a brutal no-decision on Greinke, who threw a two-hit shutout for seven innings with seven strikeouts, had as many hits as he allowed (going 2-for-3), created havoc with heads-up baserunning that kept alive a two-run third inning (via manager's challenge) and scored a run.
All that extracurricular work, not to mention 103 pitches, had Greinke running on empty after seven innings despite an extra day of rest. That forced Mattingly into an uncertain bullpen and out came Howell, unhittable the first five months of the season but slumping to an 11.81 ERA in September.
Forgotten man Brandon League took over for Howell and stopped the bleeding in the eighth inning, earning the win. An amped-up Kenley Jansen set down the Cardinals in order with two strikeouts in the ninth inning for the save.
"Once League got out of that jam, I felt pretty confident in us winning the game," said Greinke. "I thought we definitely had the better odds, just with how we have been swinging the bat."
Especially Kemp, who had one of the most productive second halves in baseball, after working his surgically repaired body back into shape in a trying first half.
"We could definitely feed off this win," Kemp said. "The crowd tonight was unbelievable. They were loud, loudest I've ever been a part of and I've been here a long time. I feel like we definitely do have the momentum."
Like most Dodgers-Cardinals games, this one had Yasiel Puig /Yadier Molina drama, but not until the first inning. St. Louis starter Lance Lynn threw up and in, the normal Cardinals approach to Puig and Hanley Ramirez. Puig glared at Lynn, later striking out. Molina said something, no doubt lingering from their shouting match after Puig was hit by an Adam Wainwright pitch in Game 1, and Puig replied. Peacemaking plate umpire Rob Drake then took the unusual step of walking Puig back to teammate Kemp in the on-deck circle.
A.J. Ellis doubled in the third inning and has a hit in his last eight postseason games, including four in Game 1. Greinke, taking instructions from Mattingly in the dugout, squared to bunt, pulled the bat back with the infield charging and looped a line single to shallow right that sent Ellis to third.
Dee Gordon, who made a leaping catch of Jon Jay's liner to end the top of the inning, bounced to second baseman Kolten Wong. As Greinke tried to elude Wong, he was tagged with an empty glove and Wong threw to first for what was initially called a double play. On review, the call was overturned and Greinke was awarded second base.
After Puig struck out again (he fanned four times plus the final at-bat Friday), Gonzalez singled home Greinke.
The top of the eighth opened with Oscar Taveras pinch-hitting for Lynn. Mattingly countered with Howell -- "He was done," Mattingly said of Greinke -- who allowed Taveras a sharp single inside first base, then Carpenter took Howell into the bleachers for his second homer in as many games.
Howell allowed an infield single to Jay and League stopped the damage with the help of a slick double play started by Miguel Rojas, Ramirez's defensive replacement at shortstop.
"[League] makes guys hit the ball on the ground, and those guys know it across the way," said Ellis. "For him to basically throw what they know is coming and still get two ground balls from two talented right-handed hitters shows how dominant his stuff was tonight. And that double play that Miggy and Dee turned really got some momentum back and some energy back in the ballpark and set up Matt's homer."
Ken Gurnick is a reporter for MLB.com. This story was not subject to the approval of Major League Baseball or its clubs.