Oct. 4 Bruce Bochy postgame interview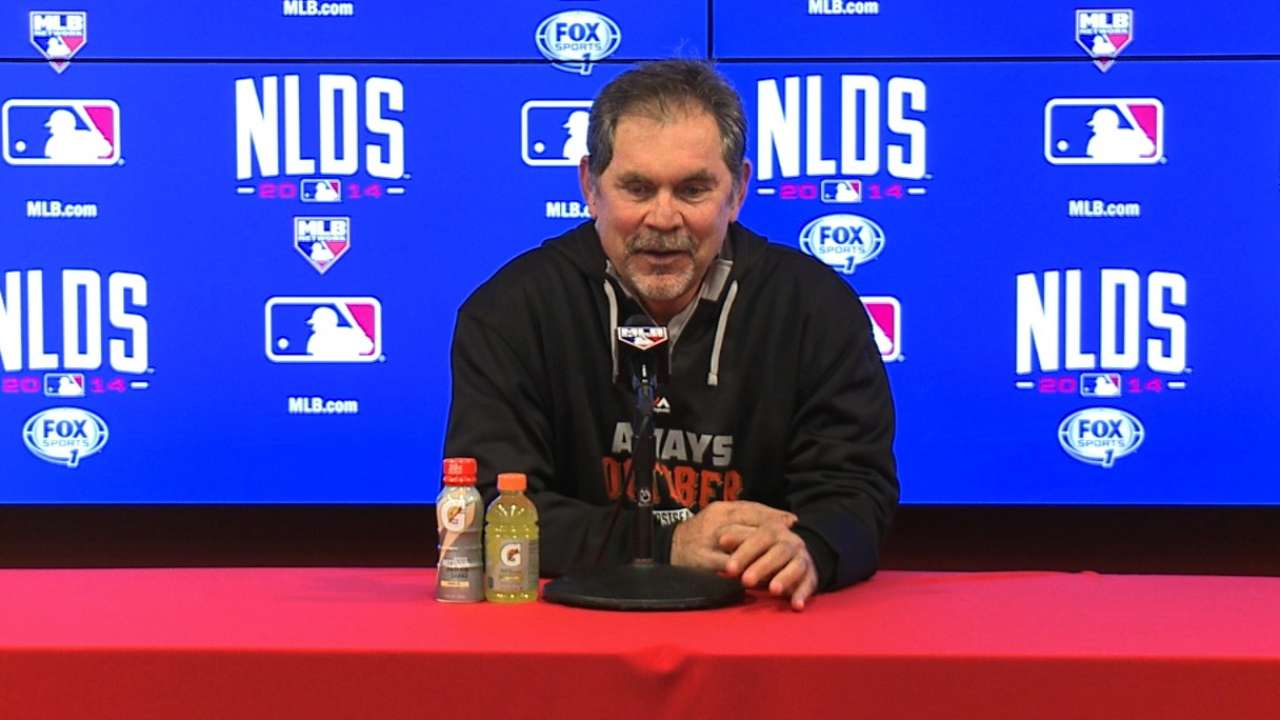 Q. You've managed a long time in the big leagues. Have you ever been a part of anything like that?
BRUCE BOCHY: I have not. What a battle between the two teams. Epic battle. You want to see pitching? You saw tremendous pitching on both sides. The two starters, Zimmermann and Hudson, they locked horns. Pablo saved us there, and the bullpen. What a job they did.
Petit, he really saved us, obviously, tonight with his effort.
Just a great ballgame to be part of. You are hoping that somebody gets a hold of one, and Belt finally did. That is a game that I will always remember. It was a great battle between the two teams.
Q. With Petit, did you ask him after each inning, "Do you have another inning?" Did he come to you? How did it work out? He threw 80 pitches in relief.
BRUCE BOCHY: He was fresh. He has been starting. We knew he was good for around 80 pitches. He got us there.
Again, what a great job he did. Last couple of innings, we did check on him, just to see how he was. I mean, I was down to Timmy. Strickland was going to be the closer.
I was trying to get as much as I could out of him. He had gone far enough. Timmy was ready to come in the game. Then we scored. We made the change there. The thing we had in our pocket, we had Petit and Timmy fresh. We knew we could stretch them out.
Q. The play with Posey at the plate in the ninth, you wanted that reviewed. Were you just told it was not reviewable? What was the situation there?
BRUCE BOCHY: The play at the plate?
Q. At the ninth.
BRUCE BOCHY: With Posey?
Q. When he was called out.
BRUCE BOCHY: They did review it.
Q. Yes. They didn't have enough evidence to overturn it.
BRUCE BOCHY: I don't know how they came up with their call. We saw the replay; it looked like he was safe.
I haven't had a chance to look at it, to be honest. I mean, what a big play, big call. We'd take the lead, and Casilla in the game. It wasn't overturned. It is obvious we were very disappointed. It did look like he was safe. I haven't had a chance to look at it.
Q. When Belt's ball went in the upper deck, what was going through your mind at that point? Was it relief or was it just, "Oh, my goodness, we are finally ahead here"?
BRUCE BOCHY: Relief. You are hoping that somebody gets ahold of one. We are facing a tough pitcher out there. To string together a few hits, it will get tough.
At that point, you are hoping that somebody takes advantage of a pitch and Belt did. All night, really, he was having his struggles, because all of the good pitching we saw. He got a pitch he could handle. He has been swinging the bat well. I think that the whole dugout, I mean, they went nuts there. When you are in an epic battle like that, that is usually what ends the game.
Q. What does it mean to be one out from losing that game, and nine innings later, hang on, do whatever it takes to win that game?
BRUCE BOCHY: It's a tough group. They are relentless. They don't quit. We had our hands full tonight. We had the right guys coming up. You know, once we tied the game -- and that call didn't go our way, that can get a club down. But they kept fighting. That is what you have to do. You hope your pitching holds them to give you a chance.
I can't say enough again about what our bullpen did for us. And really, Petit's job. It is all about, you know, they say play hard for nine innings, but we had to do it for 18 innings. Those guys never quit.