Oct. 4 Matt Williams postgame interview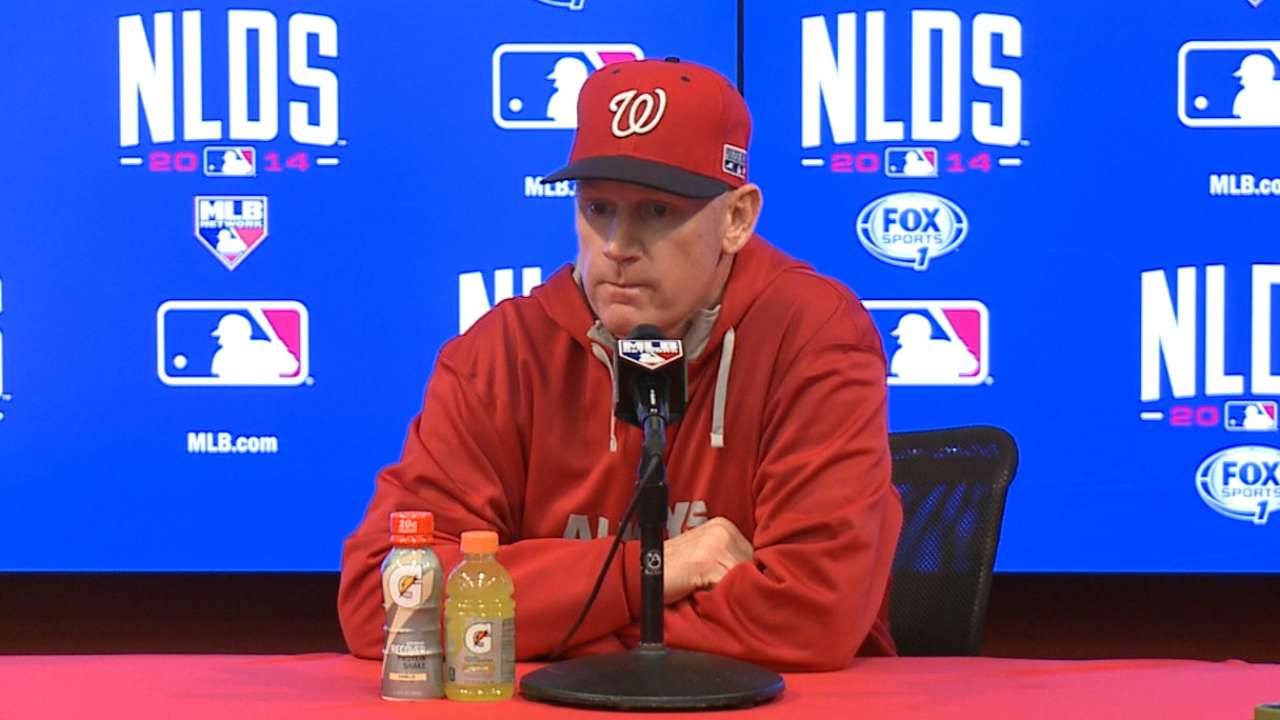 Q. I have to ask you this: Jordan Zimmermann threw 100 pitches, I have to ask, why did you decide to take him out?
MATT WILLIAMS: Why did we decide to take him out? Because if he got in trouble in the ninth or got a baserunner, we were going to bring our closer in. That is what we have done all year. Got the first two guys, he wasn't going to face Posey. Buster lined out to third the previous at‑bat. Saw the ball pretty good off him all night long. We decided to go with the closer.
Q. Did you see anything in the last at‑bat, the long foul ball, from Zimmermann that made you say he was done, or was that the plan?
MATT WILLIAMS: That is the plan. If he gets out to the ninth, gets in trouble, we are going to the closer anyway. Like I said, he got through the first couple of guys. You know, the walk, certainly gave Drew some leeway, Buster with the single and Pablo the double. Drew, since he has been our closer, that is the time to go to him.
Q. Did you agree with Cabrera that the strike zone was big there? What was it that you said that got you run?
MATT WILLIAMS: I thought the 3‑1 pitch was a little up. Then, of course, as he thought, the 3‑2 pitch was up. Once he was ejected, I went out there.
What I said is between me and the umpire.
Q. With Jordan, did the fact that it was long have anything to do with it?
MATT WILLIAMS: No, nothing at all. Hindsight is a great thing. You know, if, if our starting pitcher goes out there, and he's at 100 pitches, third time, fourth time through the lineup, he gets in trouble in the ninth, we will go to the guy who was has been perfect for us since he has been in that role.
It didn't work out. That is what we had planned for in the ninth. That is the way we went.
Q. The results weren't there for Drew. What did you think of the pitches he made in those spots to Posey and Sandoval?
MATT WILLIAMS: I haven't seen the pitch to Buster. I know what it was; a fastball away, off the end of the bat for a single.
The pitch to Pablo is a ball going down, but it is middle of the plate. He missed location. You know, Harp made a nice play getting the ball to Desi, able to throw Buster out at the plate and kept it at one. We had opportunities beyond that.
But the ball was middle of the plate to Pablo. He stayed on it good.
Q. I know you like to look at things one day at a time. Down 0‑2, how do you bounce back?
MATT WILLIAMS: We don't have a choice now. You know, it is a must‑win for us. We will get a day off tomorrow, and see if we can get a win in Game 3. Then we must win Game 4 and hopefully get it back to here. That is all we can do at this point.
Q. After the run in third inning there, what did you make of the offense?
MATT WILLIAMS: We couldn't string anything together. Neither could they until Brandon hit the homer. You know, couldn't bunch anything together after that.
Have to regroup. Go into their place. See if we can start bunching them and give ourselves a chance.