Petit's six scoreless takes relief to next level
Reliever earns kudos by starting 12th inning, allowing just one hit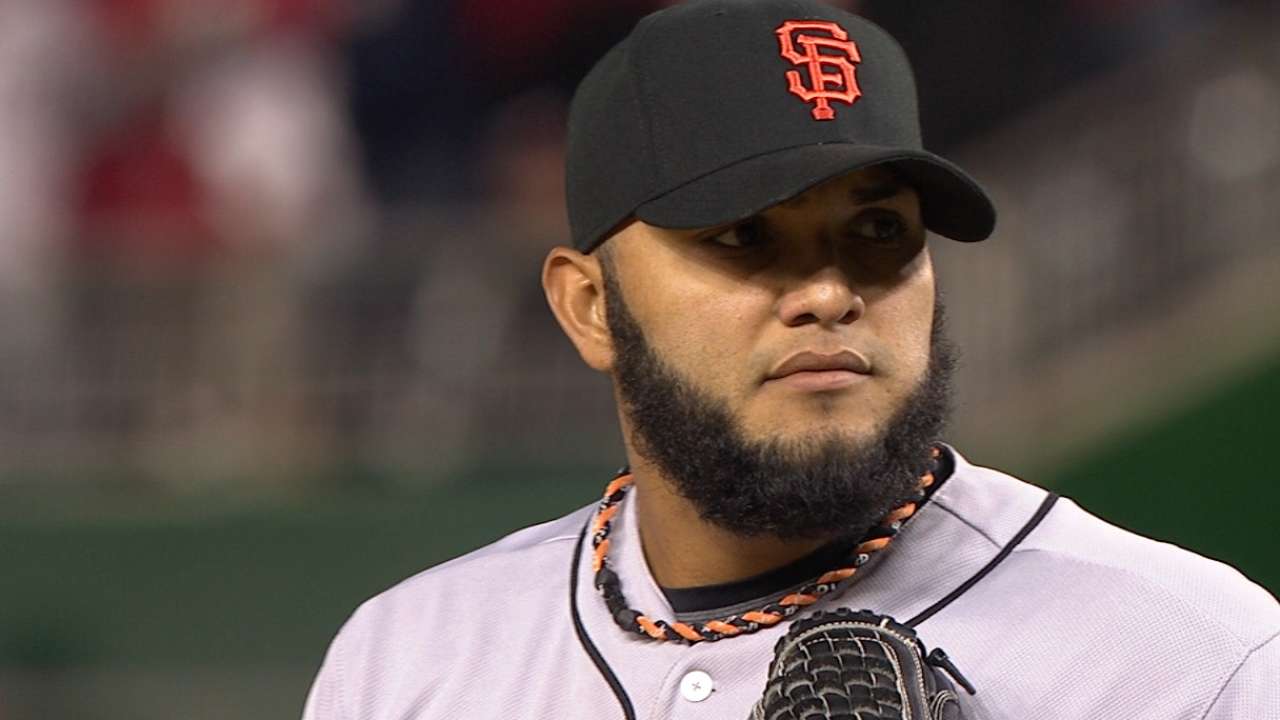 WASHINGTON -- It's impressive that seven Giants relievers combined to pitch 10 2/3 shutout innings in Game 2 of the National League Division Series at Nationals Park on Saturday night.
Giants catcher Buster Posey points out that it's even more impressive than most people realize.
"I don't think people understand how hard it is to pitch extra innings, on the road, in the postseason," Posey said after San Francisco pulled out a 2-1 win in 18 innings, with the six-hour, 23-minute contest setting a record for the longest postseason game, based on time. "Everything's magnified. One mistake and the game's over. So to go nine extra innings without allowing a run is remarkable."
Each pitcher contributed, but none more than starter-turned-reliever Yusmeiro Petit. He came in to start the 12th and ended up pitching six shutout innings, allowing just one hit and three walks (one intentional) while striking out seven.
Petit's performance puts him in elite company, as he became the first pitcher to throw at least six shutout innings of relief and earn a postseason win since Pedro Martinez did it for the Red Sox against the Indians in Game 5 of the 1999 American League Division Series.
Rookie Hunter Strickland pitched the final inning to earn the save.
"It's one of the best games I've ever been a part of," Posey said. "The job Petit did was incredible. To throw as many pitches, as many innings as he did and keep them off the board, it was incredible. I can't say enough about how good our pitching was."
Starter Tim Hudson shook his head at Petit's performance.
"It's sudden death, man," Hudson said. "It's sudden death. There's no room for error. You have to never give in when you're out there in a situation like that.
"Our bullpen really stepped up. They were amazing. Petit did a job. He really stepped up and showed us what he was about. He pitched some of the tougher innings throughout that game. And their lineup is really good. They're tough. They've got a lot of guys who can really hurt you with one swing of the bat. So that makes it even more remarkable what he went out there and did. Going out there and making those pitches in tough situations with that lineup for six innings. He did a heckuva job."
"I knew I had to stay focused," said Petit. "I knew I can throw more pitches, more innings. This was my first time in the postseason. And it's hard. You can't really mix it up, because one pitch can make the difference."
Giants manager Bruce Bochy couldn't say enough about Petit's performance.
"What a great job he did," Bochy said. "The last couple innings, we did check on him, just to see how he was. I was trying to get as much as I could out of him."
Jean Machi and Javier Lopez each recorded an out in the eighth in relief of Hudson. Sergio Romo pitched the ninth, Jeremy Affeldt the 10th and closer Santiago Casilla the 11th before Petit took the ball and got the game to Strickland.
"Epic battle," Bochy said. "You want to see pitching? You saw tremendous pitching on both sides. And Petit, obviously, saved us with his effort."
Paul Hagen is a reporter for MLB.com. This story was not subject to the approval of Major League Baseball or its clubs.