MLB.com Columnist
Richard Justice
For Mattingly, all decisions not made equal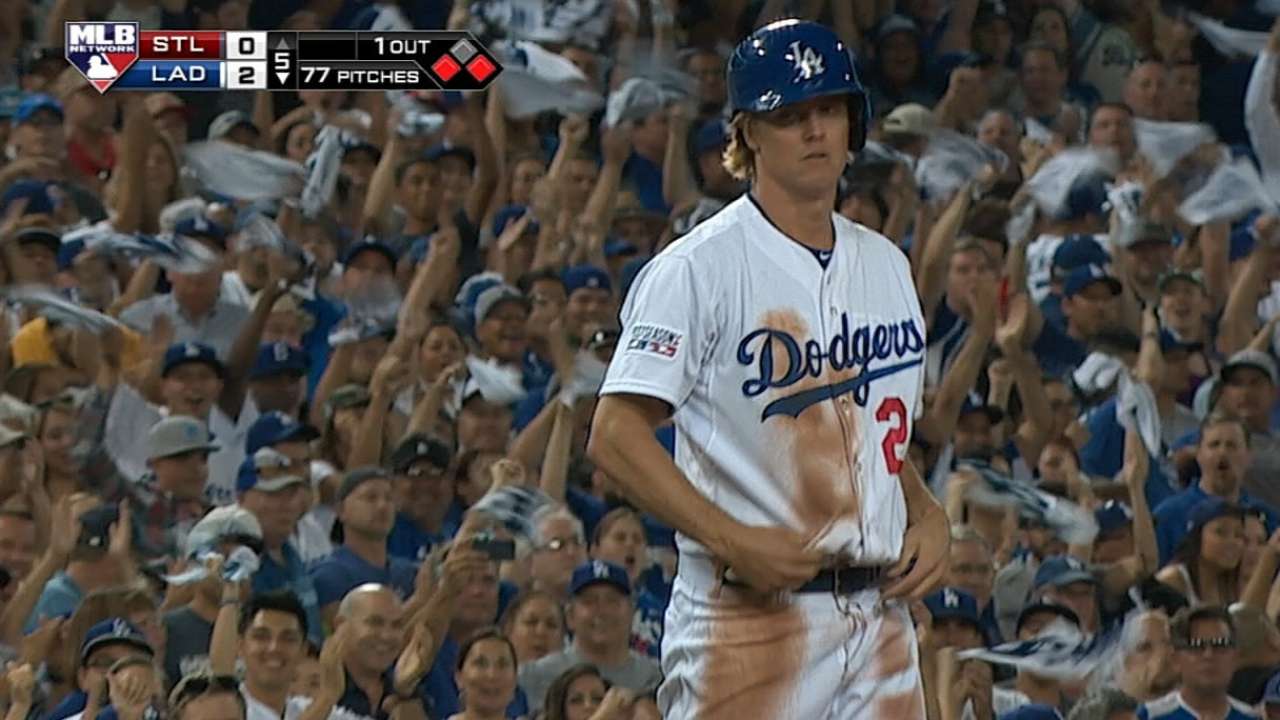 LOS ANGELES -- When Dodgers manager Don Mattingly had a decision to make Saturday night, he actually had no decision at all.
First, though, some background.
Mattingly had stayed with his starter, Clayton Kershaw, for 110 pitches in Game 1 of the National League Division Series on Friday.
That decision turned out poorly for the Dodgers as the Cardinals collected six hits off Kershaw in the seventh inning to rally from four runs down for a 10-9 victory.
Mattingly was widely criticized for the decision, even though he was juggling an assortment of factors.
One is that his bullpen has been unreliable in the second half of the season. In September, Dodgers relievers were 22nd in baseball in ERA and 23rd in converting save chances. As Mattingly weighed his options, he believed that his ace was still his best option.
Both he and Kershaw pointed out that the Cardinals deserved credit for a series of a smart, tough at-bats. In taking what Kershaw gave them, four hitters singled to center field. One, Jon Jay, singled to the opposite field.
Finally, Matt Carpenter fouled off three tough pitches and slapped a three-run double into the gap in right-center.
One night later, Mattingly made a different decision. With the Dodgers leading 2-0 after seven, he pulled Zack Greinke after seven innings and 103 pitches.
He did this even though Greinke had thrown more than 103 pitches in 18 of his 32 starts. He'd thrown 118 two weeks ago in his 31st. But the decision wasn't actually as tough as it seemed. Greinke told Mattingly after the seventh that his tank was virtually empty.
"Where are you at?" Mattingly said he asked Greinke after the sixth inning. "And he goes, 'I'm good through Carpenter.' So I knew where he was, kind of [what] his limit was."
It never got that far. Greinke got the Cardinals in order in the seventh, and Mattingly went to his bullpen. Carpenter would have been the second hitter due up in the top of the eighth.
Greinke had an eventful night beyond the 103 pitches. He also singled twice and was involved in two plays on the bases. One of those came in the bottom of the fifth, when he sprinted from first to third on a Dee Gordon single.
"Probably it has less of a toll just because you have more adrenaline going," Greinke said. "But with the extra running and stuff. ... [My] command was really good. A.J. [Ellis] said the slider was better than normal, and I guess [I] didn't use my curve too much and changeup a little less than have I been using. But fastball slider command was better than normal."
When Cardinals manager Mike Matheny sent Oscar Taveras up to pinch-hit to lead off the top of the eighth inning, Mattingly went to left-hander J.P. Howell.
Safe bet? Left-handed hitters batted .190 against Howell this season. He allowed just one home run.
If there was a gamble, it was that Howell had struggled in the final days of the regular season. In his final four appearances, he allowed seven earned runs in three official innings.
Still, Mattingly made the move. Taveras opened the eighth with a single, and then Carpenter delivered for the second straight night, hitting a towering two-run, game-tying home run to right-center.
Right there, the Dodgers could see an entire series slipping away. To fall into an 0-2 hole in a best-of-five NLDS would have been a huge hole from which to climb.
Once that inning ended, the Dodgers found a hero, a familiar one. Matt Kemp led off the bottom of the eighth inning with a home run that gave the Dodgers a 3-2 victory and tied the series at a game apiece as it moves to St. Louis for Games 3 and 4.
So the Dodgers once more went from disappointment to elation, from feeling pushed to the wall, to feeling pretty good about how things will work out.
"Obviously, this is a game that we feel like we have to have," Mattingly said. "I'm sure they're feeling walking out here that they're fine, that they did what they needed to do. But we did what we needed to do today. It got us back in it. So when we get to St. Louis, [we] need to go win a game to get it back here or win two to finish it there."
Richard Justice is a columnist for MLB.com. Read his blog, Justice4U. This story was not subject to the approval of Major League Baseball or its clubs.