MLB.com Columnist
Tracy Ringolsby
Not satisfied with split, Cards need to find consistent offense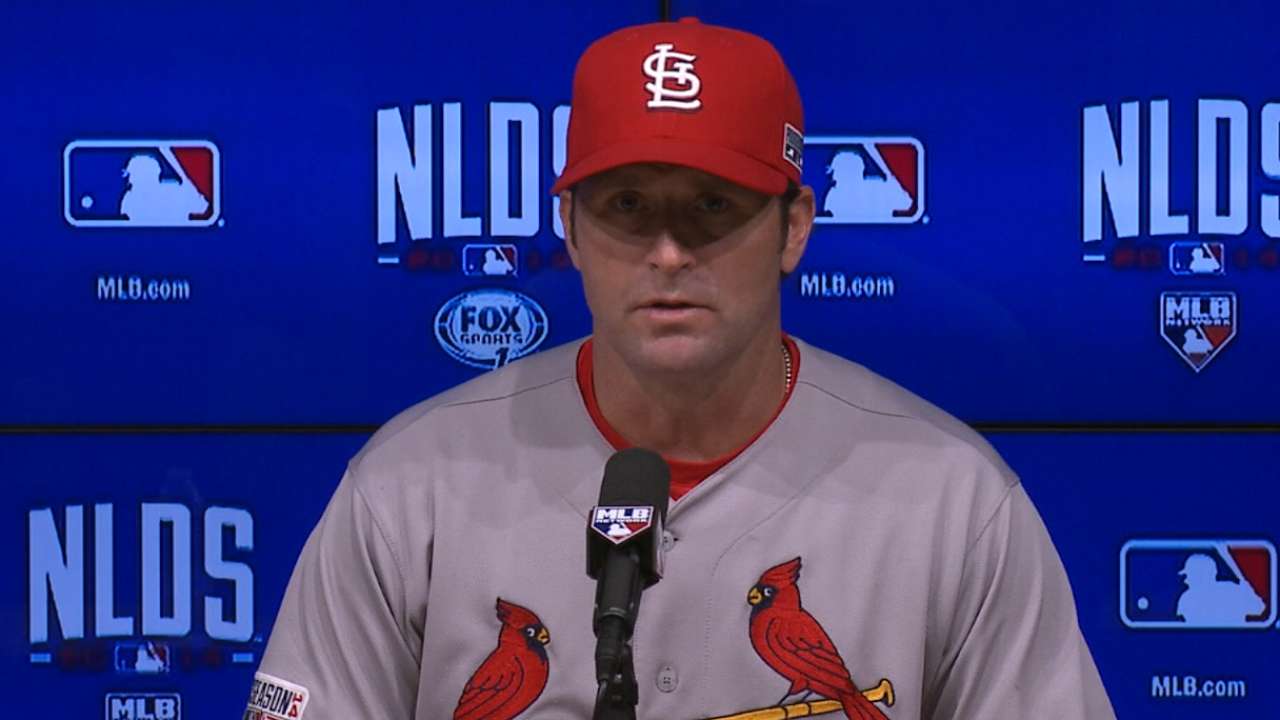 LOS ANGELES -- It's that time of year.
Greed sets in.
The Cardinals showed up at Dodger Stadium for the first two games in the best-of-five National League Division Series wanting to get at least a split so they could negate the Dodgers' home-field advantage.
They did it. However, they are not satisfied.
Well, maybe a little bit.
They do know they at least have a chance to wrap up the series at Busch Stadium, where the next two games are scheduled for Monday and Tuesday.
But there's no putting on a happy face. Yep, they pulled out that 10-9 victory in Game 1 on Friday night, but they came up short on Saturday, losing, 3-2, to the Dodgers.
"It's always good going home having won a game, but you always want more," said Cardinals general manager John Mozeliak. "You win that first game and you want to win the second. I don't know if it is being greedy, but you realize that this time of year, every game, every at-bat, every pitch is magnified.
"The margin for error is minimal. Every little thing stands out."
Like second baseman Kolten Wong's phantom tag on Dodgers starting pitcher Zack Greinke in the third inning that was overturned by replay review, leading to Greinke being able to eventually score a run for a 2-0 Dodgers lead.
"Getting out of here with that win yesterday, that was big for us," Cardinals manager Mike Matheny said. "This one here is fresh on our minds, and it was there and we let it slip away. We've got to let that go and figure out how to put [together] a good game on [Monday]."
The biggest thing the Cardinals would like to do is figure out a solution to the season-long puzzle that has been their offense. Oh, they had that 10-run effort in Game 1, but that was the anomaly. The two runs on Saturday are more typical of the season.
A tip of the hat to the Cardinals. They are the NL Central champions, and they were able to overtake Milwaukee and hold off the Pirates to win the division. That's despite an offense that was tied for ninth in the NL with Philadelphia for runs scored (619) during the season.
And the Cardinals managed to withstand a September in which they scored the fewest runs (98) and had the lowest batting average (.244) of any of the five NL postseason participants. Randal Grichuk, who spent the bulk of the season in the Minors, was the only Cardinals regular who even hit .300 in the month.
Despite all that, only two NL teams had a better September record than the Cardinals' 17-9. NL East-champion Washington was 19-8 and the Dodgers were 17-8.
"It's been an uphill battle for us to find a consistent offensive game," said Mozeliak. "But we do have a lineup where I feel you can say more teams we faced felt we were still a threat to break a game open. We have guys who had a track record for being good offensive players, and other teams were aware of that."
That fear is still there. Face it, Dodgers manager Don Mattingly was concerned enough on Saturday night that with a 2-0 lead going into the eighth he opted to go with a fresh arm instead of sticking with Greinke, who had allowed only two hits and thrown only 103 pitches.
It seemed like the safe route. Mattingly did, after all, have lefty J.P. Howell rested and ready, and with three consecutive left-handed bats due up for the Cardinals, what more could Mattingly have wanted? Lefties hit only .170 against Howell during the regular season, and hit only one home run in 88 at-bats.
Well, they are hitting 1.000 against him in this Division Series with one home run -- a game-tying two-run shot by Matt Carpenter after Oscar Taveras greeted Howell with a single.
Just as quickly, however, the Dodgers regained the lead. Matt Kemp led off the bottom of the eighth by greeting Cardinals reliever Pat Neshek with a go-ahead home run.
It left the Cardinals disappointed. They would have liked to have had a chance to sweep the series come Monday at Busch Stadium.
"Every game this time of year seems so much bigger," said Mozeliak. "Your margin of error is so thin."
The sun, however, will come up tomorrow.
And the Cardinals, at least, will know the odds are on their side.
They did win the series opener, and the team to win the opening game has won 32 of the 38 best-of-five series in baseball's Wild Card era.
And that one win they managed was a big one. It was one in which they fell behind 6-1 against likely NL Cy Young/MVP Clayton Kershaw and pulled out a 10-9 win.
They put together an eight-run seventh inning in which Kershaw was charged with six runs and six hits.
Yeah, that Clayton Kershaw, the one who went 21-3 with a 1.77 ERA in the regular season.
That Clayton Kershaw, who gave up more than three runs in only one of his 27 starts during the season. "Strange things happen this time of year," said Mozeliak. "You don't take anything for granted."
Tracy Ringolsby is a columnist for MLB.com. Read his blog, Write 'em Cowboy. This story was not subject to the approval of Major League Baseball or its clubs.