Successful challenge looms large in Dodgers' win
Greinke ruled safe on overturned tag call in third, then scores second run of inning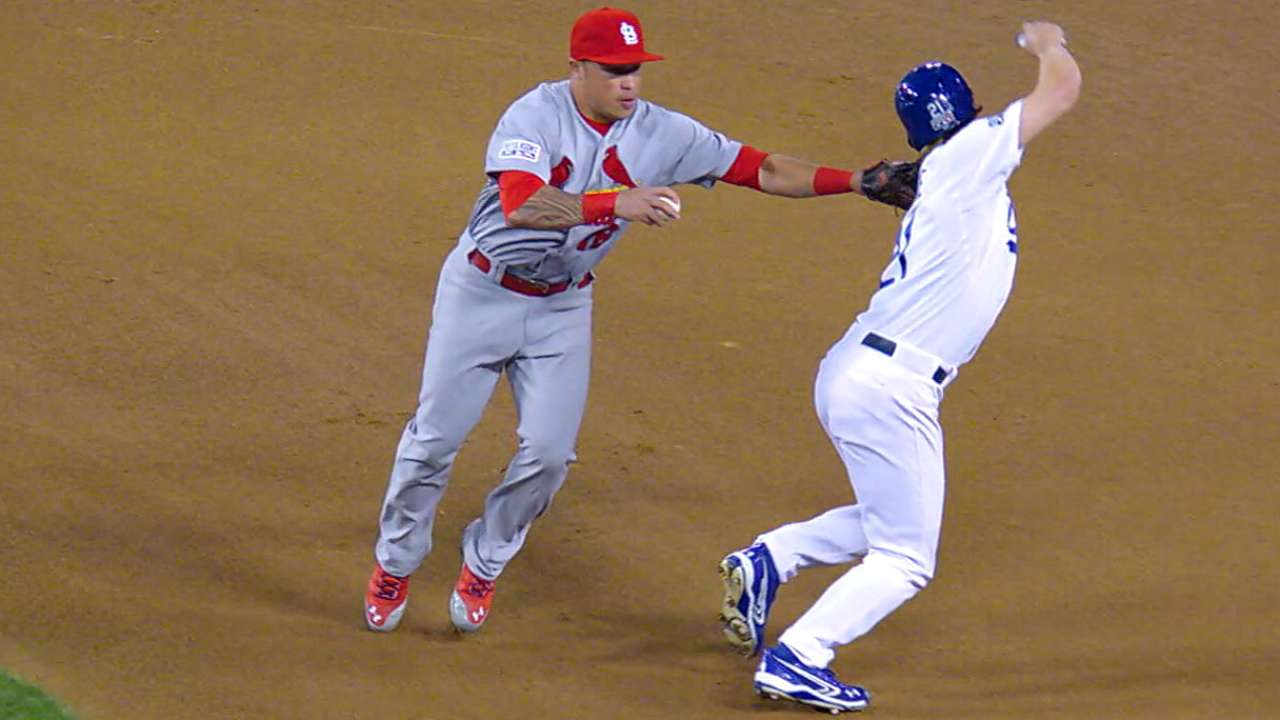 LOS ANGELES -- The Dee Gordon grounder to second base that Dodgers manager Don Mattingly challenged during the third inning of Saturday night's Game 2 of their National League Division Series turned out to be a pivotal play in his club's 3-2 victory.
The Dodgers tied the best-of-five series at 1-1 with Game 3 at Busch Stadium on Monday at 6:30 or 6 p.m. PT on FOX Sports 1.
This is the first year that the blanket replay system has been used in the postseason and it had a profound effect on Game 2 and perhaps the eventual outcome of the series.
"That's one of those funny plays that probably isn't caught without the replay system right now, which it wasn't," Cards manager Mike Matheny said afterward. "It ended up coming around and not just costing us extra pitches, but ended up costing a run."
A.J. Ellis opened the two-run inning with a double off Cards starter Lance Lynn and went to third on Zack Greinke's dump single. Gordon fouled four pitches off after taking two balls before nubbing a grounder toward the right side that was played by second baseman Kolten Wong.
Wong lunged to tag Greinke, who tried to elude the tag as he headed toward second base. Wong then threw to first to barely get Gordon as Ellis scored on the apparent double play.
"I knew I didn't get him," Wong said. "My main focus was keeping Gordon off first base. You definitely want to take the chance having the pitcher run than having Gordon run, especially since he's a guy who led the league in stolen bases. I knew I wanted to get Gordon out at first. When Greinke made that move to jump out of the way, I tried my best to tag him. When he did his jump I reached for him and didn't get the tag down."
Mattingly opted to issue the first challenge of the series, thinking that Gordon might have been safe at first. As it turned out, the tag call on Wong was overturned in just a few ticks less than a minute. Replays showed that though Wong had indeed tagged Greinke with his glove, the ball was in his bare right hand at the time. Greinke was awarded second base and Gordon the RBI. Greinke later scored in the inning on an Adrian Gonzalez single, giving the Dodgers a 2-0 lead they held until Matt Carpenter hit a two-run homer during the eighth inning.
Matt Kemp won the game with a homer of his own in the bottom of that inning.
"We actually didn't see the tag, to be honest with you," Mattingly said. "I thought the play at first was close and that's why we held [Yasiel Puig] back. And John Pratt -- actually the video guy -- we called and checked on that. But he said he tagged him without the ball in the glove. So that's when we really basically went out to talk about that."
Greinke said he was caught in the middle, trying to determine where he should stop on the basepath as the play developed.
"I could have stopped and avoided being tagged by him, but then I don't think I would have been able to make it to second," Greinke said. "I don't know if it was the right play and I talked to Dee about it some afterwards, but the last thing I wanted was them to throw it to first and then still have me at second. I thought he was going to throw to first earlier and I was going to try to get to second. I think I would have made it, but I couldn't tell you for sure."
Barry M. Bloom is a national reporter for MLB.com and writes an MLBlog, Boomskie on Baseball. Follow @boomskie on Twitter. This story was not subject to the approval of Major League Baseball or its clubs.