Dodgers, Cards dismiss talk of sign stealing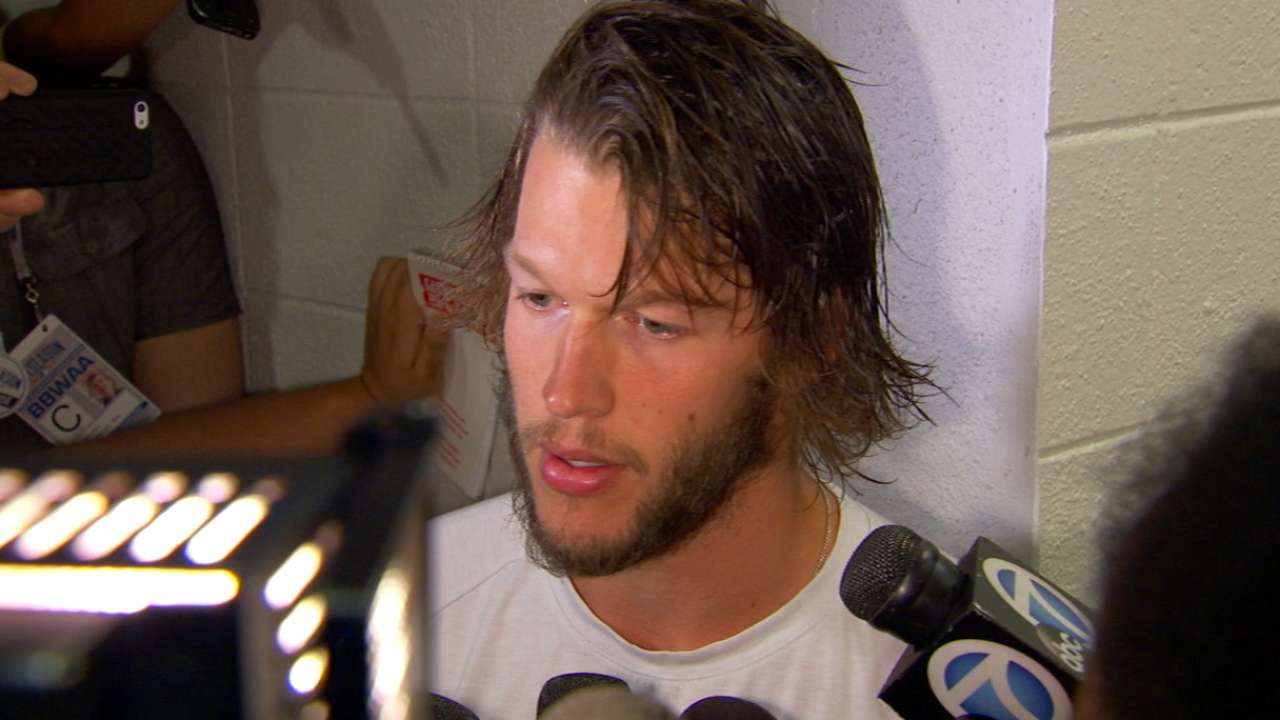 LOS ANGELES -- After rumors circulated that Dodgers left-hander Clayton Kershaw tipped pitches in Game 1 of the National League Division Series against the Cardinals, plenty of players and coaches dismissed the subject on Saturday.
"There's nothing to that. I'll be the first one to say that there's nothing to it and that's it," Cards center fielder Jon Jay said before Game 2. "We're just going to go out there and keep playing ball and keep playing hard and that's it."
Dodgers manager Don Mattingly jokingly called the incident "signgate."
"No, I'll tell you, I played a decent amount of time and I coached him [Kershaw] for a while, all the years from being hitting coach to watching, I have one guy that's ever relayed signs from second base. The actual sign, the actual pitch," Mattingly said.
"Most teams, and we know it, everybody tries to pretty much give location. It's common. It's all the time. Mac's [Mark McGwire] been over with these guys for three years, they didn't do it when he was there. It's not that easy. It's just not that easy. To me, it's silly. We know they're trying to do it and everybody tries to do it. We're switching signs, you do all this stuff, it's just not that easy. So, it's execution."
While Kershaw cruised through the first six innings of Friday's game, the seventh proved to be the left-hander's undoing.
He allowed five sharp singles and two runs in the inning when Mattingly came to the mound. He chose to stay with Kershaw, who proceeded to strike out Oscar Taveras, only before allowing a bases-clearing double to Matt Carpenter.
Kershaw, who had a one-hitter and five-run lead through 5 2/3 innings, was charged with eight runs, the most he's ever allowed at Dodger Stadium and one shy of his career worst. He struck out 10 without a walk in 6 2/3 innings.
"We have taken a look at it. We've recapped the film a little bit. I've read some stuff and I've seen a lot that's been made about last night's game and that seventh inning in particular," Dodgers catcher A.J. Ellis said. "Matt Holliday's an amazing hitter, Jhonny Peralta is an amazing hitter, Yadier Molina is an amazing hitter. And these guys are guys with championship pedigrees. So I think we got to give them all the credit.
"They found pitches in the middle of the plate that weren't executed and they hit balls squarely back up the middle."
St. Louis manager Mike Matheny believes that saying his players were stealing signs is an insult to the club.
"Our guys go about their at‐bats like pros and there's a lot of things that are going to be said from a lot of different people, and that's all it is," Matheny said. "It's just rumor and right now it could just be a distraction."
Quinn Roberts is a reporter for MLB.com. This story was not subject to the approval of Major League Baseball or its clubs.