Asdrubal, Williams ejected for arguing in 10th inning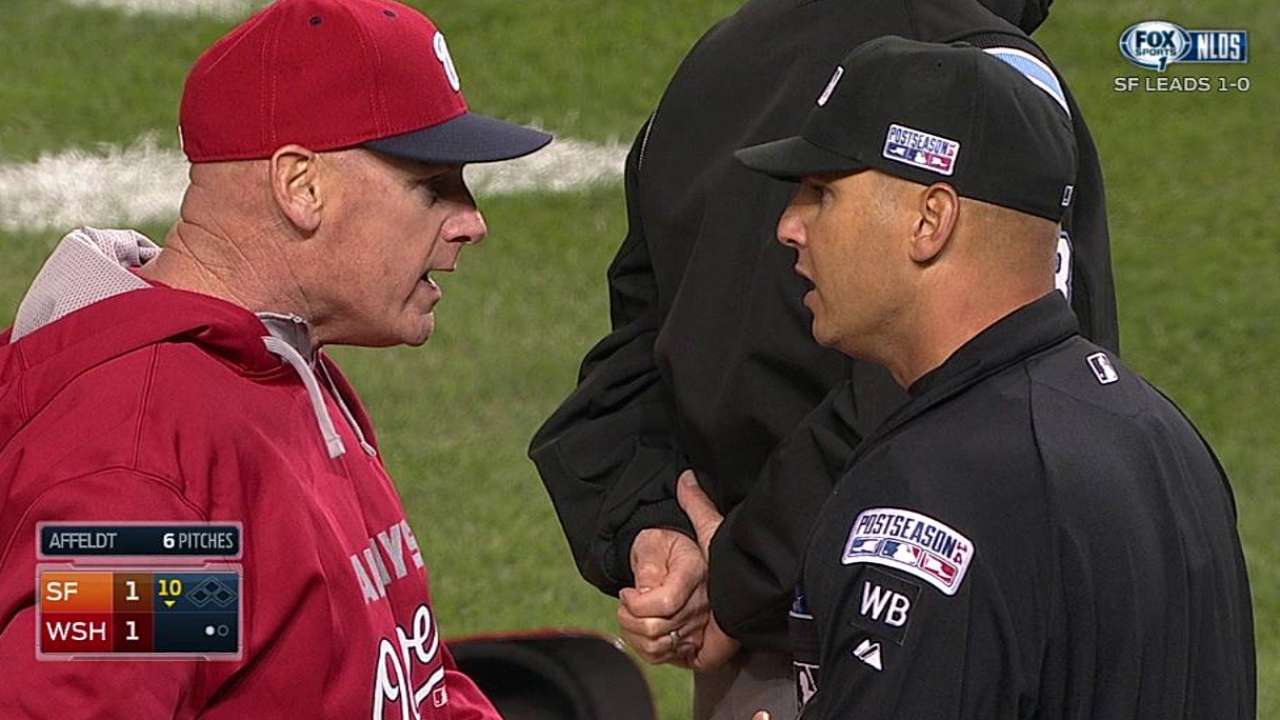 WASHINGTON -- The Nationals played the final eight frames of Saturday night's marathon contest against the Giants without starting second baseman Asdrubal Cabrera and manager Matt Williams after both were ejected in the bottom of the 10th inning.
Tempers flared with Game 2 of the National League Division Series locked in a 1-1 tie and Washington needing a victory to avoid an 0-2 deficit. Cabrera led off against San Francisco lefty Jeremy Affeldt and worked the count to 3-1 before taking a fastball that home-plate umpire Vic Carapazza ruled caught the high-outside corner. Clearly unhappy with the call, Cabrera shared some words with Carapazza as he took his time getting back in the box. Cabrera then took the next pitch, over the middle but at the top of the strike zone, and Carapazza called him out.
"I think he called a lot of bad calls today," Cabrera said. "My last at-bat, I think the second strike was too high, and the last one, too."
After strike three, Cabrera shouted, slammed his bat and helmet to the ground and approached Carapazza to argue. Carapazza ejected Cabrera before Williams came out to move his player to the side.
"I don't want to get thrown out of the game, but in that situation, in that moment, you're not thinking about getting thrown out of the game," Cabrera said. "In that moment, I wanted to be on base and help the team to win."
Williams continued arguing with Carapazza, who eventually threw the Nats' skipper out of the game, as well.
"I thought the 3-1 pitch was a little up," Williams said. "Then, of course, as [Cabrera] thought, the 3-2 pitch was up. Once he was ejected, I went out there. What I said is between me and the umpire."
Crew chief Mike Winters, serving as the third-base umpire, said he didn't know what words were exchanged between Cabrera, Williams and Carapazza, but that he believed the actions of the latter two "warranted ejection, based on [their] disagreement with the pitches."
While umpires normally might give players more latitude in the postseason, not wanting to throw them out of crucial games, Winters said Cabrera went far enough that Carapazza had no choice.
"In this case, he slammed the bat to the ground. That's going to be gone," Winters told a pool reporter. "Even in a game of this magnitude, he's got to have enough self control to not do that. He could've said his piece and left and probably stayed in the game."
Cabrera wasn't the first to show frustration with Carapazza's strike zone. Earlier in the game, left fielder Bryce Harper voiced his displeasure with the umpire after a borderline strike call, but he was not ejected.
The Nationals also weren't happy with Carapazza's zone when the Giants' Joe Panik drew a two-out walk off Jordan Zimmermann in the ninth inning. At that point, Williams pulled Zimmermann for closer Drew Storen, and Panik later scored the tying run on a Pablo Sandoval double.
"I thought he missed one," Zimmermann said, referring to his 1-0 pitch to Panik. "I thought one was a strike. Changed the whole at-bat, and I had to come after him and ended up missing and walking him."
With Cabrera and Williams gone, Danny Espinosa took over at second base, while bench coach Randy Knorr assumed managing duties for the remainder of the 2-1 loss in 18 innings.
Andrew Simon is a reporter for MLB.com. Follow him on Twitter @AndrewSimonMLB. This story was not subject to the approval of Major League Baseball or its clubs.