Dodgers banking on healthy Ryu for Game 3
Club confident despite shoulder issue that has kept lefty out since Sept. 12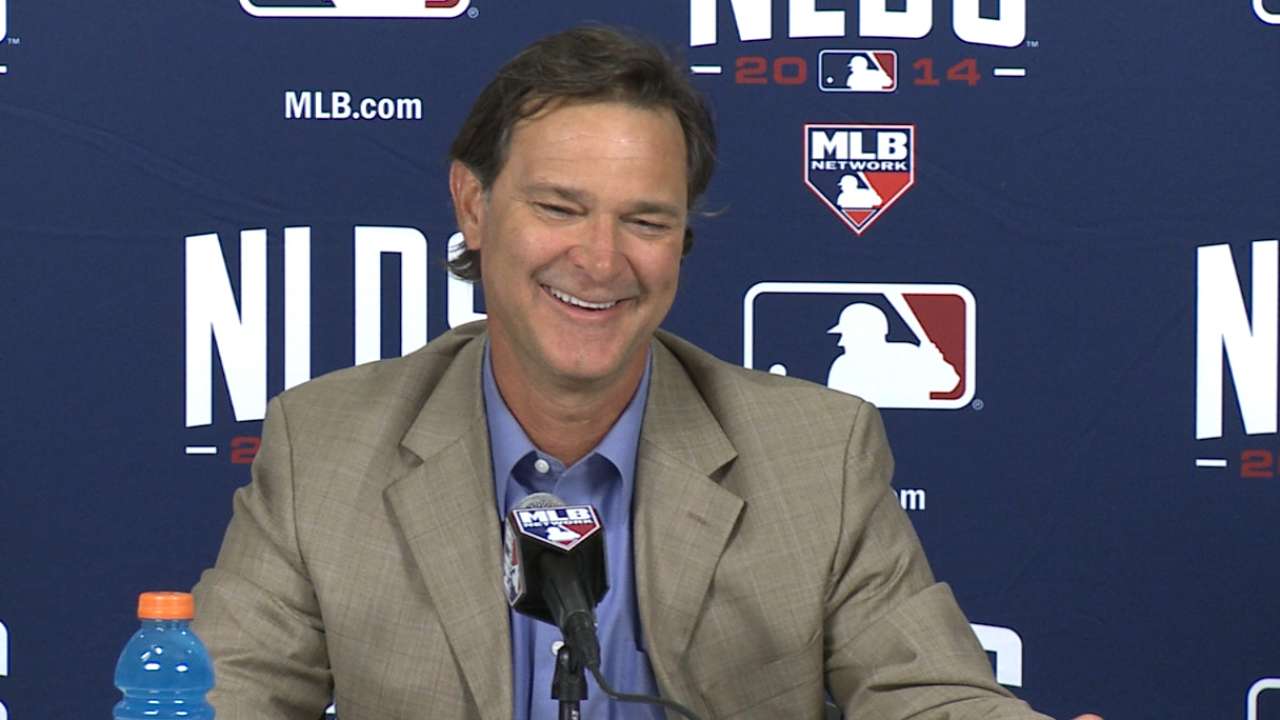 ST. LOUIS -- When Hyun-Jin Ryu takes the mound for the Dodgers in Game 3 of the National League Division Series on Monday night against the Cardinals at Busch Stadium, it will be only his fourth start since Aug. 13.
Since then, Ryu has suffered through a back injury and the recurrence of an early-season left shoulder problem, this time taking a cortisone shot to stem the inflammation. He threw a simulated game on Wednesday and a couple of bullpen sessions. He'll make his first start on Monday night since being shut down after throwing just 27 pitches because of the shoulder issue on Sept. 12.
Game 3 is slated to start at 6 p.m. PT on FOX Sports 1.
Ryu said on Sunday before a light workout at Busch Stadium that he's confident he'll be able to give the Dodgers a good effort.
"Overall, I feel really good," he said through an interpreter. "Compared to the last time I had this injury, I actually took the mound a few more times. I tried to make sure I didn't do too much or too little. I feel very confident right now. My arm feels really good. My shoulder feels really strong. And I have a pretty good feeling I'll be able to put in a good game tomorrow."
Even so, Dodgers manager Don Mattingly is making contingency plans in the event the Ryu has a similar adverse reaction like the one he suffered while he pitched one inning in a 9-0 loss to the Giants in San Francisco last month. Mattingly said he has tentatively designated Dan Haren as his Game 4 starter on Tuesday night, but Haren could be the first pitcher out of the bullpen if Ryu suffers a similar injury.
"It depends on how early in the game it is," Mattingly said. "If it gets deeper in the game, then we would try to put it together with the bullpen. We wouldn't try to drag Danny into that. When we start the game tomorrow, Danny Haren will be ready to pitch tomorrow."
Ryu said, though, that Mattingly shouldn't be concerned.
"I'm thinking that there's very little, almost zero percent chance that the injury is going to come back tomorrow," Ryu said. "I'm not even thinking about it. I don't think it's good for my psyche to think that way. I threw a few bullpen sessions and I went 100 percent, I felt great in all those sessions, I don't foresee a reason why I would feel anything tomorrow."
Getting back to the injuries, the back problem took him out from Aug. 13-31. He subsequently made three starts -- at San Diego, at home against Arizona and at San Francisco -- before being shut down again because of the shoulder soreness. He hasn't pitched since. Ryu also missed most of May with a similar shoulder injury and has won only twice in his last six starts, dating back to Aug. 2. He was 14-7 with a 3.38 ERA in 26 starts, but he has been limited to only 152 innings this season. On the other side of it, he should be fresh.
"I'm pitching tomorrow to win the game," Ryu said. "I don't think Donny and the coaches would have made any decisions based on what I did in the past couple of weeks recovering to put me on the mound if they didn't feel I could compete to win tomorrow's game. In the same way I'm fully confident that I have the full capacity to get out there and pitch the same way I did before I was injured."
Still, the question persists -- how much should the Dodgers even expect from Ryu at this late date?
"He seems to be that way, pretty unflappable," Mattingly said. "You never see him get too frustrated or excited on the mound. I don't know if that's because of the language barrier. Obviously, we've seen him in the locker room and he's having fun all the time. He's pretty easygoing the whole time. He seems to be that guy that nothing really bothers him. You never know what's going on in the inside. Like everyone else, I'm sure he's a little excited and anxious [about this game] and all those things."
Barry M. Bloom is a national reporter for MLB.com and writes an MLBlog, Boomskie on Baseball. Follow @boomskie on Twitter. This story was not subject to the approval of Major League Baseball or its clubs.