MLB not issuing discipline for Cards-Dodgers incident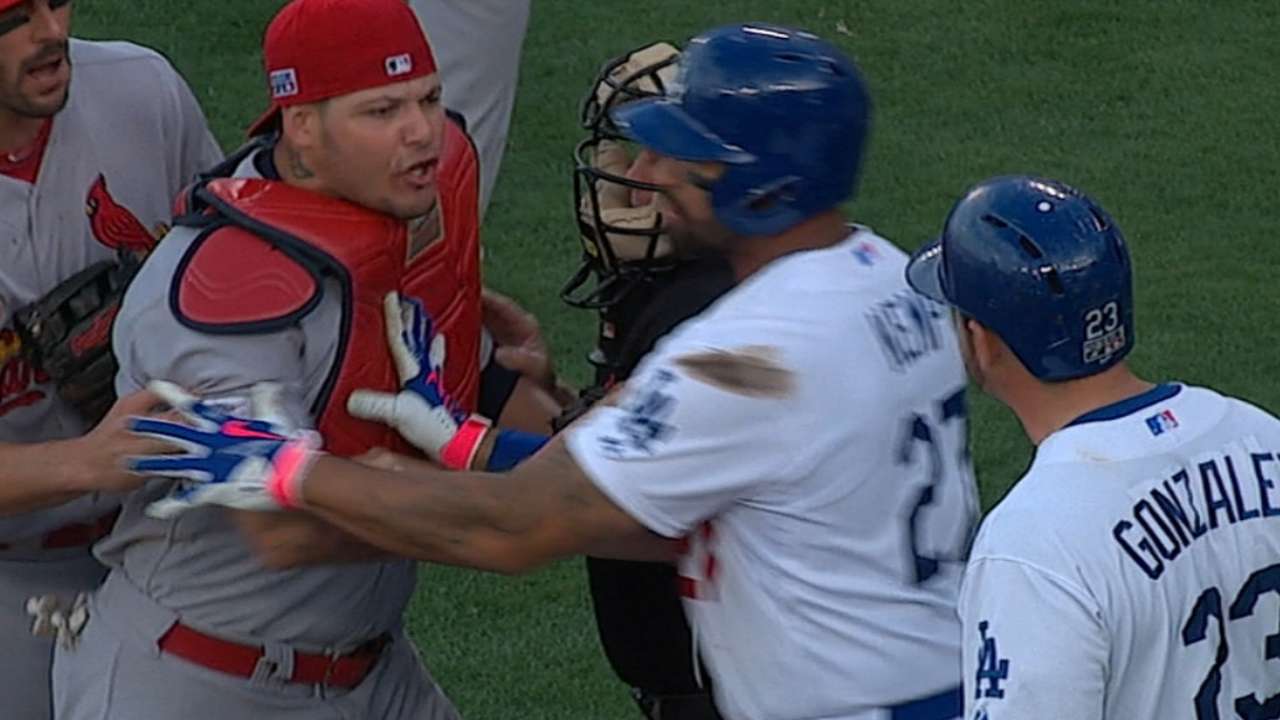 LOS ANGELES -- A representative from Major League Baseball's Commissioner's Office reached out to the Cardinals on Saturday to discuss Friday's on-field fracas. MLB informed the Cardinals that there would be no suspensions or fines imposed on anyone involved, including catcher Yadier Molina, who made contact with home-plate umpire Jerry Meals while heatedly exchanging words with Dodgers first baseman Adrian Gonzalez.
MLB's primary message on Saturday was to remind both organizations that players not on the teams' 25-man National League Division Series rosters should not spill onto the field in those sorts of circumstances. The Cardinals, like the Dodgers, have several extra players in the dugout for this series.
If punishment had come down on anyone, it would have likely been Molina, who was in the center of the mêlée. Manager Mike Matheny's priority as he saw the tensions rising was to pull his veteran catcher away. "We need you in this game," Matheny kept repeating after rushing onto the field to restrain his catcher.
"He was just as mad with me as he was going to be with anybody else," Matheny said a day later. "I was grabbing on for the ride. He knows my intention, and my motivation is for our club. It was loud out there. He had been yelling at me. He was looking and he kept yelling, and I kept trying to get in the way of his words.
"At one point, he finally stopped yelling to where I could get in his ear and say, 'You could be close to getting out of this game and this isn't going to help.' And he kept telling me he had one more thing he wanted to say. I could appreciate that. I believe he did just have one more thing, and I told him it was just going to have to wait."
Matheny also lauded Meals for not changing the complexion of the game by ejecting anyone during the incident. Meals' decision to not toss Molina after the two made contact was likely due to the fact that Molina wasn't charging him, but rather trying to get away from Meals and to move toward Gonzalez.
"There are a bunch of people in everybody's space," Matheny said. "Everybody was pushing. You get claustrophobic. You get defensive. And it's all a big blur. Jerry did a nice job of not making something out of nothing. He was just trying to get people off of him. He was trying to get me off of him. In a situation like that, that would have been a travesty."
Jenifer Langosch is a reporter for MLB.com. Read her blog, By Gosh, It's Langosch, and follow her on Twitter @LangoschMLB. This story was not subject to the approval of Major League Baseball or its clubs.