Rendon's four hits a Nats franchise playoff record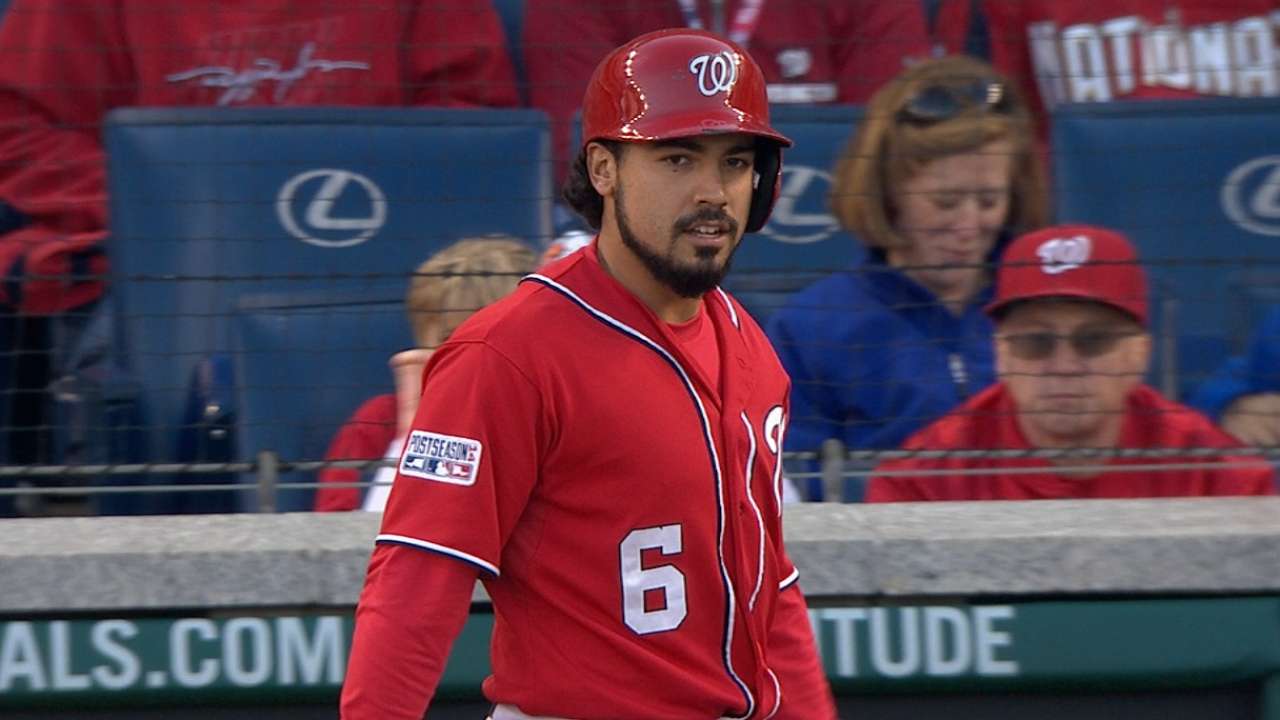 WASHINGTON -- Playing in only the second postseason game of his career, Nationals third baseman Anthony Rendon made franchise history in Saturday night's 2-1 loss in 18 innings in Game 2 of the National League Division Series against the Giants.
By singling in each of his first four at-bats, the 24-year-old became the first player for either the Nationals or Expos to pick up four hits in a playoff game. Only two Nats had posted three-hit games: Kurt Suzuki and Ian Desmond (twice) in the 2012 NLDS. Tim Raines and Gary Carter also accomplished the feat for Montreal during the 1981 playoffs.
Rendon went 1-for-4 in his postseason debut on Friday, hitting a single in his final at-bat. He followed that up Saturday by smacking grounders through the left side of the infield in his first two at-bats, going up the middle in his third, then lining another to center field in his fourth to force the exit of Giants starter Tim Hudson. Rendon's second knock, in the third inning, drove home the Nationals' only run.
Rendon got four more opportunities for a fifth hit, which would have made him the youngest of nine players to record a five-hit postseason game. But he struck out looking in the 11th inning, popped up in the 13th, flied out to deep center field in the 15th and walked in the 18th.
Rendon said he thought he got enough of the shot to center in the 15th for a walk-off homer, but the cold, windy conditions at Nationals Park knocked the ball down at the warning track. On another night, he could have enjoyed a dramatic final note to a record-breaking performance.
"Maybe," Rendon said. "But not tonight."
It still was a stellar all-around night for Rendon. Besides accounting for 44 percent of his team's hits, he also stole a base and contributed defensively, making a leaping snag of Buster Posey's line drive to lead off the seventh inning.
Rendon collected 176 hits in the regular season, his first full one in the Majors, batting .287/.351/.473 with 39 doubles, 21 home runs and 17 stolen bases.
Andrew Simon is a reporter for MLB.com. Follow him on Twitter @AndrewSimonMLB. This story was not subject to the approval of Major League Baseball or its clubs.