Once Cards foe, Lackey has pedigree for Game 3
Veteran's extensive postseason experience includes WS clincher vs. St. Louis in '13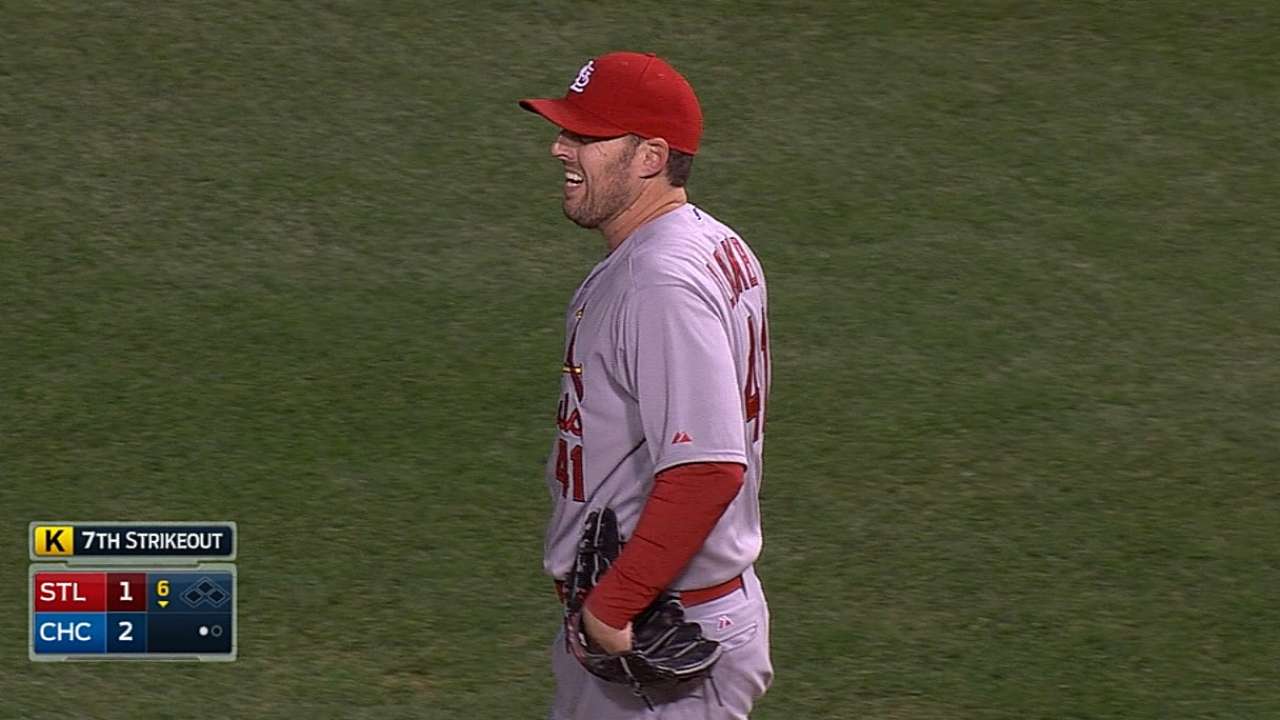 LOS ANGELES -- John Lackey has been there and done that ... twice.
He won Game 7 of the 2002 World Series as a 24-year-old rookie with the Angels, beating Barry Bonds, Jeff Kent and the San Francisco Giants. Last year, he won the deciding Game 6 of the Fall Classic for the Red Sox, beating the St. Louis Cardinals, 6-1, to secure the first World Series-winning celebration on Fenway Park turf in 95 years.
So it wasn't particularly surprising for the Cardinals to swing the July 31 non-waiver Trade Deadline deal with Boston in which they gave up Joe Kelly and Allen Craig to get Lackey and a Minor Leaguer. After all, they had October baseball in mind, and there are few starting pitchers with postseason resumes that match up to the 35-year-old Texan.
So once again, here he is, pitching in October. Lackey will get the ball for the Cardinals in their first home game of the postseason on Monday, when the National League Division Series against the Dodgers moves to Busch Stadium for Game 3 (8 p.m. CT on FOX Sports 1).
"I'm at the point of my career where being in the postseason and having the opportunity to win championships is definitely the most important thing," Lackey said. "I take pride in trying to pitch well at this time of year, and I've been fortunate to be on some good teams that had that opportunity."
Lackey became available because Boston had fallen out of contention in the pennant race, and the Cardinals, who were having health issues with their starting rotation, jumped at the chance to acquire him. Lackey fit their needs not only because of his October resume but because he is signed through 2015 and will make only $500,000 next season because of a clause in his contract that added an extra year if Lackey had to undergo Tommy John elbow ligament replacement surgery. Lackey had the surgery in 2011 and missed all of 2012.
"Lackey being around, he's that steady veteran presence that this club needed," Cardinals general manager John Mozeliak said. "He has a little edge to him, which is good for our clubhouse."
Lackey went 11-7 with a 3.60 ERA for Boston and went 3-3 with a 4.30 ERA for St. Louis down the stretch in his first go-around as a National Leaguer. He was particularly effective in his last two starts of the season after suffering through a bout of dead arm, giving up only three earned runs in 14 1/3 innings combined over those outings, which came on Sept. 19 and 24.
That should have him geared up for October, although no one on the Cardinals has any doubts that they'll see anything but a top-level effort from a guy who will make the 20th postseason appearance -- and 17th playoff start -- of his career when he toes the slab against the Dodgers in Game 3.
"We were very happy to bring him into our club," Cardinals manager Mike Matheny said. "We had a real good idea what we were going to get -- a veteran presence, a guy who knows what he's doing, knows how to go about and use his stuff, and just another starter to be ... in a leadership role and a voice for the rest of our staff.
"And he's been all of the above. He's come out and pitched well, he's competed and kept us in games, and he's a gamer. He's a competitor. He's a guy that we like to watch compete, especially on this kind of stage."
The Cardinals did not particularly enjoy watching Lackey compete last year. They beat him, 4-2, in a tight Game 2 of the World Series, but Lackey shut them down in Game 6, limiting them to one run on nine hits in 6 2/3 innings while striking out five and helping set off a celebration that gave him his second ring.
Not even a year later, here he is, playing with the team he beat.
"What you really see out of him, and what I've seen this year and what excited me when we got him over here, is what the a competitor he is," Cardinals outfielder Jon Jay said. "That's the stuff that you like to see in your pitchers and in your players.
"That's all you can ask for with any teammate. You want to know that they're giving it their all. Whether good or bad, whatever the outcome is, you want to know that they're going to be there and fight for you, and that's something that he really shows that he's going to go out there and compete. That's what it's all about."
Lackey said there weren't any conversations about that World Series game when he officially became a Cardinal. There didn't have to be.
"I didn't bring it up, and they didn't either," he said. "We're trying to do it together this year."
Doug Miller is a reporter for MLB.com. Follow him on Twitter @DougMillerMLB. This story was not subject to the approval of Major League Baseball or its clubs.