MLB.com Columnist
Phil Rogers
Yost silencing critics with big playoff victories
Beleaguered skipper one win from guiding Royals to ALCS for first time since '85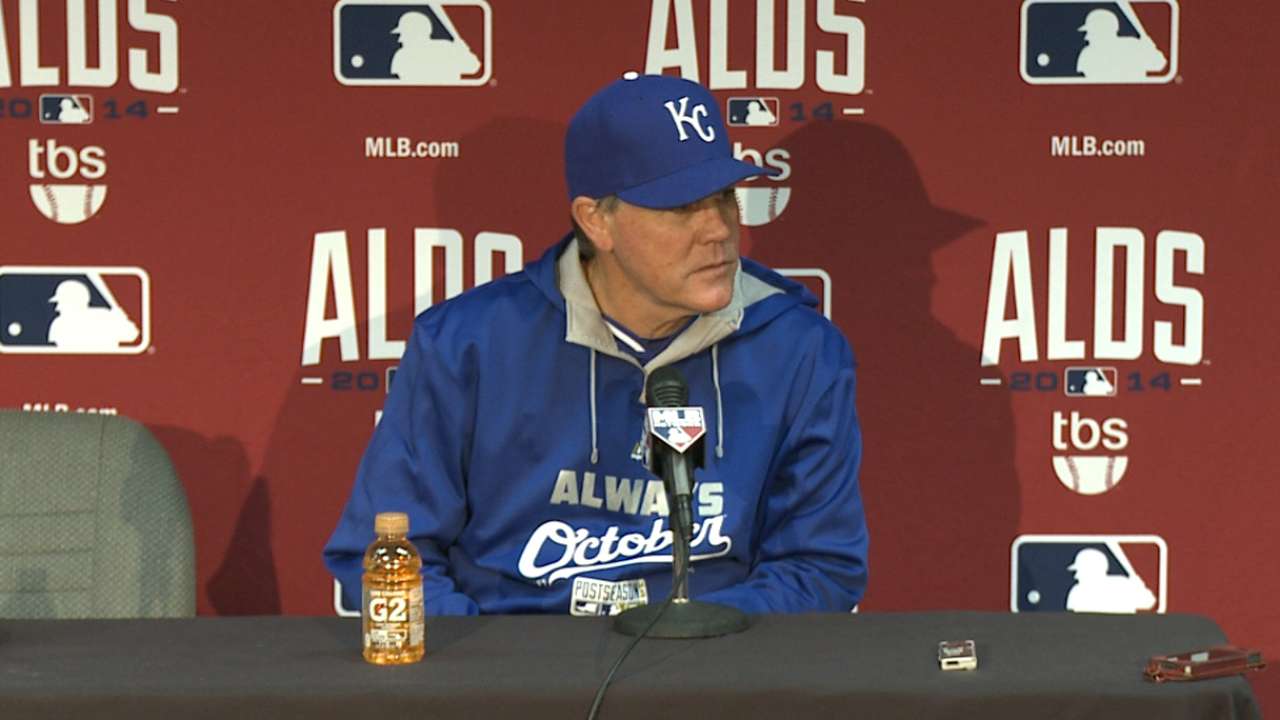 KANSAS CITY -- Thirty years ago, Ned Yost saved a fan's life at Arlington Stadium, or at least he claimed to be a life-saver. It was an early lesson that taught him sometimes, you can defuse public pressure if you're willing to adjust.
Yost, the Royals' frequently second-guessed manager, was a 28-year-old catcher who had been traded from the Brewers to the Rangers for Jim Sundberg, a franchise icon who had won six Gold Glove Awards. Yost was issued jersey No. 10, the same one that had been worn by Sundberg for a decade.
Yost got off to a disappointing start, and a couple months into the season, he switched to No. 7. He flashed an unexpected sense of humor in explaining the change.
"I saved a man's life," Yost said. "There's this guy that sits behind the plate, and every night it's the same. 'Yost, you're a bum. Yost, you're no Sundberg. You don't deserve No. 10. He was getting madder and madder. I don't think he could take much more. He was going to have a heart attack."
Many fans at Kauffman Stadium were just as outraged when rookie starter Yordano Ventura struggled after Yost brought him in for ace James Shields in the sixth inning of the American League Wild Card Game against Oakland last Tuesday.
This was a bold managerial move, and it blew up. The A's rallied to take a 7-3 lead and Royals fans directed their frustration toward Yost, who was managing his first postseason game after 11 seasons on the job with the Brewers and Royals.
But look at him and his team now.
The Royals are not only one victory away from advancing to the ALCS, but also they're the first team to win three straight postseason games in extra innings. That doesn't mean Yost was smart to pull Shields earlier than he had ever had -- even he said, "I was a dope for a little while," but in his words, "it was just one of those situations that happened and we covered it."
Shields is slated to start for the Royals in Game 3 of the ALDS, and at some point, Yost may need to go to the mound to talk to him or pull him from the game. It's going to be interesting to see how he's received by his home fans at that point.
Like Dodgers skipper Don Mattingly at this time a year ago, Yost seems to receive little credit for his team's success and plenty of blame when things go wrong. He minimizes the personal significance of having done his part to guide the Royals to the postseason for the first time since 1985.
"The only reason I do this job is for [my players]," Yost said. "I've been to the World Series. I've been to the World Series six times. What I do is for them. I feel good watching them play and watching them develop. That's my reward. This isn't my reward."
Maybe not, but whether Yost deflects it or not, he's on the biggest stage of his career. Sure, he's been to six World Series; Charlie Silvera also went to the World Series six times. Wouldn't it have been different for him to go as a manager rather than as Yogi Berra's backup?
Yost was Milwaukee's backup catcher in 1982, behind Ted Simmons, and then made five trips to the World Series as a member of Bobby Cox's coaching staff in Atlanta. Yost is calling the shots now, and he's doing it for a fanbase of extremely passionate critical thinkers, many of whom were influenced by Kansas Citians Bill James and Rob Neyer, who helped move sabermetrics from the fringes into the mainstream of sports.
There's not much gray area with this group -- the odds are either with or against every move, based on data that becomes more widely available every year -- and the outcome of a decision often feels beside the point. Every manager feels the heat to one degree or another.
Angels manager Mike Scioscia, who himself has been a target of criticism in the five years since his franchise last won a postseason series, says the climate is different than in 2000, when he was hired to replace Terry Collins.
"In my first year, most of the scrutiny would come from beat writers," Scioscia said. "People got their news a little differently. Now it's obviously a little more quick and probably a little deeper than it was as far as some of the questions, which is just the great thing about baseball. I definitely think the moves are scrutinized more, and that just goes with people's interest in baseball, the love of the game and the strategy twists and turns that happen during a game."
Even managers who take their teams deep into the postseason are subject to harsh criticism, and in some quarters ridicule. Ron Washington, a so-called "players' manager" who trusts his instincts with strategy, was roasted for his in-game decisions in 2010 and '11, when the Rangers went 18-15 in the postseason, twice losing the World Series.
"If you're managing, you're going to get second-guessed," Mattingly told MLB.com this spring. "I saw it last year after we were out. I mean, I saw it when it was me [too], but watching the Cardinals and Boston [in the World Series], it was always, 'The other guy something wrong, he should have done this or that.' Really? In a way it's good to know that' s just part of it and not take it personally. You might as well accept it right from the start."
While the Royals' bullpen is the biggest reason they have advanced this far, Yost's handling of it is a constant issue with fans. They haven't forgotten a couple of losses this year, both against the Red Sox -- one in July when Yost lifted Shields for Scott Downs to face the left-handed-hitting Jackie Bradley Jr. and saw Sox skipper John Farrell pinch-hit Jonny Gomes, who homered, and one in September when Daniel Nava hit a grand slam off Aaron Crow with two outs in the sixth inning, when Yost felt it was too early in the game for one of his top three relievers.
The first postseason inning that Yost managed ended with first baseman Eric Hosmer getting thrown out at the plate after designated hitter Billy Butler botched a double-steal attempt that was either shrewd (as Yost was expecting a low-scoring game against Jon Lester) or ridiculous. But the Royals might not have gotten Game 2 of the ALDS into extra innings on Friday if their manager hadn't just inserted Jarrod Dyson as a defensive replacement when the Angels' Collin Cowgill tried to move from second to third on a twisting liner to center field.
Yost believes in the sacrifice bunt, which is almost always considered a bad bet going off historical analysis. Kansas City ranked only seventh in the AL in sacrifices during the season, but it already has five in three postseason games. Yost might have ordered more, but the run-when-you-can Royals have stolen 11 bases, including three by pinch-runner Terrance Gore.
Yost's strengths come in areas that aren't as easily dissected. He does good work preparing his team and he does his part to create cohesiveness among his players, who almost always know what to expect from their manager and what he expects from them.
Mike Moustakas, the .212 hitter who won Game 1 against the Angels with an 11th-inning homer, was slumping in 2013. Many fans wanted him banished, but Yost stood by him, pointing out that players with his talent are rare.
"Maybe when we get home, I can go to the third base tree and pick another third baseman," Yost said. "Obviously, third basemen who can hit with power, they must grow on trees."
Yost rarely criticizes his players publicly. He knows firsthand how difficult it can be to meet expectations, having batted .182 after the Rangers' Sundberg-for-Yost trade.
He got a career-high 251 plate appearances that season but also was given time to mentally recoup on the disabled list, with manager Doug Rader telling reporters that Yost was having so much trouble getting the prescription on his contact lenses right that the club was viewing his vision issues "like a knee injury."
Hitting hasn't gotten easier since then, and Yost knows it. He also knows that managing is a whole lot more difficult.
There are lots of different ways to do both of those jobs, and in the end it's the results that matter, not the running commentary.
Phil Rogers is a columnist for MLB.com. This story was not subject to the approval of Major League Baseball or its clubs.