Mo. money: Pujols hopes to add to KC legend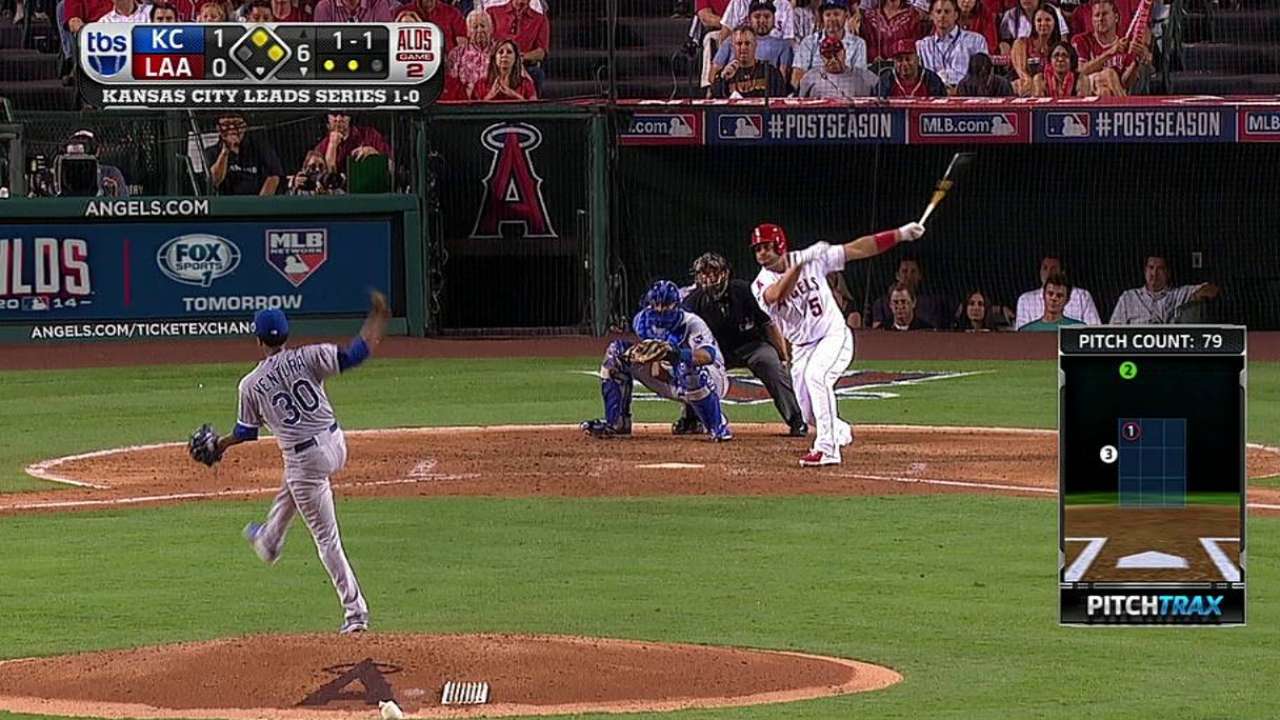 KANSAS CITY -- It was November 1998 and Chris Mihlfeld, then the head baseball coach at a junior college 20 miles north of Kauffman Stadium, marched into the office of his school's president with a request. A local phenom named Albert Pujols was turning 19 the following January, had already accrued enough credits to graduate from nearby Fort Osage High School and wanted to spend the spring semester playing under Mihlfeld at Maple Woods Community College.
"We were tapped out," Mihlfeld recalled. "We were almost out of scholarships, and I just told him, 'I've got this Christmas present sitting there and he needs a scholarship. You think we can get him some [scholarship] money to get him in school?'"
And so began what would be the final stage of Pujols' brief-yet-fascinating stint in Kansas City, where he met his current wife, developed as a ballplayer and grew up in this foreign country.
Pujols, getting his first taste of postseason baseball at his former home this weekend, arrived in New York with his father and grandmother in 1996. A couple of months later, after witnessing a shooting at a grocery store, they moved to Independence, Mo., a satellite city of Kansas City where many of Pujols' relatives already lived.
A Dominican kid, with no sense of English, living out his teenage years in a predominantly white city.
"It was really tough," Pujols said. "Really tough, with my entire family, because of the language barrier. School was tough."
Pujols, now 34, nonetheless has fond memories of his time in Kansas City. He arrived here late Saturday afternoon, as the first baseman of an Angels team down 2-0 in a best-of-five American League Division Series to the upstart, hometown Royals. And he's left about 80 tickets for family and friends to Sunday's do-or-die Game 3, 4:30 p.m. PT on TBS.
"It was a great experience, being from that area and having a place there, my family," Pujols said. "I'm looking forward to being there again."
Sunday will mark Pujols' 44th game at Kauffman Stadium as a player, but his most vivid memory of this place came as a fan, when he attended his first Major League game on June 10, 1997, and sat behind home plate to watch Angels center fielder Jim Edmonds make his iconic, diving, over-the-shoulder catch at the warning track.
"When I saw that game, I knew I could play against those guys," Pujols said. "I was just in high school at the time. I was being a little cocky."
Shortly after giving him a scholarship to Maple Woods, Mihlfeld took a job as the Dodgers' strength-and-conditioning coordinator in January 1999, leaving Marty Kilgore and Kyle McCune to coach Pujols through his first and only season of collegiate baseball. He arrived with a head full of curly hair; "a little soft in the middle," but big, strong and with massive hands, as Mihlfeld described.
And then, just like that, he was gone. The Cardinals took him in the 13th round of the 1999 First-Year Player Draft in June, and one year later, Pujols was on his way to becoming a star.
"You can't sit there and say you thought he was going to be Rookie of the Year and do all the amazing things he's done, that's for sure," Mihlfeld said. "Anybody who wants to take credit for that is full of garbage."
Pujols hit .471 and led Fort Osage to a state championship as a sophomore in 1997. The next season, he hit .600 with eight homers in 33 at-bats, but was walked 55 times, and scouts urged him to spend what would've been his senior season of high school baseball in college, in hopes that he would actually get some pitches to hit.
The first thing Kilgore noticed was that "there was a little different sound coming off his bat."
Pujols hit .466 with 22 home runs and 76 RBIs as a full-time shortstop in that 1999 season. He converted an unassisted triple play and hit a grand slam on opening day, driving the ball through what Kilgore described as a 30-mph wind in left-center field. But scouts couldn't identify a position for Pujols. He didn't have the speed to stay at shortstop, his swing was a little too long, and there were perpetual questions about his age.
"You never knew what he was going to do," Kilgore said, "but you knew he was a special talent. He had a drive, and work ethic, and a quiet confidence about himself. And the balls he hit, with a metal bat -- my goodness, man."
Mihlfeld recently found himself at the center of controversy, when former Major Leaguer Jack Clark alleged in an off-the-cuff radio rant that Mihlfeld used to give Pujols steroids. Pujols and Mihlfeld vehemently denied those claims, with Pujols going so far as to file a defamation lawsuit that was dropped after Clark retracted his comments and apologized in February.
Mihlfeld and Pujols remain close. A few years ago, Pujols helped open Mihlfeld's Kansas City training facility, Millhouse Baseball. And every winter from 1999 to 2012, they worked together, skipping it this year because Mihlfeld had some health problems.
They'd hit, lift, run and take ground balls. In later years, it would be for only a few weeks in St. Louis. Early on, it was a couple months at their former college campus.
"There wasn't a ton of talking," Mihlfeld said. "It was just get in there, do the work. They say he's a machine, and I hate to kiss his [butt] a little bit, but he is. He's a workaholic. He knows what it takes."
In Pujols' first and only year in the Minor Leagues, Class A Peoria manager Tom Lawless, most recently the Astros' interim manager after Bo Porter was dismissed, frequently fined Pujols $50 for not being able to get from home to first in 5.5 seconds. Today, Pujols laughs at that, citing Lawless as a major influence in his career.
But back then, Mihlfeld said, "anything he wouldn't do really, really good would just drive him crazy."
"Everything he does he takes a lot of pride in. One time I was at his house and he was scrubbing the dishes. I'm like, 'Dude, you don't have to scrub the porcelain off the dish.' Everything he does he just wants to do very good. I guess that's why he became so darn good."
Alden Gonzalez is a reporter for MLB.com. Read his blog, Gonzo and "The Show", and follow him on Twitter @Alden_Gonzalez. This story was not subject to the approval of Major League Baseball or its clubs.