Yost declares Salvy is fine, ready for Game 3
All-Star catcher passes tests after being struck in head by Hamilton's swing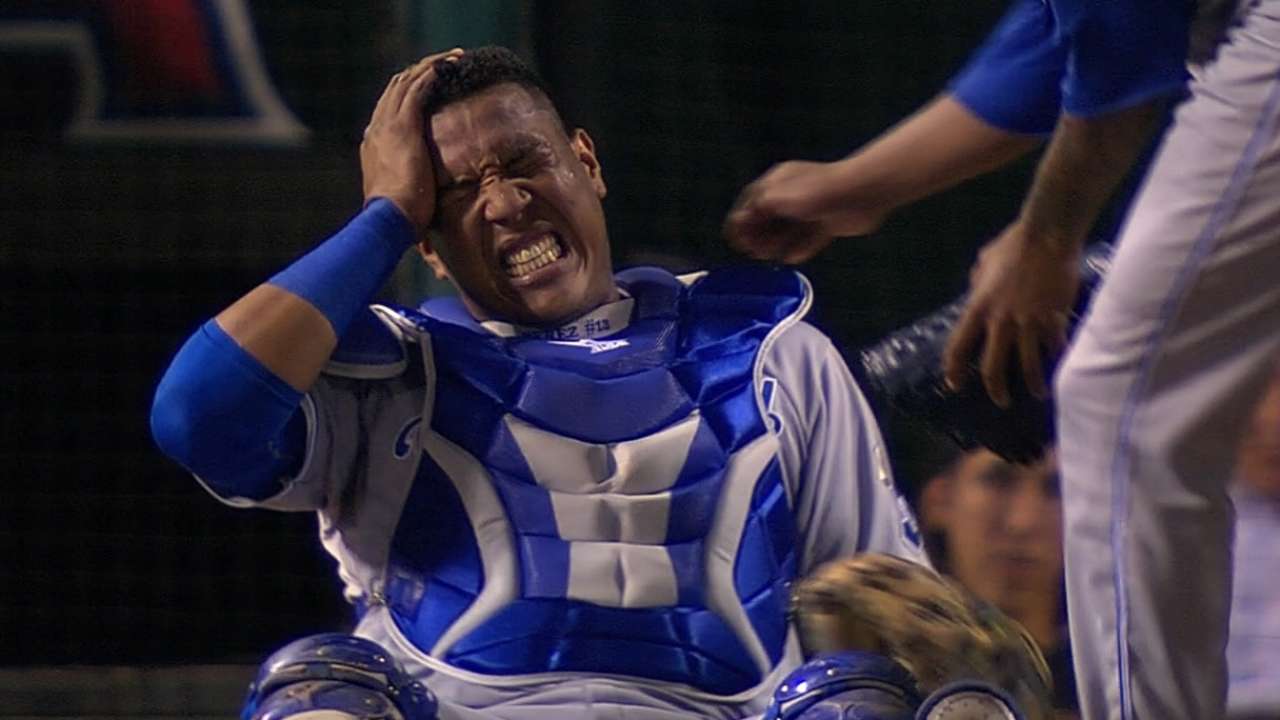 KANSAS CITY -- The Royals' worst fears flashed before their eyes on Friday night when Salvador Perez's catcher's mask absorbed the hefty backswing of Angels outfielder Josh Hamilton in the Kansas City's 4-1 win in Game 2 of the American League Division Series.
But manager Ned Yost assuaged some of those fears before Saturday's optional workout.
Yost declared the Royals' All-Star catcher "fine." Perez is expected to be behind the plate for Game 3 on Sunday, when Kansas City, which has a 2-0 lead, looks to complete a sweep in the best-of-five set.
"I just talked to him, he's doing great," Yost said.
Hamilton accidentally struck Perez in the head on a swinging miss in the bottom of the fifth inning. Perez immediately went to the ground in considerable pain, but he stayed in the game after an evaluation by Royals trainer Nick Kenney.
"If Nick had seen any symptoms of a concussion, we'd have taken him out," Yost said. "But Nick, who's extremely thorough, you know, gave him every test, and if Nick feels good about it, then I feel good about it, and if he had any questions about it, we were going to take him out. But he passed all the tests standing there and had a bit of a headache, but got through it fine. No dizziness, no disorientation, nothing like that. [Hamilton] whacked him pretty good, though."
Perez finished the game 2-for-5 with an RBI single, which followed Eric Hosmer's go-ahead, two-run home run in the 11th.
Kelvin Herrera, a key part of Kansas City's bullpen, was missing on Friday night. The right-handed reliever exited Thursday's 3-2 win in Game 1 with tightness in his right forearm.
Herrera's status for Sunday, and the rest of the postseason, is unclear.
"I mean, he's on the training table and he's going to go out and throw, so I don't quite know right now," Yost said. "As soon as he gets done, we'll see where he's at."
"I feel fine," Herrera said. "I just can't wait for tomorrow and play in front of our home crowd. To go to the Championship Series is a dream of ours and our next goal to make it to the World Series is the ultimate goal, so that's what we want to do and what we are thinking about. Health-wise, I feel normal and we'll just have to see what happens [Sunday]."
Jackson Alexander is an associate reporter for MLB.com. This story was not subject to the approval of Major League Baseball or its clubs.