Playoff vet Bumgarner focused on finishing off Nats
Giants ace slated for ninth postseason appearance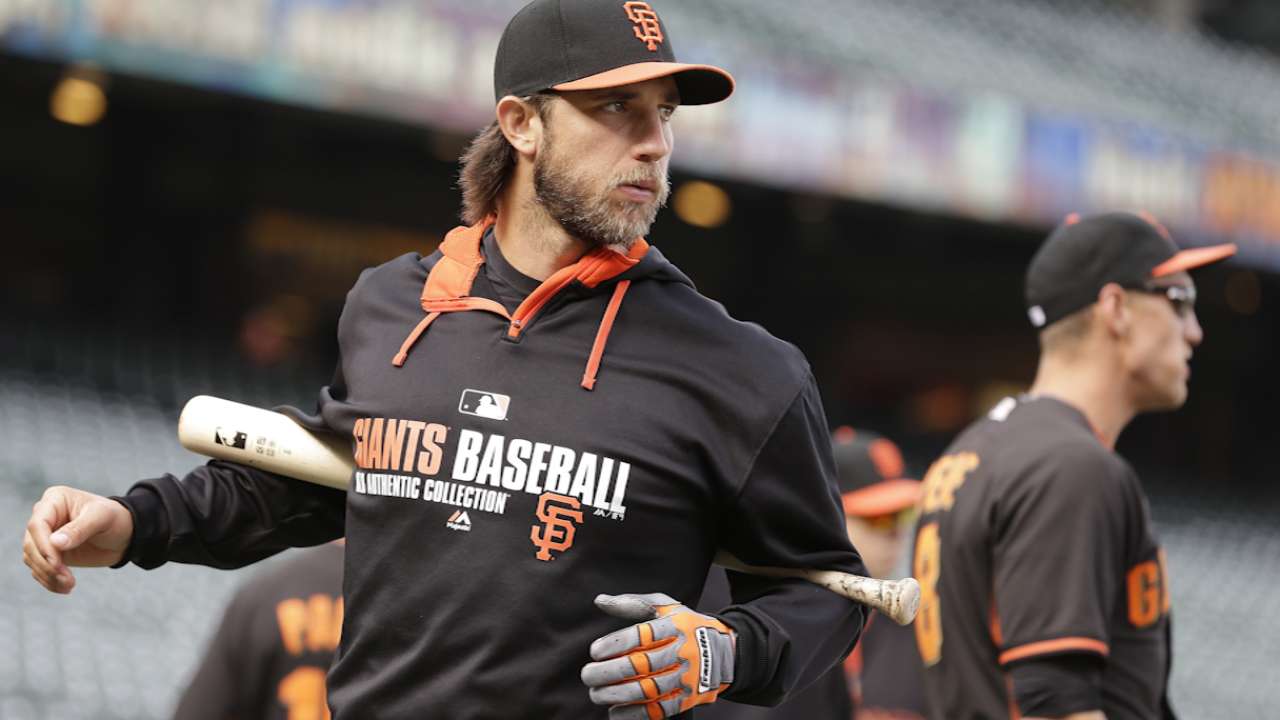 WASHINGTON -- Sure, the Giants would have liked to have left-hander Madison Bumgarner available for the opener of their National League Division Series against the Nationals. He's their best starting pitcher.
It's funny how things work, though. Now that San Francisco has taken a commanding 2-0 lead in the best-of-five series, having the ace rested and ready to go for a potential clincher in Game 3 at AT&T Park on Monday (2 p.m. PT on MLB Network) suddenly seems pretty appealing.
Bumgarner was dominant in beating the Pirates in the one-or-done Wild Card Game on Wednesday. Now he has a chance to give his teammates a chance to spray champagne once again. But at his media availability Sunday at AT&T Park, he was careful not get get too far ahead of himself.
"The first two games, there's been a lot of really good pitching on both sides and the ball has happened to bounce our way more times than it has theirs so far. We've been fortunate on that," he said. "So it's important for us to come in and don't miss a beat, get right back after it, keep playing good baseball and stay focused. Don't relax."
Bumgarner only needs to look back as far as 2012 when the Giants lost the first two games of their NLDS against the Reds at home, then stormed back to win three straight, to know that San Francisco hasn't won anything just yet.
"We've been in their spot and we've come through on the other side," he pointed out. "So we have to maintain what we're doing and just stay hungry."
Bumgarner sort of typifies these Giants. It's a team that's won the World Series twice in the last four Octobers despite being widely overlooked both years. Bumgarner, who turned 25 on Aug. 1, has been the guy who pitched behind Tim Lincecum and Matt Cain in the rotation.
But Cain had season-ending elbow surgery to remove bone chips and spurs and Lincecum is now being used out of the bullpen. Bumgarner has stepped right in. He was 18-10 with a 2.98 ERA and made his second straight All-Star team. His four-hit shutout of the Pirates at PNC Park, the reason he couldn't start Game 1, is also the biggest reason the Giants advanced.
It's hard to believe, but Bumgarner's start Monday will be the ninth playoff appearance of his still-young career.
"As boring as it sounds, you've got to treat it like any other game," he said. "For me, it's fun and exciting to go out there and get amped up and pumped up for the game. But for me, and a lot of people, when you do that, you don't play as good of baseball as you should. So it's important to push all the nerves and anxiety and excitement aside and just play good, fundamentally sound baseball."
Coincidentally, Bumgarner will be facing Washington's Doug Fister on Monday, a rematch of his only start against the Nationals this season. On June 10, he pitched seven innings and gave up two earned runs but lost when the Giants managed just one run on 10 hits.
In seven career starts against the Nats, Bumgarner is 2-3 which, again, doesn't reflect how well he's pitched. He has a 2.60 ERA in those games.
Bumgarner and Fister also matched up in Game 2 of the 2012 World Series when Fister pitched for the Tigers. That was the game in which Fister took a line drive off his head but stayed in the game.
If the Giants hadn't taken the Wild Card route to the playoffs, somebody other than Bumgarner would have started Game 3 on Monday. The way the postseason has unfolded, though, there's nobody the Giants would rather have on the mound now.
Paul Hagen is a reporter for MLB.com. This story was not subject to the approval of Major League Baseball or its clubs.