Norris relishes first postseason opportunity
Right-hander finished season strong, but has not pitched since Sept. 24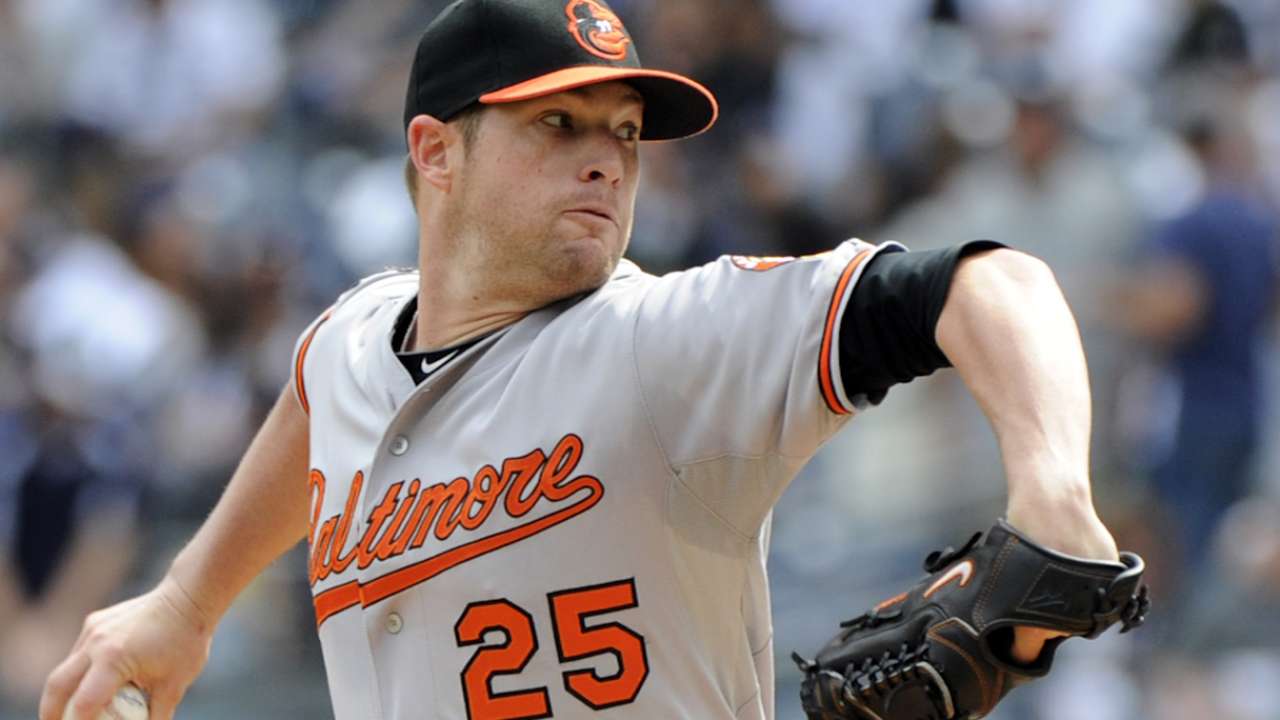 DETROIT -- Bud Norris has never appeared in a postseason game, but when that long-awaited debut comes on Sunday afternoon, the stakes couldn't be much higher.
Norris will take the mound in Game 3 with an opportunity to clinch the American League Division Series. The Orioles are one win from ending Detroit's season and advancing to the AL Championship Series for the first time since 1997.
This is the type of opportunity that has been more than six years in the making for Norris. The ultimate goal is to accomplish a lot more than this, but before any of that can happen Baltimore needs to finish off what it started.
"That's pretty much what you dream for as a kid, play in the postseason and get to the World Series, and this is just one of those steps," Norris said on the eve of Game 3. "We've gotten to this point as an entire team, to do everything they've done. But this is a five-game series. It's a little more crunched and everything else, but we've got 2-0, going in with the lead, which is really nice. ... We got one game to go here. Hopefully, we'll win the first one and can get back home again."
Norris got the call for Game 3 over right-hander
Miguel Gonzalez
after a season in which he went 15-8 with a 3.65 ERA in 28 starts. The end to his season was even more impressive, as he went 4-0 in five September starts, posting a 2.08 ERA and 1.09 WHIP, with 34 strikeouts and 11 walks in 30 1/3 innings.
There's been a long layoff, though, since Norris had that type of success. He was available out of the bullpen in Games 1 and 2 of this series, but wasn't used. As a result, Norris hasn't pitched since a six-inning outing against the Yankees on Sept. 24.
That's not exactly ideal but also not uncommon for this time of the season. Norris has done what he could to stay sharp and doesn't anticipate the lack of routine to cause him any issues in Game 3.
"I finished pretty strong," Norris said of his regular season. "I was happy with the way we finished the season and clinched. That being said, I haven't pitched in a while, but I've been on my work days and everything else and had plenty of bullpens in between. I feel great, there is nothing holding me back to go out there and keep doing what I've been doing all season."
Norris is 0-3 with a 6.57 ERA while striking out 24 and walking 16 in four career appearances against the Tigers. Two of those outings came earlier this year. In his season debut, Norris allowed five runs on nine hits while striking out two over five innings at Comerica Park.
The 29-year-old faced Detroit again, at home, on May 12 and allowed four runs on five hits over 7 2/3 innings. He was ejected from that outing after hitting Torii Hunter in the ribs with a pitch after having just surrendered a two-run homer to Ian Kinsler. The benches cleared and Hunter and Norris jawed at each other as Norris left the field.
There's always a possibility that type of bad blood will linger, but it's also an incident that happened almost five months ago and a lot has changed since then. Even more importantly, there's a bigger task at hand, which involves the Tigers trying to stay alive while Norris and the Orioles hope to move on.
"We haven't seen them since April, May," Norris said when asked about potential adjustments. "But you know what they've got. We've seen them for the last two games. I got to watch when Chris Tillman was pitching and Kevin Gausman [on Friday], I got to see some things.
"You go in and execute. They have a great lineup, everybody knows that. We got a great lineup over here. ... We played some good games against them in the first two and expect to go out and do the same thing tomorrow."
Detroit designated hitter Victor Martinez has enjoyed the most success against Norris, going 4-for-12 with a home run, a double and three RBIs. Other Tigers to watch include Hunter (3-for-12, homer, six RBIs), first baseman Miguel Cabrera (3-for-12, two doubles and an RBI) and Kinsler (3-for-8, homer, two RBIs).
The level of intensity will be a lot different in this start compared to the ones that came before it. This might be uncharted territory for Norris, but his manager believes adjustments made not only over the last couple of months but also the last couple of days will make a big difference.
"There is nobody that watches the game more than him," Buck Showalter said. "You watch him between starts, you can tell he's a fan of the game.
"He's one of those guys on game day, when he's pitching, he's not a real pleasant guy to be around. But he likes to compete. ... I'm not saying this is something new for him being in the playoffs because it's all relative in your life and things that you've had to be competitive at. It's just a different stage."
Gregor Chisholm is a reporter for MLB.com. Read his blog, North of the Border, and follow him on Twitter @gregorMLB. This story was not subject to the approval of Major League Baseball or its clubs.