Man with a plan: Buck on top of everything for O's
Showalter has proven to be a master of manipulating roster, in-game strategy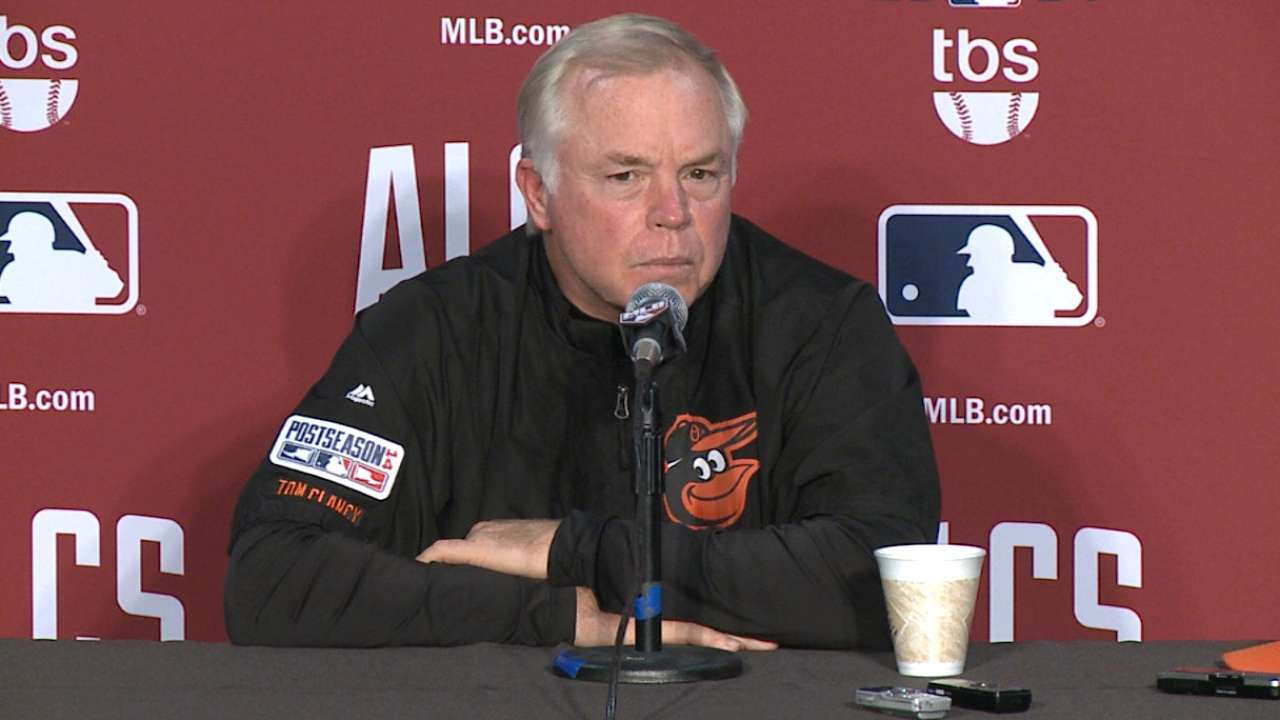 BALTIMORE -- Has Orioles manager Buck Showalter entertained the thought that -- if his club keeps this up -- he could become a victim of center fielder Adam Jones' celebratory postgame pies?
"I hope so," Showalter said Thursday during his team's workout on the eve of Friday's Game 1 of the American League Championship Series against the Royals at 8 p.m. ET on TBS. "Do I get to pick the flavor? I hope it happens."
Showalter, who won his first career postseason series with the Orioles' sweep of the Tigers in the AL Division Series, is enjoying this year's ride, which has thrust Baltimore into the national spotlight. And while the O's no-nonsense skipper has admittedly relaxed some over the years, he's still a king strategist, finally revealing his Game 1 starter to the media 24 hours prior to the start of the ALCS. Showalter, who put his managerial skills on full display during the ALDS, will ensure once again that his Orioles are ready for every possible scenario in the best-of-seven set.
"He will bring up things [in the advanced meetings] and we're like, 'OK, never thought of it that way,'" said first baseman Steve Pearce. "He gives his team the best shot to win. It seems like every move he makes, it works out. Even as a player, there's stuff he thinks of that you don't."
A big reason why Pearce, one of the Orioles' biggest unsung heroes this season, loves showing up to the ballpark is to play for Showalter. And he's hardly alone in that line of thinking. Since coming to Baltimore at the end of 2010, Showalter's presence has permeated throughout the organization.
Players love earning his trust, being kept in the loop about roster decisions and getting a straight-shooter when demoted out of necessity, which Showalter did twice with starters this year to gain an extra player for a few days prior to the All-Star break. Together with executive vice president of baseball operations Dan Duquette, Showalter manipulates his roster better than arguably any other manager in MLB.
But that attention to detail isn't reserved for meetings, player transactions and office decor, although perhaps you've heard about how he infamously had a beautiful Camden Yards photo removed from his office because the opposing team had runners on base. Showalter's in-game management, particularly his bullpen usage, saw his team breeze past the Tigers uncontested.
"It seems like whatever move he makes is the right one," said designated hitter Nelson Cruz, who has cited Showalter as one of the reasons he'd like to stay an Oriole. "Whether it's about pitching, baserunners. He'll bring a guy in just to bunt, or bring a guy in to hit. He finds a way to tell the players ahead of time, he's got a plan already in his mind. It's why it looks like he's way ahead of the plays. Because he's played it over and over in his mind."
Already in the postseason, Showalter has shown he's not afraid to take risks, intentionally walking the potential go-ahead run in Game 3 of the ALDS to set up the series-ending double play and bringing in late-inning reliever Andrew Miller to face Miguel Cabrera in a pivotal sixth-inning at-bat in Game 1. When lefty Wei-Yin Chen was struggling the second time through the Tigers' lineup in Game 2, Showalter wasted no time bringing in right-hander Kevin Gausman, who was lights-out for the better part of nearly four innings. And let's not forget the Game 2 hero, pinch-hitter Delmon Young, a non-roster invitee this spring who didn't even take a pitch before proving Showalter's decision right with a three-run double in the eighth inning that put the Orioles ahead for good.
"I think he had plans from the get-go that if anything happened early on he was going to go to the bullpen," Gausman said of Game 2. "He's always been good with the bullpens, and that's kind of what he's known for. You notice it more with [pitching coach] Dave [Wallace] and [bullpen coach] Dom [Chiti], just talking about other managers they've been with, and then talking about how good [Showalter] is with the bullpen guys."
It doesn't hurt that Showalter had already warned his relievers before the series started that they could forget their regular-season roles -- it was all hands on deck in October. The O's skipper, who visits with each reliever during batting practice on a daily basis, is of the belief that guys respond better when they're not kept in the dark, and he won't hesitate to tell certain pitchers that they're not getting into that night's game.
He told starter Bud Norris on Friday -- as the team was boarding its flight to Detroit -- that he would be getting the ball in Game 3, not Game 4, although Showalter was much more cryptic publicly. After telling reporters they'd be OK to prognosticate that it would be Miguel Gonzalez, the news slipped out when MLB's official interview schedule for Saturday morning listed Norris.
Was it gamesmanship from Showalter, who brought two starting pitchers -- Joe Saunders and Chris Tillman -- to the media podium before the 2012 ALDS against the Yankees?
"No, they knew," Showalter said of being upfront with the Tigers about his rotation, though Detroit manager Brad Ausmus said he got the news that lefty Chen was slotted for Game 2 from Detroit reporters the morning before.
"I told them exactly, we're going to go day to day, but here is the four guys we're picking," Showalter said. "You don't get any edge from that. We knew if certain things happened the first two games, Bud would pitch. If [other] things happened the first two games, Miguel would, and that gives us a chance to bring Bud back in Game 5 and satisfy a lot of what ifs, whether it's getting weather reports, start times, information we didn't have at that time, and y'all didn't have, either.
"There were a lot of things that went into it, and it wasn't for some competitive edge, necessarily."
Though Showalter will gladly take any edge it created -- the O's, after all, had more roster moves than games played during the 2012 playoff run. Every inch is important to Showalter, every win treated with reverence, and often this season coming at the cost of multiple transactions.
And in the end, that incremental line of thinking could give Baltimore enough of an edge to be the last team standing in the AL, and perhaps all of baseball. Already a solid candidate for the AL Manager of the Year Award, Showalter would also erase the somewhat unfair reputation that teams don't win until after he's gone.
"No doubt [he deserves to win]," Cruz said. "Nobody gave us a shot to be AL East champs, and here we are, the second-best record in the American League. I think he is one of the best managers in baseball and a very smart guy."
"He's a player's coach," added Pearce. "He's that guy, he relates to everybody. He knows how hard the game is. And that's what you really respect. As a manager, he knows this game is hard, he knows mistakes are going to be made. And you are not walking on eggshells around the guy."
Unless, of course, walking on eggshells make you slightly better.
Brittany Ghiroli is a reporter for MLB.com. Read her blog, Britt's Bird Watch, and follow her on Facebook and Twitter @britt_ghiroli. This story was not subject to the approval of Major League Baseball or its clubs.