MLB.com Columnist
Bill Ladson
Nats miss chance to even NLDS, fall in 18 innings
Zimmermann gets no-decision after 8 2/3; Storen struggles in ninth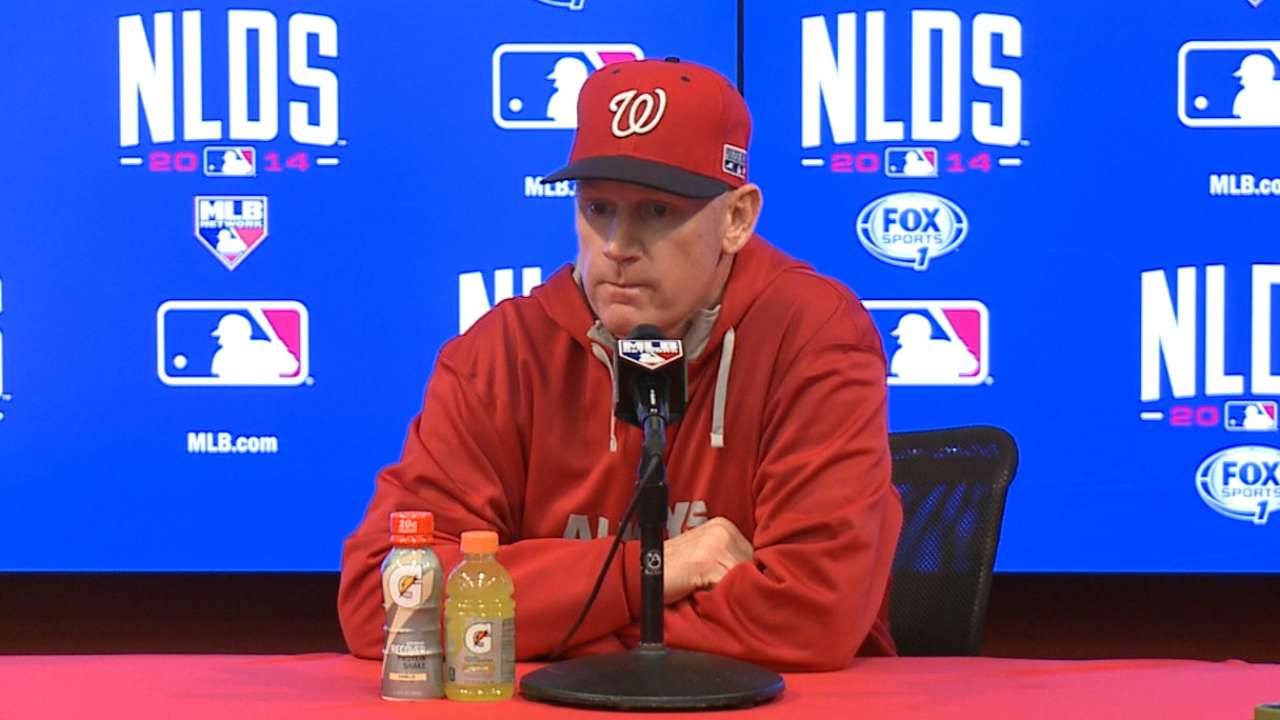 WASHINGTON -- The longest playoff game in Major League history came down to Brandon Belt's monster home run in the 18th inning as the Giants edged the Nationals, 2-1, in front of a sellout crowd of 44,035 on Saturday in Game 2 of the National League Division Series.
After a tense ballgame that lasted six hours and 23 minutes, Washington finds itself down, 0-2, in the best-of-five NLDS as it moves to San Francisco for Monday's Game 3.
"We have an uphill climb, but I believe in this team and I believe in these guys," said Nats right fielder Jayson Werth. "If anybody can do it, we can. We just have to stay positive and play the game."
The game was the longest, in terms of time, in postseason history, and it tied the longest postseason game by innings, equaling Game 4 of the 2005 NLDS between the Braves and Astros.
Washington used 21 players in the game, the 21st being right-hander Tanner Roark, who allowed Belt's homer on a 3-2 pitch. It was an eight-pitch battle. The blast went over the right-field wall to give the Giants a one-run lead.
"He beat me, that's what it really boils down to," Roark said. "I didn't pitch the way I wanted to. I felt good the first inning. The home run was not ideal."
Right-hander Jordan Zimmermann, who started the game, didn't pitch a no-hitter this time around, but he was dominant nonetheless. It didn't take long for the Giants to collect the first hit of the game, a single to left field by Buster Posey in the first. But Zimmermann otherwise proved to be too much for San Francisco. He had nine ground-ball outs and six strikeouts in 8 2/3 innings.
Before the ninth inning, the only time the Giants had runners in scoring position occurred in the third. Travis Ishikawa led off with a single to center and advanced to second on a sacrifice bunt by Giants starter Tim Hudson. But Zimmermann was able to get Gregor Blanco on strikes and Joe Panik to ground out to end the threat.
Zimmermann retired 20 of the next 21 hitters he faced, using mostly fastballs. After walking Panik in the ninth inning with two outs, manager Matt Williams decided to take Zimmermann, at 100 pitches, out of the game in favor of closer Drew Storen.
Williams said what he did was nothing new. He has a tendency of taking out the starting pitcher whenever there is a sign of trouble.
"If he got in trouble in the ninth or got a baserunner, we were going to bring our closer in," Williams said. "That is what we have done all year. [Zimmermann] got the first two guys, he wasn't going to face Posey. Buster lined out to third the previous at-bat. He saw the ball pretty good off him all night long. We decided to go with the closer."
Zimmermann, who declined to second-guess his skipper, said he knew he was on a short leash and that Storen was ready to come in.
"I felt good," Zimmermann said. "The inning before was pretty long and I got a little tight, but I felt fine, still felt strong, the ball was coming out good. Just a couple questionable pitches there to Panik, which I thought one was a strike, but that's just the way the game goes."
Storen then allowed a single to Posey to put runners on first and second. Pablo Sandoval was the next hitter, and he doubled down the left-field line, scoring Panik, but the Nationals were able to throw Posey out at the plate, a call reviewed and ruled to stand by replay officials.
"That's a good piece of hitting, down in the zone," said Storen. "[Sandoval] stuck it inside the line. He's a good hitter. Jordan pitched a great game, so you want to get in there and get that last out. It's disappointing to not close that out for him."
In the 10th, the Nats started having problems with the strike calls made by home-plate umpire Vic Carapazza. Asdrubal Cabrera led off the inning and struck out looking. Cabrera disagreed with the call, slammed his bat and was ejected, soon to be followed by Williams after the manager came out to step in for Cabrera in the disagreement.
"I think he called a lot of bad calls today," Cabrera said. "My last at-bat, I think the second strike was too high, and the last one, too."
Crew chief Mike Winters had no idea what Cabrera said, but he believed Cabrera's actions warranted an ejection.
"In this case, he slammed the bat to the ground. That's going to be gone," Winters told a pool reporter. "Even in a game of this magnitude, he's got to have enough self control to not do that. He could've said his piece and left and probably stayed in the game."
Zimmermann's counterpart, Hudson, was just as good, pitching 7 1/3 innings and allowing one run on seven hits. The one run scored in the third inning. Cabrera led off and doubled down the left-field line. After Denard Span grounded out, Anthony Rendon singled to left field, scoring Cabrera. Rendon finished with four hits, a franchise playoff record.
"I had a really good sinker going," Hudson said. "The work I've done in between starts the last couple of weeks, I feel like I've been under control and making better pitches."
The Giants also got tremendous relief work after Hudson's exit, including six shutout innings (one hit allowed) from winning pitcher Yusmeiro Petit.
Williams is a person who looks at one day at a time, and he knows that Game 3 is a must-win for the Nationals. One more loss and their season will be over.
"We don't have a choice now," Williams said. "You know, it is a must-win for us. We will get a day off tomorrow, and see if we can get a win in Game 3. Then we must win Game 4 and hopefully get it back to here. That is all we can do at this point."
Bill Ladson is a reporter for MLB.com and writes an MLBlog, All Nats All the Time. He also can be found on Twitter @WashingNats. This story was not subject to the approval of Major League Baseball or its clubs.