Nats turn to Fister with season on line in Game 3
Washington in 0-2 hole in NLDS as series shifts to San Francisco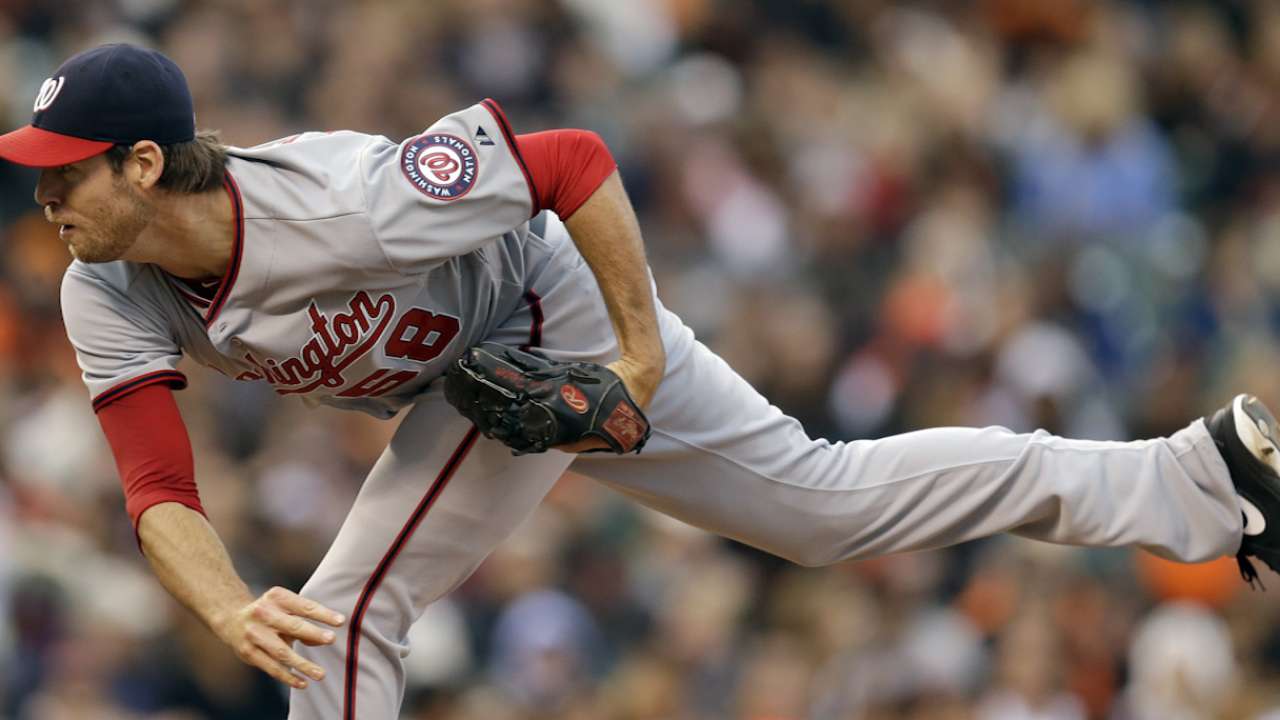 SAN FRANCISCO -- Needing a win on Monday against the Giants to prolong their season, the Nationals will put their fate in the hands of Doug Fister, a right-hander who is unfazed by the big moment.
"Doesn't matter where he pitches. It could be here, it could be D.C., it could be the moon -- doesn't matter," manager Matt Williams said Sunday before Washington's voluntary workout at AT&T Park. "He's going to work fast and change speeds and throw strikes. It never changes with him."
Fister will take the ball in San Francisco for Game 3 of the National League Division Series (5 p.m. ET, MLB Network). Trailing this best-of-five series, 2-0, after Saturday's 18-inning defeat in Washington, the Nats need more of the same from a pitcher who finished sixth in the Majors with a 2.41 ERA during the regular season.
Fister also boasts a 2.98 ERA in 48 1/3 postseason innings, all with the Tigers.
"When it comes time to get up on the mound and play in front of whatever it is, 45,000, 50,000 people," said Fister, "I tend to take a second, step off the mound, look around, soak it in and then let it go and get back to business. It's really just a mindset."
A lat strain delayed Fister's Nationals debut until May 9, but not much has been able to slow him down since. Acquired in a December 2013 trade with the Tigers, Fister made up for lost time once he returned from the disabled list.
After allowing seven runs to Oakland in his first outing of the season, Fister held the opposition to four or fewer runs in 23 of his final 24 starts, with the Nats winning 18 of those games. He capped his regular season on Sept. 26 by tossing a three-hit shutout of the Marlins that gave him enough innings to qualify for the league ERA leaderboard.
"I don't know that we are in [the playoffs] without Doug this year," first baseman Adam LaRoche said. "The guy has been key. I think he's helped our other starters a ton. ... Watching not only the way he works between starts, but his approach when he is starting, and the way he attacks hitters."
Fister doesn't blow opponents away with raw stuff. His fastball averages less than 89 mph, and his 14.8 percent strikeout rate was the ninth-lowest rate among qualified pitchers this season.
But the six-year veteran also posted the league's fifth-lowest walk rate (3.6 percent), pounding the strike zone with his sinker, inducing ground balls and working at a blistering pace. Fister's 18.5 seconds between pitches was faster than all but two other pitchers, according to FanGraphs.
Fister will need his full bag of tricks on Monday, when the stakes will be higher and the crowd won't be a friendly one. The last time he pitched at AT&T Park, in Game 2 of the World Series on Oct. 25, 2012, Fister took a line drive off his head but stayed in the game and pitched six innings of one-run ball.
"You know, I've seen the video many times," Fister said. "I remember it very vividly. It's not something that gives me chills or anything else. It's something that I've gone back and looked at it just to know that, you know what, hey, I'm OK. I was blessed that day to come out on top and not have to come out of the game."
The Nationals hope Fister's fearlessness will help keep their playoff dreams alive on Monday.
"He has figured it out," LaRoche said. "He is not afraid to pitch all the way around. I think everybody has been more than pleased with Doug. Great guy. Great competitor. Never wants to come out of the ballgame. If it was up to him, he would go nine [innings] every fifth day."
Andrew Simon is a reporter for MLB.com. Follow him on Twitter @AndrewSimonMLB. Aaron Leibowitz is an associate reporter for MLB.com. This story was not subject to the approval of Major League Baseball or its clubs.