Tale of the tape: Nationals-Giants, Game 3
A breakdown of Fister, Bumgarner for their NLDS matchup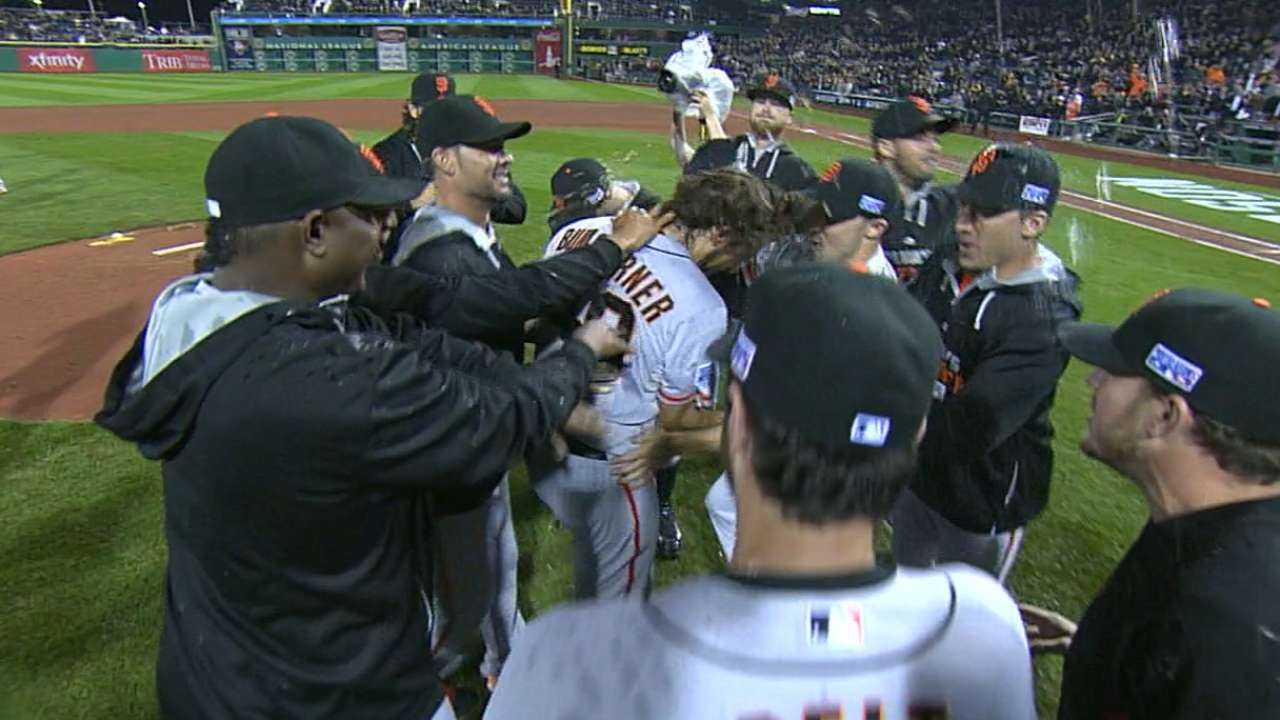 Doug Fister, Nationals
Against the Giants
2014: 2 GS, 1-1, 2.77 ERA, 6 K's
Career: 2 GS, 1-1, 2.77 ERA, 6 K's
Loves to face: Brandon Crawford, 1-for-6, K
Hates to face: Joe Panik, 3-for-3, HR, 3 RBIs
Game breakdown
Why he'll win: The Nats came out on top in 18 of Fister's 25 starts this year, including one in San Francisco against Madison Bumgarner on June 10 (7 IP, 0 R). The veteran finished sixth in the Majors in ERA and in his last 12 starts, he posted a 1.90 ERA and allowed two earned runs or fewer nine times.
Pitcher beware: Fister pitches to contact, and the Giants haven't struck out much lately. The return of Brandon Belt combined with Crawford's resurgence has deepened San Francisco's lineup.
Bottom line: The Giants were much more effective against Fister the second time they faced him this season, but Fister has been highly effective lately and the middle of the Giants' order has struggled against him.
Madison Bumgarner, Giants
Against the Nationals
2014: 1 GS, 0-1, 2.57 ERA, 5 K's
Career: 7 GS, 2-3, 2.60 ERA, 40 K's
Loves to face: Denard Span, 1-for-8, 0 XBH, RBI, 2 K
Hates to face: Ian Desmond, 5-for-15, 2B, 2 RBIs
Game breakdown
Why he'll win: As the stakes get bigger, Bumgarner gets better. He blanked the Pirates in the National League Wild Card Game, and the clubhouse confidence level rises when he pitches.
Pitcher beware: The Nats have lost three straight games only once since the beginning of July and finished second in the NL in OPS against left-handed pitchers.
Bottom line: Bumgarner is the Giants' ace and no situation is too big for this postseason veteran. There is no one the Giants would rather have on the mound.
Ryan Hood is an associate reporter for MLB.com. Follow him on Twitter @ryanhood19. Andrew Simon is a reporter for MLB.com. This story was not subject to the approval of Major League Baseball or its clubs.