Echoes of past in Nats' decision to go with Storen
Williams turns to closer after 8 2/3 innings out of Zimmermann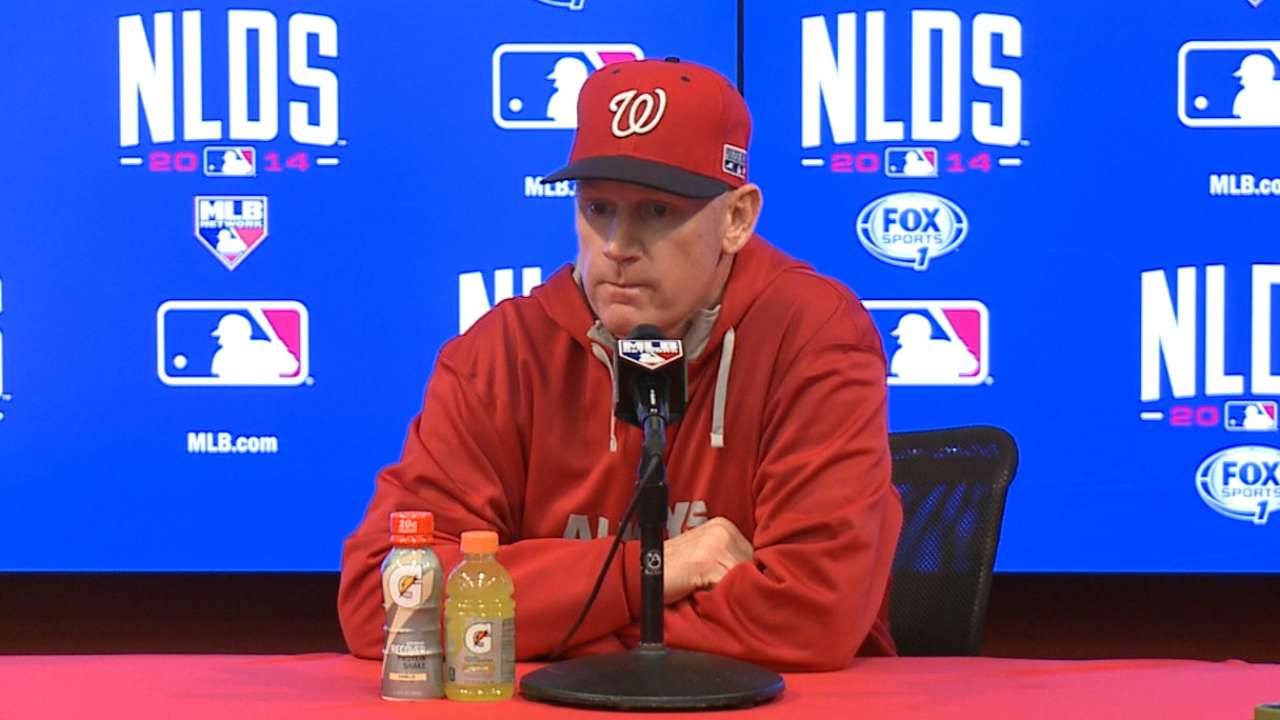 WASHINGTON -- Drew Storen remembers how he was one out away. How he held a two-run lead against the Cardinals in the ninth inning of Game 5 of the 2012 National League Division Series, needing a single out to send the Nationals to the franchise's first NL Championship Series in more than three decades. How he gave up four runs that day, silencing a ballpark and entering a two-year exile from the closer's role.
Because Storen is human, it would have been natural for all that to creep into his mind on Saturday, entering NLDS Game 2 with a one-run lead, the tying run on first and two outs in the ninth. He was the incoming half of a controversial move; though Nats starter Jordan Zimmermann had thrown just 100 pitches up to that point and had not allowed a hit since the third inning, manager Matt Williams replaced Zimmermann with Storen, who had not appeared in a playoff game since his four-run meltdown two years ago.
In doing so, Williams handed Storen a ticket for another of the worst nights of his career.
"If [Zimmermann] got in trouble in the ninth or got a baserunner, we were going to bring our closer in," Williams said. "That is what we have done all year. We decided to go with the closer."
In three pitches, the closer's night was over. Hunting a fastball, Buster Posey redirected Storen's first pitch back up the middle to put two men on base. Pablo Sandoval then fouled another fastball out of play before lining a Storen two-seamer down the left-field line for an RBI double. Had the Nationals not thrown Posey out at the plate on the play (which replay upheld), the game might have ended shortly thereafter.
Instead, the Nats and Giants played another nine innings of what became the longest game, by time -- and tied for the longest in innings -- in postseason history, giving Storen hours to stew over all that went wrong.
"It's a long grind of a game," Storen said. "Jordan pitched a great game, so you want to get in there and get that last out. It's disappointing to not close that out for him."
Afterward, it was a composed, somewhat curt Storen who refused to revisit the emotions of 2012. He said he was satisfied with the location of his pitches, particularly to Sandoval. Storen lauded the Giants third baseman for "a good piece of hitting." He spun everything forward toward Game 3, scheduled for Monday in San Francisco (5 p.m. ET, MLB Network).
But the Nationals and their fans were left wondering what might have happened had Storen -- who after October 2012 did not earn his closer's job back until just last month -- never entered the game.
Fresh off a no-hitter on the regular season's final day, Zimmermann again appeared in vintage form heading into the ninth. In the dugout between innings, Williams and pitching coach Steve McCatty both approached him to ask how their right-hander felt. "Fine," came the answer. "I'm good to go."
Still, while Zimmermann may have retired 18 straight batters and thrown only 88 pitches, he had earned himself precious little leash. By the time he missed on a 1-0 fastball just off the outside corner to Giants second baseman Joe Panik, Storen was already warmed and ready in the home bullpen.
"It changed the whole at-bat," Zimmermann said of that pitch. "I had to come after him. I ended up missing and walking him."
That was enough for Williams to march out of the dugout and remove Zimmermann after 100 pitches, calling that his plan going into the inning. Williams said he did not see anything in particular in the Panik at-bat that made him remove Zimmermann; he had simply resolved to retrieve his pitcher if even a single Giants batter reached, recalling that Posey hit a ball hard his previous plate appearance. Zimmermann was aware that despite everything, he "was on a short leash" heading into the ninth.
"We took advantage of that," Sandoval said, citing a result -- like 2012's blown save against the Cardinals -- that is now etched into Nats postseason history.
"I made quality pitches, and [the hits] fell in," Storen said. "There's more baseball to be played."
Anthony DiComo is a reporter for MLB.com. Follow him on Twitter @AnthonyDicomo. This story was not subject to the approval of Major League Baseball or its clubs.