LaRoche witnesses Nats' transformation firsthand
A visitor since club's first year in DC, first baseman has seen ups and downs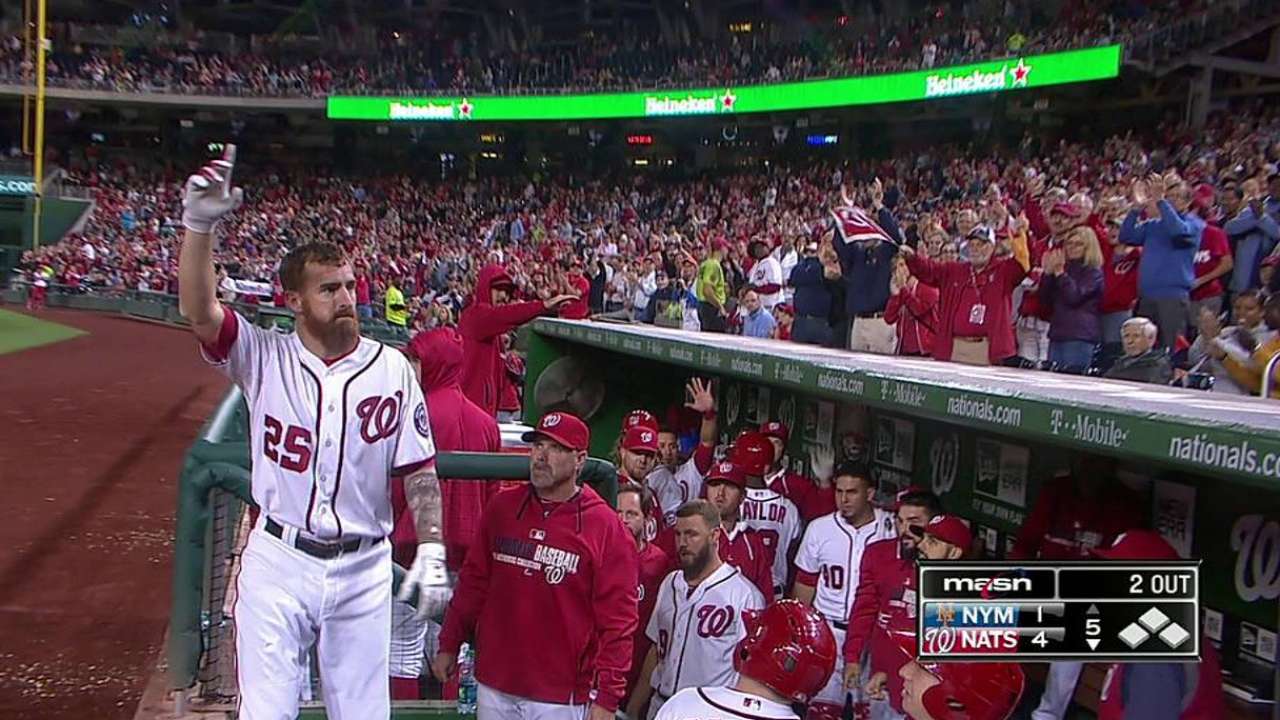 WASHINGTON -- When the Nationals played the first homestand in team history in 2005, Adam LaRoche was there at old RFK Stadium, suiting up for the Braves. Over the next six seasons, the well-traveled first baseman came to the nation's capital with two other teams, playing 35 games against typically subpar competition.
By the time LaRoche signed a free-agent deal with the Nats before the '11 season, his experience as an opposing player had shaped his impression of a franchise still searching for its footing.
"It was not a good situation, to say the least," LaRoche said. "Obviously, it was the old ballpark. Teams weren't very good. Fans didn't show up. That was kind of my take when I signed here. That is what I remembered about D.C."
Flash forward to Friday's 3-2 loss to the Giants, when more than 44,000 mostly red-clad fans packed Nationals Park for the start of the second playoff series in club history.
After seven straight non-winning seasons to begin their tenure in Washington, the Nationals now have collected at least 96 victories and a division title in two of the past three. LaRoche has seen the fans respond to that turnaround, not just at the ballpark, but also in his neighborhood of suburban McLean, Va.
"The last few years, it has been unbelievable," LaRoche said. "My first year, I don't ever remember seeing any National jerseys or hats walking down the street. I live all the way out in McLean, [and there are] Nats flags and gear and bumper stickers everywhere. It has been a blast to be a part of it. I hope that it doesn't have to end after this."
If the Nats don't extend the National League Division Series to a decisive fifth game or advance to the NL Championship Series, Saturday night's Game 2 could end up standing as LaRoche's final home contest with Washington.
The 34-year-old's contract expires after the season, and the two sides hold a $15 million mutual option for 2015. While LaRoche enjoyed a productive '14 season, hitting .259/.362/.455 with 26 home runs and 92 RBIs, the Nationals could choose to let him go if they decide they need to open up first base for Ryan Zimmerman. If so, LaRoche will take with him plenty of positive memories.
"We will see how it goes," LaRoche said. "It has been a special place to watch that transformation."
Andrew Simon is a reporter for MLB.com. Follow him on Twitter @AndrewSimonMLB. This story was not subject to the approval of Major League Baseball or its clubs.