Oct. 4 Bud Norris workout day interview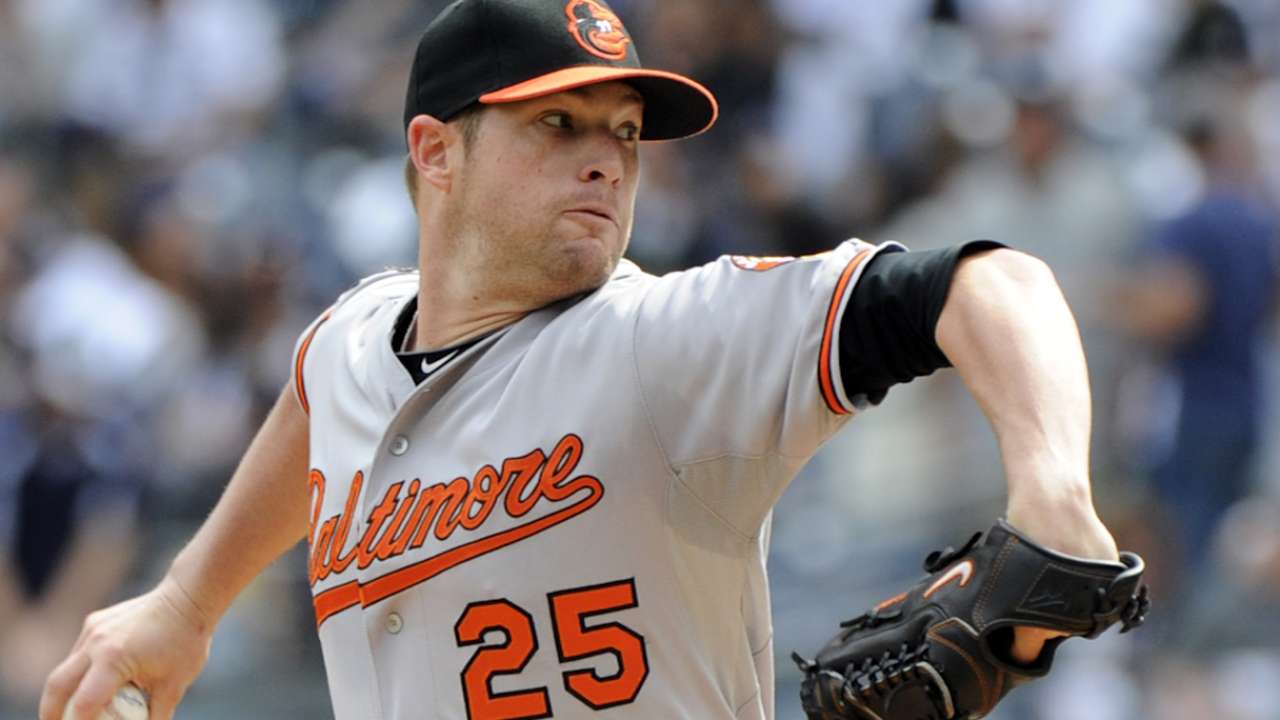 THE MODERATOR: Questions for Bud Norris.
Q. Bud, when did you find out that you were going to be made the Game 3 start? How did the conversation go and your reaction to it?
BUD NORRIS: Going into the postseason, we knew that anything was possible, and Buck said for all of us to be ready. So I got the news yesterday afternoon when we got on the flight. He said he wanted to move things around and said, You got the ball in Game 3. And I got excited and came prepared for tomorrow.
Q. Obviously you haven't pitched in a game in a while. Because of that, how have the past few days been for you in terms of going into this start?
BUD NORRIS: Like I said, I got the end of the season off to have a good start. I finished pretty strong. I was happy with the way we finished the season and clinched.
That being said, I haven't pitched in a while, but I've been on my work days and everything else and had plenty of bullpens in between. I feel great. There is nothing holding me back and go out there and keep doing what I've been doing the whole season.
Q. You've watched these first two games obviously at home, how loud the crowd has gotten. Tomorrow it's going to be different. Can you not get so overly amped and is it going to be difficult to keep your emotions in check?
BUD NORRIS: It's going to be a hostile environment. The Detroit fans are special fans.
We have a good ballclub over there. I'm just going to go out there and pitch. You have to prepare the best you can, mentally and physically. I've pitched in some big games in my career and this might be the biggest. It's just 60', 6", and I'm going to go out there and pitch the best game I can.
Q. Have you noticed a difference in intensity in watching the first of two games? How do you think it's going to be tomorrow?
BUD NORRIS: Not actually difference in intensity. Our guys are jazzed every day we get to the ballpark. We've had such an amazing season already. To play as well as we have and to get to this point has been special.
But we're professionals and we come to the park and are ready to play and strap it on and go. Tomorrow, I'm going to have the same focus as I have had the entire season, and that's going to be in control, making my pitches. Go out there and make the best pitches I can and get my guys to play good defense for me and play nine innings, hopefully.
Q. How exciting is it to take the mound in a game that perspectively could get you into the ALCS?
BUD NORRIS: That's pretty much what you dream for as a kid, play in the postseason and get to the World Series, and this is just one of the steps.
We've gotten to this point as an entire team to do everything they've done. But this is a five game series. It's a little more crunched and everything else. But we've got 2 0, going in with the lead, which is really nice. Played so well in front of our home fans.
We got one game to get here. Hopefully we'll win the first on and can get back home again.
Q. Buck has done some unusual things the last two games, bringing Andrew Miller in early, and Kevin Gausman in yesterday. Can you talk about the trust you guys have in Buck and the trust he's shown in you giving you this start tomorrow?
BUD NORRIS: Absolutely. We had a couple of meetings, he said things are going to be worked around, he wants to use the match ups the best he can. He realized it's going to be a short series.
It does tell you about the trust he has in us to get the job done. He's been there before. You got to trust him the whole way through. That's what takes a lot of pressure off of us just to go out there and play as far as the staff is concerned. That's all you can do. When he comes and gets the ball, we're done. That's all we can do. And we're going to leave it on the field.
I know he has a lot of trust in each and every guy and it shows a lot more trust in me tomorrow, but I'm not going to change anything. I'm going to go out there and pitch and do what I've been doing all season.
Q. It's been a while since you faced this lineup since May. Is your approach to this lineup changed since that time? Have you picked up on anything within that lineup that you've changed now compared to where you might have been earlier in the season?
BUD NORRIS: Absolutely. We haven't seen them since April, May. Those are my two starts against them. But you know what they got. We've seen them for the last two games. I got to watch when Chris Tillman was pitching and Kevin Gausman yesterday, I got to see some things.
But it's just really just working with the catchers, whoever is behind the plate, whether it's Nick Hundley and Caleb. You go in and execute. They have a great lineup, everybody knows that. We got a great lineup over here.
But we played some good games against them in the first two and expect to go out there and do the same thing tomorrow.
THE MODERATOR: Thank you.