Moustakas, Hosmer validating Royals' faith
Key cornerstones of KC's plans are rising to the occasion in ALDS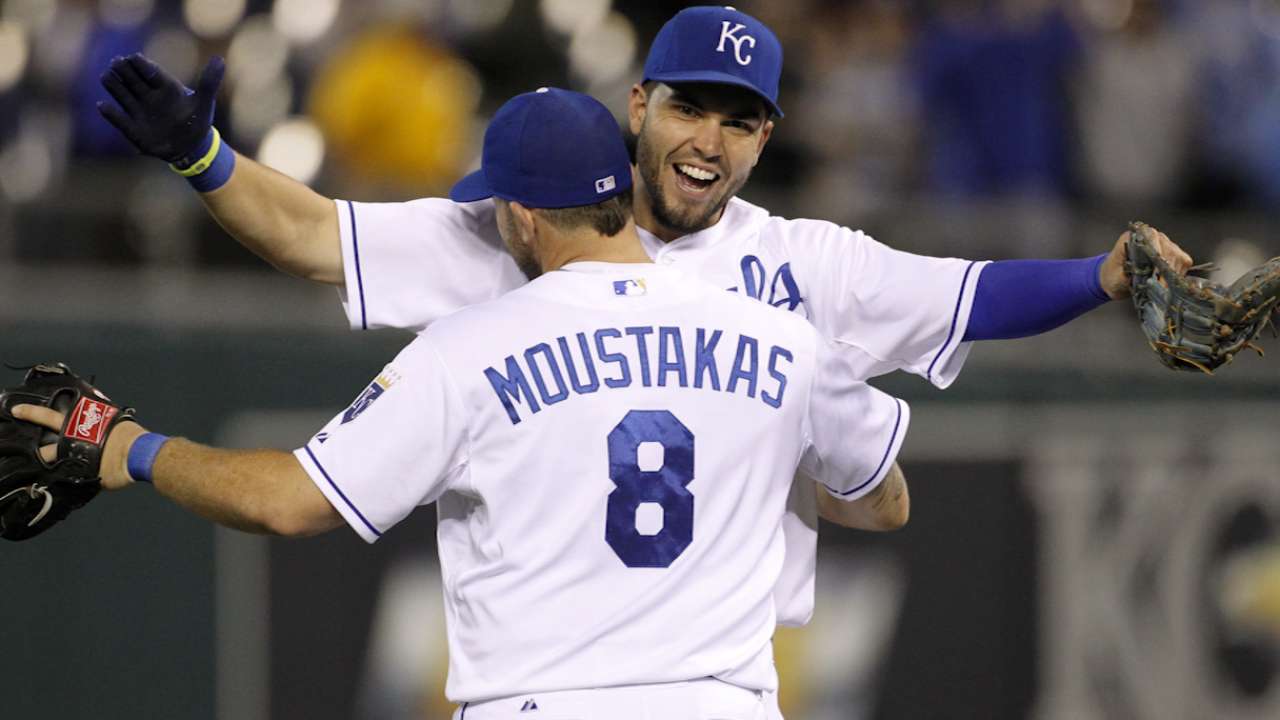 KANSAS CITY -- Somehow it seemed right, just and fitting. Mike Moustakas and Eric Hosmer, two of the cornerstones of the Royals' building program, had provided the winning blasts in the two of the most significant victories since the first bricks were laid.
Their 11th-inning home runs to beat the Angels on back-to-back nights seemed symbolic of the team's re-entry into the winning world of baseball.
"I don't know if there's anything to that, but it's an awesome kind of deal," Moustakas said. "It's one of those cool things that just kind of happens in the game. But it's really cool."
It's been the Hoz and Moose show.
They've put the Royals one win from entering the American League Championship Series.
The one-time prodigies -- Moustakas was the Royals' first-round pick in the 2007 First-Year Player Draft, Hosmer was taken first in 2008 -- came up through the farm system at the same time, often as teammates. They were powerful left-handed-hitting corner infielders, Hosmer at first base, Moustakas at third, poster boys for the Royals' renaissance.
As far back as Spring Training 2011, they were paired off in the clubhouse and in manager Ned Yost's thoughts.
"They fit right in with what we're doing," Yost said at the time. "They're both quality kids, in the clubhouse and outside the clubhouse. We know they're extremely talented, but their makeup is off the charts for kids their age. They're special kids."
They both arrived in the Major Leagues later that year, Hosmer called up first after a blazing start with Triple-A Omaha. Moustakas wasn't far behind, and both took starting roles in the lineup.
Both have experienced ups and downs during their four seasons in Kansas City. Moustakas peaked with 20 homers and 73 RBIs in 2012 and dropped to 12 and 42 last year. Hosmer tumbled to .232 in 2012 and jumped to .302 last season.
Defensively, though, both have maintained consistent excellence. Hosmer won a Gold Glove last year and Moustakas was nominated the year before. Not much gets by them.
This year at the plate, they've had their highs and lows and in-betweens. Hosmer started out slow, then got hot before a hand fracture in late July put him out all of August. Moustakas was going so bad in May that he was optioned to Omaha for an eight-game refresher, which helped.
"Everything that I went through this year got me to this point," Moustakas said. "All the ups and downs, the struggles and what-not got me here. I know what I have to do to help this ballclub win."
Which is what both of them have been doing in this postseason.
Moustakas' game-winning home run was among three hits he's had in the three games so far. Hosmer's smash made him 6-for-11, along with four walks. He's scored four runs, Moustakas three.
The game-winning hit in the Wild Card game was provided by catcher Salvador Perez.
"I think that's what the cool part of this run has been," Hosmer said. "Everyone's had their time, they've had their moment when they've made a big play or stepped up and did something big. A lot of the times it was with our back against the wall. Most of the time, it was with our season on the line."
The Royals so far have rushed against the tide, upending teams with higher win totals and skewering the experts' skepticism about their ability to survive in the postseason pressure-cooker.
"It's been real motivating for us," Hosmer said. "It's a bunch of ... guys that believe that we can do it. We don't listen. We honestly don't care what other people are saying. We're just going to grind it through, and we're battling. I know teams right now don't want to face us."
That might include the Angels, who must be shell-shocked after their two stunning defeats.
The Royals just keep finding ways to pull out a victory in their first exposure to the postseason in 29 years.
"We're learning as we go right now. But we're fightin', scratchin', doing whatever we can to win ballgames -- and that's what's important," Moustakas said.
What Moustakas and Hosmer have done with their back-to-back, game-winning smashes is validate the organization's faith -- developed years ago -- in what they could contribute. They've come along, shoulder to shoulder, to make their mark.
"It is amazing, it really is," Moustakas said.
Perhaps he had a premonition of these happy days way back in that Spring Training of 2011, when he looked to his future, Hosmer's future and that of the Royals.
"We're about winning championships," he said then.
Dick Kaegel is a reporter for MLB.com. This story was not subject to the approval of Major League Baseball or its clubs.