Three things for the Tigers to win the ALDS
Price, balanced offense and bullpen creativity can help Detroit survive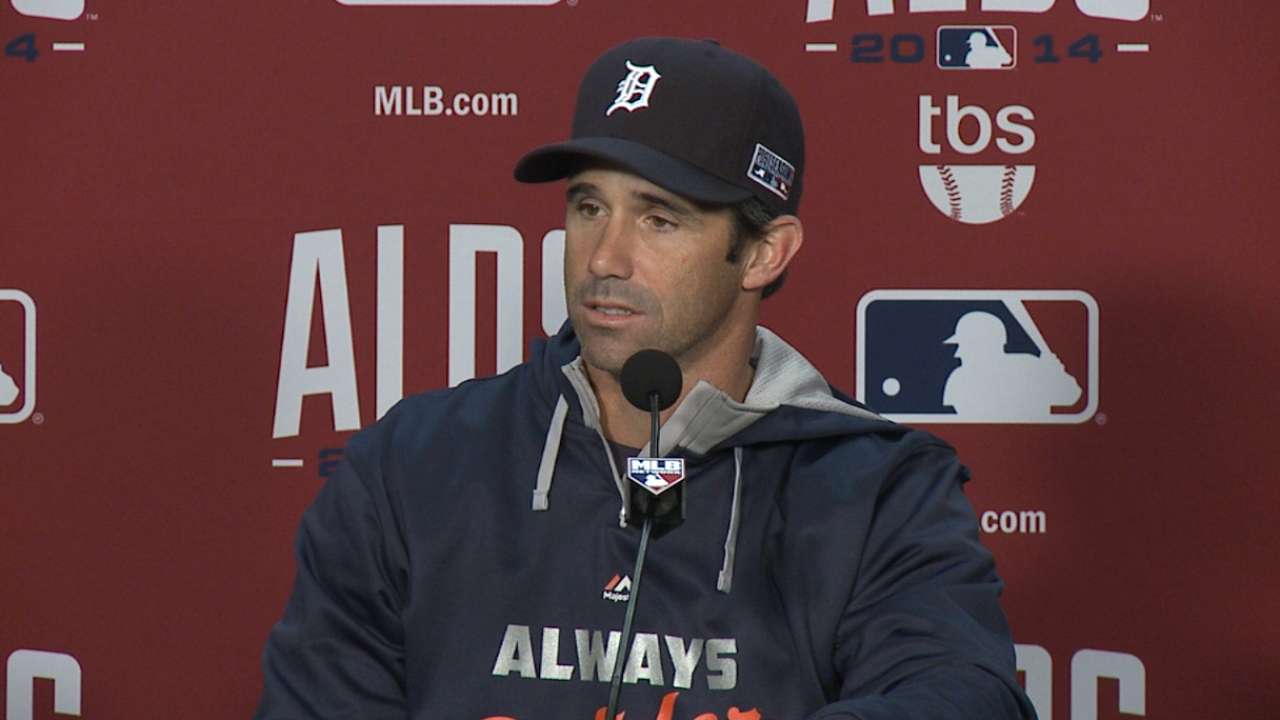 DETROIT -- A whole lot went wrong for the Tigers in Baltimore on Thursday and Friday, dropping them into an 0-2 hole in the American League Division Series. Consequently, a whole lot would have to go right for them to dig their way out of it.
Their Cy Young Award-winning duo of Max Scherzer and Justin Verlander didn't dominate the Orioles' lineup. Their bullpen imploded twice. Their lineup struggled to produce against a lock-down bullpen.
So, let's take a look at three things the Tigers must do to not just stay alive, but to pull off an improbable comeback and win this series.
1. David Price has to win Game 3.
Well, obviously. This series is over if the Tigers don't win Sunday at Comerica Park. But what we really mean is that Price has to win the game himself. The Tigers put Games 1 and 2 in the slippery hands of their bullpen, and that didn't work out so well. Price needs to do this himself, or at least as much of it as he can.
Price led the Majors with 248 1/3 innings this season. He's capable of going eight or nine every time out, and that's become almost mandatory for him in Game 3.
Price has pitched at least seven innings in eight of his 11 starts with the Tigers, and he lasted at least eight in half of his 34 starts this season.
The Tigers need the Price who won Game 163 for Tampa Bay last season, the elite ace for whom they gave up Austin Jackson and Drew Smyly at the Trade Deadline and the dependable innings-eater he's become.
"I would love to go out there and give everybody in the bullpen a day off and get 27 outs tomorrow," Price said. "But if that's not the case, I still have a ton of confidence in the guys that are coming in after me."
2. The rest of the lineup needs to get in on the action.
Miguel Cabrera, Victor Martinez and especially J.D. Martinez have all done their job at the plate so far. Nick Castellanos connected on a homer in Game 2, his only hit of the series. With the middle of the lineup clicking, the Tigers can put together rallies like their five-run fourth inning Friday -- more than enough offense to win, if their pitching staff holds up its end of the bargain.
But none of the other Tigers logged an extra-base hit or drove in a run at Camden Yards. Alex Avila is 1-for-7 with three strikeouts. Ian Kinsler worked good at-bats in Game 1, but he's just 1-for-8 with three strikeouts.
And Detroit's bench isn't well-equipped to pick up the slack offensively. The Tigers sent up light-hitting rookies Hernan Perez and Eugenio Suarez as pinch-hitters in the ninth inning of Game 2, an obvious disadvantage when juxtaposed with Delmon Young's pinch-hit, three-run double an inning earlier.
3. Get creative with the bullpen, if necessary.
See the way Buck Showalter has managed the Orioles' bullpen this series? There's a sense of urgency, a recognition that this isn't the regular season anymore. Andrew Miller came in for the sixth inning and recorded five outs in Game 1, and Kevin Gausman was electric for 3 2/3 innings in Game 2.
Setup guys have pitched early, and starters have come out of the bullpen to get big outs. Tigers manager Brad Ausmus could borrow from Showalter's game plan.
If Ausmus has to turn to his bullpen and the most critical outs of the game need to be recorded in the seventh inning, the Tigers' best reliever should be on the mound. If Anibal Sanchez says he can go three innings, don't limit him to two.
This is the postseason, and the Tigers are one more blown lead away from calling it a season. This is kitchen-sink territory. If it takes three relievers to get three outs in the eighth, use three relievers. If you need a big strikeout at some point, don't lose the game with Al Alburquerque -- who went unseen in Baltimore -- sitting in the bullpen.
In other words, don't be afraid to try something different. The usual routine didn't get the job done in Games 1 and 2. The Tigers can keep saying they have all the faith in the world in Joba Chamberlain and Joakim Soria, but at a certain point, they have to recognize when something isn't working.
Then again, after two eighth-inning blowups in two days, Ausmus wouldn't even say Saturday whether he had the same level of confidence to use his regular relievers in their normal spots. So with desperate times calling for desperate measures, perhaps he is prepared to change his mind.
"We will have to wait and see what happens in the game tomorrow," Ausmus said. "I invite you to come down and watch it."
Adam Berry is a reporter for MLB.com. Follow him on Twitter at @adamdberry. This story was not subject to the approval of Major League Baseball or its clubs.