Detroit's bullpen a revolving door to instability
Rondon's injury, inconsistency from signings key to limited success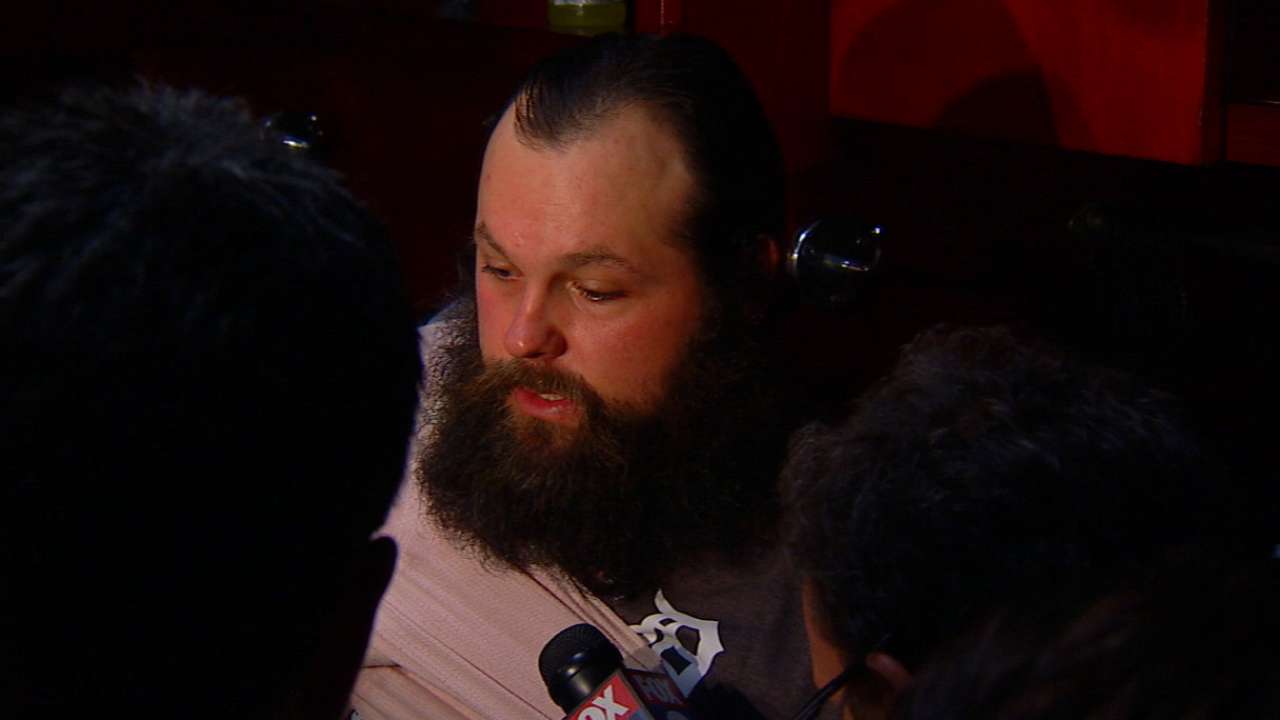 DETROIT -- Normally, the radar gun doesn't tell the quality of a pitcher. Nonetheless, the turning point of the Tigers' bullpen might have been the 103 that flashed on the board at Fenway Park on Labor Day -- of 2013.
It was a Bruce Rondon fastball past David Ortiz, who then swung at a 102-mph fastball for a strikeout to end the eighth inning. It was a shutdown performance from the Tigers' best relief prospect since Joel Zumaya, and it preserved a key win.
Rondon reported elbow soreness soon after that. He didn't pitch again for three weeks, then posted another shutdown eighth inning in the Tigers' clinching win by striking out the side and hitting 101 mph.
Rondon's elbow flared up again, shutting him down for the season. With Tommy John surgery in April, Rondon hasn't pitched since. The Tigers have spent the year struggling to fill the void.
The saga of Detroit's bullpen has had many chapters, from Zumaya's breathtaking 2006 season to
Fernando Rodney
's wild ride as closer in 2009. Both came up through the Tigers' system. Aside from Rondon, Detroit has yet to cultivate the next homegrown shutdown reliever, and it has had to fill the void from the outside.
Follow the trail, through signings and trades, and it winds up here: the Tigers staring at an 0-2 deficit in their American League Division Series, with more runs allowed in two eighth innings (12) than in the others combined (seven), and a sense of mystery as to how manager Brad Ausmus will use his relievers in a must-win Game 3 on Sunday.
"We will have to wait and see what happens in the game," Ausmus said Saturday. "I invite you to come down and watch it."
The saga predates Ausmus' tenure, to the final days of Jim Leyland's time. Before this year's setup concerns, the Tigers struggled to find a consistent closer, bouncing from Dave Dombrowski's 2013 gamble that Rondon could learn on the job, to Jose Valverde's ill-fated return, to Joaquin Benoit being pressed into duty as closer. Then, finally, the offseason deal with Joe Nathan, who has had his share of ups and downs in the role.
After the Red Sox beat the Tigers in last year's AL Championship Series with two homer-powered comeback wins, Detroit remade the bullpen, letting Benoit and setup man Jose Veras go via free agency.
The Tigers moved Drew Smyly, who had been a key setup man, back to the rotation with the Doug Fister trade. The rotation was his natural destination, but the move cost them a multi-inning reliever, and a left-handed one at that.
Soon after, the Tigers signed Joba Chamberlain. At the time, he was signed to work with Rondon, not replace him. The two were expected to share seventh and eighth innings, but Rondon's surgery left Chamberlain to carry the load.
The oft-injured Chamberlain pitched 62 2/3 innings over 67 appearances in 2012-13. He pitched 63 innings and 69 games this season. Forty-one appearances came before the All-Star break, five off the AL lead.
Al Alburquerque pitched in 45 games before the break, fourth most in the AL. Ian Krol was close behind at 38, despite missing a couple of weeks with a tired arm.
Needing outs and lacking deep starts early, Ausmus had to lean on his trio and he did. All three worked at paces near career highs, Krol being in his first full big league season. Krol appeared in just a handful of games after the break before going to Triple-A Toledo. Alburquerque's workload decreased after the break, and his numbers improved.
Chamberlain posted a 2.63 ERA, .a 226 batting average against and a 3.33 strikeout-to-walk rate before the break. He posted a 4.97 ERA, .271 average and 1.58 rate in the second half.
The Tigers tried to add help, signing Joel Hanrahan, who was a year removed from Tommy John surgery, in May. His arm flared up again and he did not pitch a game for the Tigers.
Former Orioles and A's closer Jim Johnson, who had been released by Oakland, signed a Minor League deal Aug. 5. He had success in low-leverage situations, but struggled with command and never progressed to hold situations.
The biggest addition, however, was the best reliever on the trade market. Joakim Soria went from closing in Texas to a setup role in Detroit. When acquired, he was 1-3, with a 2.70 ERA and 17 saves. He had 42 Ks in 33 1/3 innings and a stellar 0.87 WHIP. He gave up six runs on nine hits over his first three outings with the Tigers, settled down for three scoreless performances in August, then lost a month to a left oblique strain. He appeared in just regular-season 13 games for the Tigers, going 1-1 with a 4.91 ERA, 1.36 WHIP and just six strikeouts in 11 innings.
The Tigers were on the hunt for more at the July 31 non-waiver Trade Deadline. They ended up getting the biggest-name starter on the market in David Price in a deal that cost them Smyly, but missed out on a deal for another reliever.
While Detroit pursued Price, it also was in talks with Boston for left-hander Andrew Miller. The prevailing thought has always been that the Tigers couldn't acquire both because of overlapping prospects. Joel Sherman of the New York Post reported Saturday that Detroit had agreed to Boston's asking price, only to be outbid by Baltimore.
As for internal help, the best help the Tigers had in their system -- former University of Texas closer and first-round draft pick Corey Knebel -- went to the Rangers in the Soria deal. In Texas, he threw 8 2/3 innings over eight games for the Rangers, posting a 6.23 ERA with 11 Ks.
For much of the stretch run, the workload on Chamberlain was unchanged. The final addition, converted starter Anibal Sanchez, returned from a pectoral muscle injury for the final week, but pitched only once before the end of the regular season.
In hindsight, the lack of work arguably proved costly. An early clinch might have given Ausmus the chance to stretch out Sanchez in a low-pressure situation, but the AL Central battle went down to the final day of the season, and Sanchez spent the final weekend in reserve for necessary outs.
"He threw one inning [plus] one simulated game," Ausmus said Friday after Sanchez threw two innings. "Asking him to throw really anything more than 30 pitches is a stretch."
The result is a bullpen with injuries, limits, fatigue or simple struggles, but no shutdown reliever or homegrown product. Detroit survived the regular season that way. One more loss, and Ausmus' next phone call might be to Buck Showalter, congratulating him on a series in which Baltimore's deeper bullpen simply outmatched his.
Jason Beck is a reporter for MLB.com. Read Beck's Blog and follow him on Twitter @beckjason. This story was not subject to the approval of Major League Baseball or its clubs.