Oct. 4 David Price workout day interview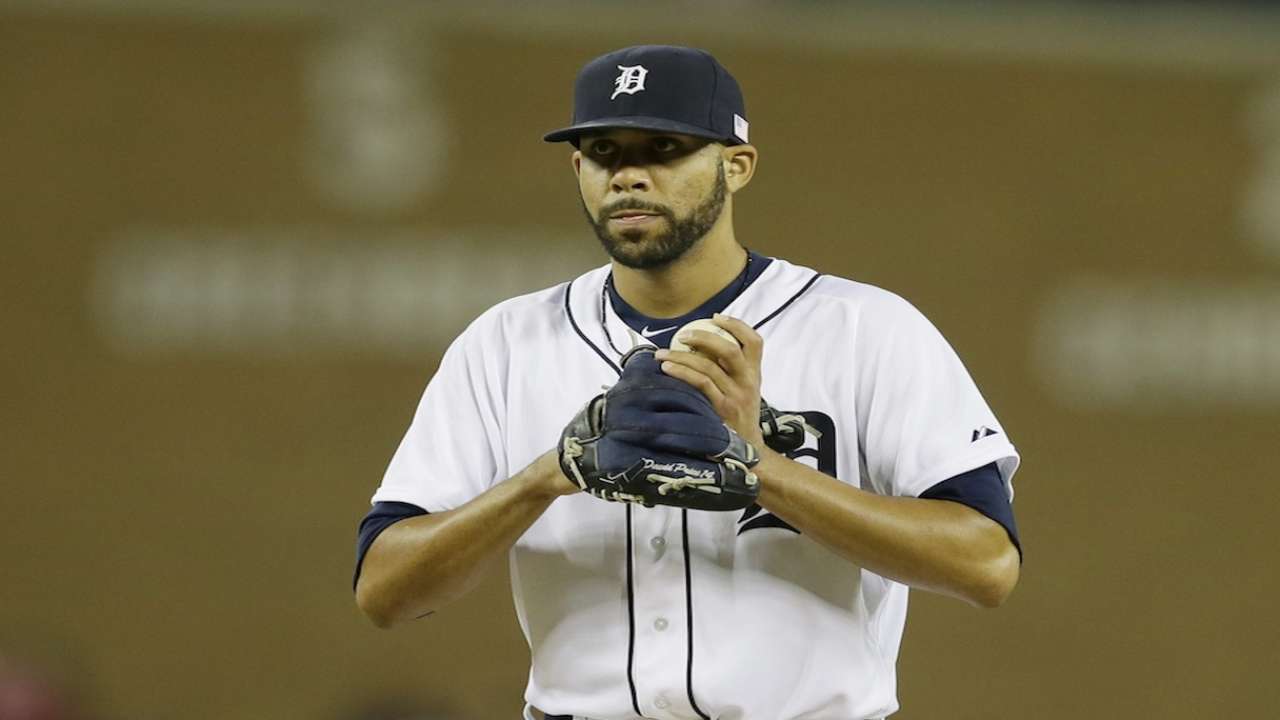 THE MODERATOR: First question for David Price.
Q. David, just from watching their at bats and the way they approached Scherzer and Justin Verlander, any impressions on the way talked to Brad, they're an aggressive team, they like to hack. Does that influence the way you approach them a little bit?
DAVID PRICE: I think you've got to execute pitches, you know, get ahead and try and expand, because like you said, they like to swing the bats. There are not a lot of guys in their lineup that are looking to walk.
They want to drive the ball into the gaps and try and drive the ball over the fence and that's the way they have operated this year. They've done it extremely well, better than any other team in baseball in hitting home runs and scoring runs in bunches.
So you have to stay focused out there, however many innings you're out there and execute pitches.
Q. Torii Hunter was saying today it puts you in a position where it's a do or die situation, but the competitor in you, you relish this opportunity, don't you?
DAVID PRICE: Yeah, this is the time to step up! It's not easier that you're down 0 2, as opposed to being up 2 0, but you know what you gotta do. This is the time when you want to be able to step up for your team, for your fan base, for the city of Detroit.
This is a special moment. You gotta be able to go out there and throw my game and that's what I plan on doing.
Q. David, is there a difference at all facing these guys here in the bigger ballpark in cooler weather compared to where they were where you guys were the first two games in the smaller ballpark, warmer weather where the ball seemed to not only carry, but it didn't have to carry very far? Does that change anything at all for you?
DAVID PRICE: Not really. These guys, you know, I'm pretty sure they led the Majors in hitting home run and they don't just hit 'em all at Camden Yards. They're able to hit out of any ballpark that they play at all year long.
Like I said, go out there, execute, get the ball down, and whenever you're ahead, try and get them to swing at your pitch and if you can do that, like our chances.
Q. David, what is it about this time of year that you enjoy pitching in?
DAVID PRICE: Every game is so big. You know? It means so much. I definitely, throughout the year, I don't make any game mean anything more than any other start. I know the media likes to portray different games as being big games whatever they are, but these are the big games, the games that you need to be able to go out there and perform.
And obviously, tomorrow, if we don't come out and get a win, off season starts a little earlier than we want it to, and we gotta go out there and play our game. That goes for myself as well.

Q. You faced the Orioles a lot over the years, coming from Tampa. Your success against them? The most recent, they've gotten you a few times. Talk about the challenge of facing them for you.
DAVID PRICE: It's a team I faced a lot being in that division for my entire career up until about two months ago. I don't know my career numbers against Baltimore or anything of that nature, but whenever you're pitching against a team that you've pitched against a lot, you're familiar with their hitters. Obviously their hitters are familiar with you.
So you just go front to back and back to front and continue to switch it up. It's a game within a game. Whenever you're on the mound facing those hitters, you got to keep 'em on their toes and keep 'em guessing.
Q. How has this week been for you from a routine standpoint? You haven't pitched in a week.
DAVID PRICE: It's been fine. The first day after the last game of the season we had off and then we had a workout. That's when I started my regular stuff. I took that one day of just relaxing, kicking back and letting my body regroup. After that I got on to my normal workouts, threw my bullpen on my normal day and it hasn't been any different.
Q. I know you try to look at 'em all the same, but you have pitched in a number of elimination or "must win games" Game 162 in '11 and Game 163 last year. Have you learned anything?
DAVID PRICE: It feels a lot better to win and it definitely feels better to pitch well and win! It's still a game. This is the game I dreamed of whenever I was a kid. I'm not going to go out there and apply extra pressure to myself, because I can do that, and go out there and pitch well and still not have fun. I want to have fun, live in the moment, and relish it and throw my game.
Q. Do you guys, as starters, feel any more pressure to go deeper in games considering what happened in the first two?
DAVID PRICE: No. You win as a team and you lose as a team. It takes the 25 guys that we have on this roster to go out there and get wins, and we all know that.
This has been a very long season. Every organization is going to have their ups and downs, but you gotta be able to move forward, and that's what we plan on doing.
I would love to go out there and give everybody in the bullpen a day off and get 27 outs tomorrow, but if that's not the case, I still have a ton of confidence in the guys that are coming in after me.
Continually I see those guys working. They're not down. We've had some bad luck. Made some good pitches, and good hitters hit good pitches. That's when you gotta tip your cap and continue with your work.
THE MODERATOR: Thank you very much.